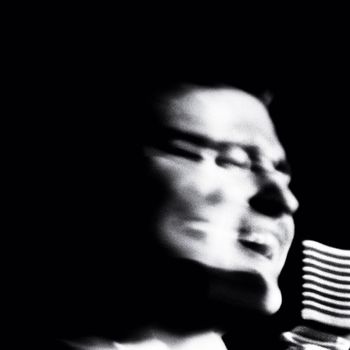 Photo: Pari Dukovic/New York Magazine
Pop music, and pop stars, are everywhere this summer. Z100 fans can catch the no-longer-charmingly semi-pubescent Justin Bieber, with or without monkey and trailing a mild malodor of manufactured controversy, on his "Believe" tour, starting in late June and running 30 shows. Beyoncé, who may or may not be pregnant with her second child, continues her meticulously plotted post-first-baby comeback (Super Bowl, HBO doc, $50 million Pepsi deal, plus L'Oréal and all those H&M ads adding some much-needed 'donk to our bus shelters) with 26 shows in the U.S. with her "Mrs. Carter" tour, details of which are being Instagrammed and ­gif-ed and blogged by her rabid global fan base. Mr. Carter (Jay-Z) tours stadiums in July and August with the renascent Justin Timberlake, including Yankee Stadium on July 19 and 20. Timberlake continues on with solo dates supporting his 20/20 ­Experience album, his first in seven years, which received subdued reviews but was rapturously received by fans who had heretofore been kept engaged by his unfailingly charming if not always knee-slappingly hilarious Saturday Night Live gigs.
One Direction, the super-glossy boy band, finally does a proper U.S. stadium tour from June to August, where tween girls will get to compare hairstyle and toothy-smile notes on Zayn, Harry, Niall, Liam, and Louis in an unmediated fashion, if only from a quarter-mile away. Meanwhile, Taylor Swift continues touring throughout the summer and fall, achieving ever-greater mass communion with arenas-full of fans ecstatically bonded to her expertly constructed pop odes to being happy, free, confused, and lonely at the same time, which make her the generational spiritual amanuensis Alanis Morissette aspired to be but never quite achieved. Of the usual suspects, only Lady Gaga, Katy Perry, Adele, and Rihanna are absent—the first because of injury, and perhaps some softening in fan interest; the last because she's off in Europe, having just completed a U.S. tour built around her massively popular new album. This is also shaping up to be the summer of Yeesus, as Kanye West, a.k.a. Yeezy, a.k.a. Kim Kardashian's deliciously controversial baby daddy, is calling his new album, an act of impertinence that only a pop star would hazard.
How did this happen? Hollywood has notably failed to produce a major new movie star in a generation. As Scott Mendelson pointed out in Forbes last month, only Will Smith, Denzel Washington, and Kristen Stewart appear able to "open" films, while a handful of other stars, notably Dwayne "the Rock" Johnson and Mila Kunis, are able to "add value" to strong film concepts. Star power of the sort that Sandra Bullock possessed in the nineties, where her name alone was able to launch any number of subpar tentpoles, no longer exists. "That is what movie stardom is in 2013," Mendelson writes.
Pop stardom in 2013 is a whole different matter, but it wasn't supposed to be this way. Only a few years ago, pop was considered a moribund form of artistic commerce. As recently as 2010, pop fans could choose from only Justin Bieber and Lady Gaga for big summer pop spectaculars, while smaller acts grouped into touring caravans to protect against box-office disappointment. The ongoing digitization of everything, now driven primarily by mobile, was supposedly shattering and recombining culture into small or smallish global psychographic micro-communities bonded by intense fan affinity. But digital media also turned out, if harnessed right, to be a great way to bring a lot of attention to one thing (whether this is meaningful, Beatles-level attention, or merely Backstreet Boys–level attention, is another question). The relaunches this year of Rihanna, Justin Timberlake, and Beyoncé, among others, marked the first time that music was marketed explicitly to capitalize on the power of social media, whose reach heretofore had seemed diffuse.
Today's pop may be largely prefab, but it is labile, moving at the speed of digital; mopping up, popularizing, and disposing of trends before its hyperconnected short-attention-span audience has a chance to be bored. Pop brilliantly appropriates elements of underground culture (dubstep having traveled from inscrutable British import to all-purpose Top 40 production element to Madison Avenue staple in record time) while honing its constituent elements—verse, chorus, hook, bridge—into a kind of aural umami. The New ­Yorker's John Seabrook, in his March dissection of the Rihanna hit machine, asked: "How did mainstream rock, once the source of the catchiest hooks in popular music, become robotic, unimaginative, and predictable, while pop, always the soul of artifice, came to seem creative, experimental, and alive?" The answer may be that the relentless and unforgiving feedback loop of social media has made being unfeasible anything other than consistently awesome, like (and forgive one last culinary metaphor) opening a bad restaurant in New York. Kanye, who plays at the corner of pop and hip-hop, courts disfavor and deploys discomfiting noise displays like no one since Dylan; he understands better than anyone how not taking a risk is the riskiest move of all. His appearance on the season finale of Saturday Night Live this month may have angered many, but just as his 808s and Heartbreak was initially met with disdain, it, too, will soon be accepted, copied, and mulched in the Top 40 culture grinder, no matter what Wendy Williams and Charlamagne say. The putatively more progressive worlds of indie rock and purebred hip-hop seem static by comparison.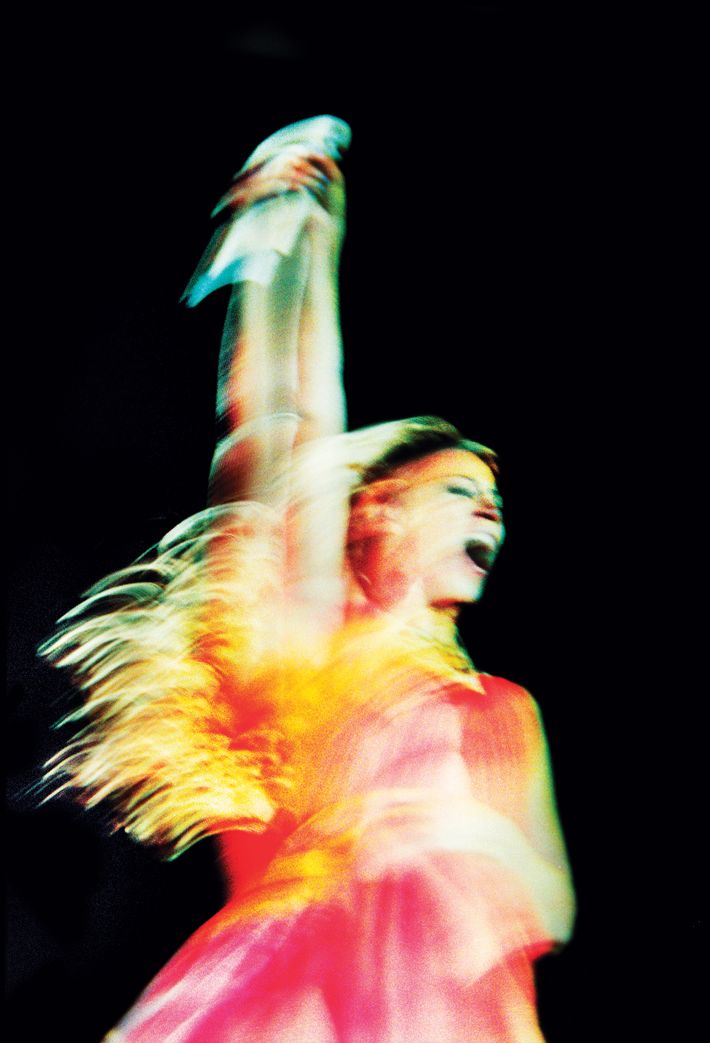 The success of the 2013 crop of pop stars is inextricably linked—creatively and commercially—with their ability to communicate directly to and with audiences on Facebook, Twitter, YouTube, and the like. Rihanna has roughly 100 million combined followers on Twitter and Facebook; Lady Gaga and Katy Perry are in the 90 million range; Taylor Swift is over 70 million; Beyoncé is over 50 million; while Justin Timberlake and Drake are in the 40 million to 50 million range. By comparison, Kristen Stewart, Cameron Diaz, Angelina Jolie, Matt Damon, Brad Pitt, George Clooney, Johnny Depp, Christian Bale, and too many others to mention are not on Twitter at all, and only Will Smith has a notable presence on Facebook (at 45 million).
Perhaps it's not the fault of the actors. Kimono-opening has done the likes of Tom Cruise and Russell Crowe no favors: Even when Hollywood celebs play offense, giving "refreshingly honest" cover interviews to Vogue and Vanity Fair, it comes off as defensive—late-model faux intimacy in a time that demands entirely new kinds of fake realness. Perhaps movies themselves are too mediated to imprint star-love on today's short-attention-span, click-happy consumers (viz. Steven Soderbergh's ­hilarious story of his JetBlue aisle mate recombining action sequences into a ­pastiche of "mayhem porn"). Storytelling may be as alive as ever on TV, but the ­passion stoked by, say, Kerry ­Washington's turn as fixer and mistress on ABC's ­hypercampy hit soap Scandal did little to save Peeples, in which she also starred. Likewise, it's unclear that the cast of the massively popular Walking Dead would even be noticed walking alive down a New York City street. Actors, ­axiomatically, are rarely themselves, and this runs against everything that the social-media era demands.
Pop stars, conversely, have become more and more adept at being themselves, or at least constructing pseudo-selves for social-media consumption; better at manipulating the levers of closeness and distance, openness and mystery, that social media requires. Beyoncé, often criticized for an old-pop-culture insistence on privacy, set the Internet afire when she ventured onto Instagram last November, offering seemingly rarefied glimpses into her private life, but which really allowed her to control her brand narrative in a way that had previously been at the mercy of celeb mags and paparazzi. A recent pre-weathered Instagram of herself, her mother, and her sister posting in mufti yielded 405,000 likes (far more, one guesses, than her well-policed HBO doc) and a sense of homespun intimacy ("you your mom and sister look cute," a user called coolkhryslyn01 commented, as if they were having a conversation). Justin Timberlake, in a way that Zac Efron must only wonder at, has deftly made his music an accessory to the larger J.T. experience, including an energetic turn hosting SNL this spring, a week on Fallon, an all-singing all-dancing MasterCard campaign that is all over your TV every night, and a fashion-forward appearance on the red carpet in Cannes. Each element reinforces J.T.'s essential brand attributes: charming, dapper, funny, dance-happy, modest, someone you'd trust with your teenage daughter.
Pop music, and the music videos that are enjoying a heyday not seen since the nineties, turn out to be ideal springboards for the star machine. They are, after all, commercials, and just as cutting-edge pop music has become a central element of today's advertising, pop music has become a running commercial for the savvy pop artist. Hip-hop pioneered the model of the permanent campaign, with its insistent cycle of shootouts, braggadocio, and even integrated marketing (Nicki Minaj rapping for … Bud Light?), but pop, too, has tapped into the current vogue for "story marketing." Pink revived her career with a series of broad-brush biographical songs that branded her as a brash, hard-living, quasi-feminist survivor, appropriating just enough elements from dyke culture to seem edgy (she won't officially categorize herself) but softening them with tinges of Everygirl vulnerability (the puckishly titled "Blow Me [One Last Kiss]"). Taylor Swift operates almost exclusively in an auto­­biographical realm, creating intriguing crosscurrents between her wounded-girl lyrics and her much-chronicled ­boy-­bedeviled love life: "I knew you were trouble when you walked in, so shame on me now." Ke$ha pumps out top-ten hits in quick succession, each of which could be a description of what she did last Friday night, a fully branded party-ho experience: "Punks, taking shots, stripping down to dirty socks."
Rihanna, accused in so many quarters of being the consummate corporate-pop artist, has actually used her music, and most important her videos, to play around the edges of dangerous sexual material ("S&M") and turn what could have been a career-ending incident with Chris Brown into an intriguing, if occasionally quite disturbing, exploration of romantic need and mutual exploitation. The video for the beautiful ballad "Stay," for example, features a seemingly un-made-up and emotionally exhausted Rihanna pouting in a bathtub as the camera slowly and methodically pans her naked body, fetishizing her tattoos and shoulder blades, and settles on the purplish bags under her sad eyes, ending with her sinking into the water as a single tear rolls down her left cheek. It has 130 million views since its February posting to YouTube.
The "realness" of today's pop may be just another artifice, but it is an artifice that is evolving dynamically in concert with its fans. Where the revelation of icky details may hurt a Lindsay Lohan, it only helps a Justin Bieber or a Kanye, keeping the story going, the public engaged. The explosion of smart, savvy, profane blogs, like Bossip, Necole Bitchie, and Media­TakeOut, which have taken the ball from Perez Hilton and run with it—hard—creates a dynamic ­feedback loop where the construction of realness becomes part of the story, and we are all participants in the creation of a dynamic pop-stardom narrative. By ­contrast, Hollywood, and its stars, live in a static, unidirectional yesteryear where you come out of hiding only when there's something to sell. See you at Yankee Stadium.
*This article originally appeared in the June 3, 2013 issue of New York Magazine.