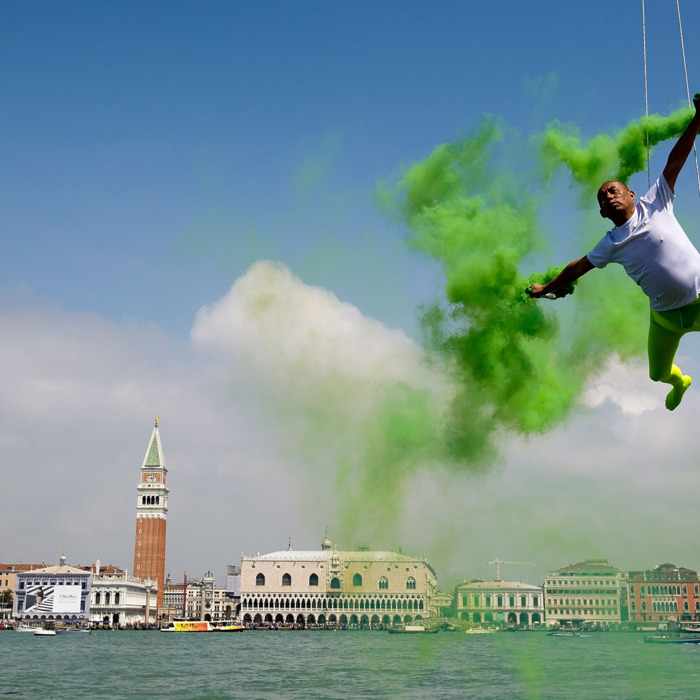 Chinese artist Li Wei performs in front of Saint's Mark as part of the 55th International Art Exhibition on May 28, 2013 in Venice, Italy. The 55th International Art Exhibition of La Biennale di Venezia will be open to the public from the June 1 - November 24, 2013.
Photo: Marco Secchi/Getty Images
The world's art elite donned their shiniest loafers last week and beat a swift path by vaporetto, gondola, and speedboat to the biggest international art event this year, the 55thVenice Biennale. With a record 88 national pavilions, and ten countries appearing for the first time — including Angola, Kosovo, the Maldives, and bizarrely, the Vatican — there was no shortage of spectacles. Among the highlights and press stunts from the first few days were: Jeremy Deller's acclaimed British Pavilion, which included birds of prey snatching Range Rovers from the super-rich; Milla Jovovich's appearance in a Plexiglas box in the Barnabo garden; Portugal's Pavilion arriving on sea in the form of decommissioned ferry boat decked out ornately inside and out; and in Venice's Sant'Antonin church, Ai Wei Wei's arresting account of his 81 days spent in a Chinese prison. We bring you twenty of the most noteworthy artworks from around Venice.