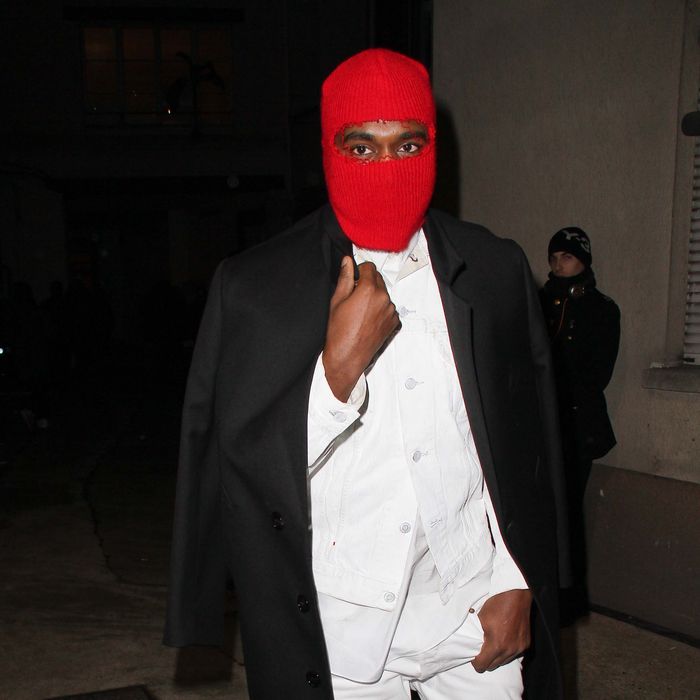 Yeezus marks another twist in Kanye West's sound, away from the hip-hop/prog-rock fusion of My Beautiful Dark Twisted Fantasy and the chipmunk soul of his early years toward electronic and lyrical brutalism. With typical hyperbole, West recently called himself "a Black New Wave artist," but it's hard to connect Yeezus to other musicians — Dirty Mind–era Prince, Grace Jones, Fishbone, Nona Hendryx, A.R. Kane, etc. — who could be said to fit that label. So what does it sound like? The album is anarchic and raw, stripped of sonic excess and yet also packed full of different musical allusions. Visceral hip-hop, damaged dance-music grooves, splashes of Jamaican dancehall, an industrial sense of menace — it's not exactly summer fun, but it is fascinating. If you find yourself communing with Kanye's current state of mind, here are 30 albums for further exploration.
1. Nina Simone, Pastel Blues (Philips, 1965)
Nina Simone's strange, spectral, shiver-inducing take on the tragic song "Strange Fruit" (made popular, if that's the word, by Billie Holiday) figures in the Yeezus track "Blood on the Leaves." On this classic long-player, Simone makes it swing and sway with sadness (it's about lynching), and a simmering sense of defiance.
Listen: "Strange Fruit"
2. Omega, Titanium 1962–2002 (Hungaratron, 1962–2002/2002)
The grandiloquent last minute or so of "New Slaves" features an all-too-rare hip-hop incursion by a Hungarian prog-rock band. The name of the song by Omega is, say it aloud now: "Gyöngyhajú lány." On this career-spanning overview, Omega wanders wildly through old wooly rock and roll and passages of mind-bending psychedelia.
Listen: "Gyöngyhajú lány"
3. The Gap Band, III (Mercury, 1980)
The Yeezus outro anthem "Bound 2" includes vocals laid down in the studio by Charlie Wilson, who made his name with the funky, fleet Gap Band. This classic LP captures funk as it started to negotiate its move into the eighties, with an intriguing production sheen and a zapped-out sense of space at work in songs that go down easy.
Listen: "When I Look in Your Eyes"
4. Run-D.M.C, Raising Hell (Profile/Arista, 1986)
The production credit on LL Cool J's great Radio album read "Reduced by Rick Rubin," and he was brought in at the last minute to do just that to Yeezus, stripping tracks down to emphasize rawness, desiccation, and battered allegiance to the groove. Rubin's equal fondness for hip-hop and rock is the stuff of legend, and the spirit of both figure into a litany of memorable tracks here: "It's Tricky," "My Adidas," "Walk This Way," "You Be Illin'" —  so many stone-cold classics.
Listen: "My Adidas"
5. The Geto Boys, The Geto Boys (Def American, 1990)
Rubin also had a hand in this breakout gangsta-rap missive by the Houston group Geto Boys, who went considerably further than Yeezus does in the way of X-rated lyrics designed to offend. You've got to hand it to any act that opens an album with a track called "Fuck 'Em," and there's all kinds of defiling and disrespect doled out, over thumping boom-bap grooves, in songs like "Mind of a Lunatic" and "Size Ain't Shit."
Listen: "Size Ain't Shit"
6. Joey Beltram, Classics (R&S, 1990-1991/1996)
Parts of Yeezus evoke the grimy atmosphere of deep, dark warehouse raves, and New York native Joey Beltram made some of the most powerful anthems for the rave state of mind. Tracks like "Energy Flash" and "Mentasm" rush with a menacing, mechanized sense of urgency, and the space above the beat spins and swirls until a welcome spell of unsettled euphoria kicks in.
Listen: "Energy Flash"
7. The Prodigy, Experience (XL, 1992)
Before the rampant raging of "Firestarter," the Prodigy made gloriously weird and splatter-tastic rave tracks that it's easy to imagine scrambling Kanye's ear. The insanely giddy "Charly" makes glorious use of a sample of a cartoonish meow, and other tracks like "Out of Space" spread out and wander through spells of reggae and renegade electronic music revved up for maximum drama.
Listen: "Charly (Trip into Drum and Bass Version)"
8. Marc Acardipane, Best of 1989-1997 (ID&T, 1997)
Yeezus's opening tracks seethe electronically enough to evoke the cracked dance sound known as gabba, which went fast and hard and then some. Under a number of different aliases — most notably as the Mover — the German producer Marc Acardipane was a master of sounds that treat intensity as the highest virtue.
Listen: "Atmos-Fear"
9. Daft Punk, Homework (Virgin, 1997)
Before they adopted the million-dollar stare of Random Access Memories, Daft Punk — compatriots of Kanye's since "Stronger" and co-producers on the first four Yeezus tracks — stepped out with dance grooves that were way more primal and raw. The catchy round sound of "Around the World" proved to be the stickiest, but other parts of the duo's debut are more heated up and singed around the edges.
Listen: "Rollin' & Scratchin'"
10. Underground Resistance, Interstellar Fugitives (Underground Resistance, 1998)
Kanye's anti-capitalist rhetoric on Yeezus turns out to be mostly a matter of personal injustice, but the general vibe is still in keeping with Detroit techno's most political collective, who also liked to mask their faces on occasion. It's no leap to imagine Kanye dropping verses over a track like "Maroon," which sounds strangely laid-back and tensed-up at the same time.
Listen: "Maroon"
11. Eminem, The Marshall Mathers LP (2000)
Remember Eminem when he was dangerous? Has anything on the scale of Yeezus come even close to summoning the same sense of dementedness, unhingedness, or just plain proud flouting of whatever might sensibly be expected and deserved?
Listen: "The Way I Am"
12. Bone Crusher, AttenCHUN! (Arista, 2003)
A monster from the margins of crunk, Bone Crusher is all about defiance and martial declaration. His flow, such as it is, skips past smooth acrobatic lingual tricks and races toward an intense sense of immediacy, delivered in his case in a fleshy growl.
Listen: "Never Scared"
13. Elephant Man, Good 2 Go (VP, 2003)
The little bits of Jamaican toasting laced throughout Yeezus suggest an allegiance with dancehall, which reached a fevered digital pitch around the turn of the millennium in the mind of Elephant Man. Known as "the Energy God" (has there ever been a better nickname?), he spits in manic-mouth mode all over this classic of warped, heated electronic weirdness.
Listen: "F**k You Sign"
14. Various artists, Schaffelfieber 2 (Kompakt, 2003)
The liner notes on "Black Skinhead" don't credit Gary Glitter's "Rock and Roll Part 2," but the strutting glam-rock beat sure sounds like it. In the oughts, that beat seeded an entire subgenre of German minimal techno called "schaffel," which played with all sorts of shuffle-minded side-to-side grooves. This second of two "Shuffle Fever" compilations gathers tracks that will make your walk to the deli a lot cooler than it might otherwise be.
Listen: "Bodyrock"
15. Kanye West, 808s & Heartbreak (Roc-a-Fella, 2008)
This anomaly in Kanye's catalogue, Iin which he played around with a sort of cyborg croon and made the beats forbidding and remote, has more in common with Yeezus than any of his other albums. Its iciness is turned to heat this time, but the sense of urgency — of somehow needing to have been made — is much the same.
Listen: "Say You Will"
16. Hudson Mohawke, Butter (Warp, 2009)
The young U.K. producer Hudson Mohawke figures in the credits for three Yeezus tracks, and his cracked, bumptious aesthetic is smeared all over his totally wild full-length debut. Parts of it sound like OutKast as remembered in the midst of a nitrous-oxide high, while other parts turn out a tightly coiled fusion of hip-hop and dance music as it plays in dubstep-studded clubs.
Listen: "Gluetooth"
17. Skrillex, Scary Monsters and Nice Sprites (Big Beat, 2010)
Skrillex was said to have been working on the sessions for Yeezus, but his name on the final product is nowhere to be found. Nonetheless, his presence can be felt in the anarchic noise and thwacking beats that figure into the electronic production — a pair of attributes he put to good use on this seizing, shaking first EP.
Listen: "Kill Everybody"
18. Tyler, The Creator, Goblin (XL, 2011)
This breakout solo album by the upstart Odd Future mastermind traffics in deep, dark moods and an aggressive, even antagonistic, minimalism. As Tyler rages and strange sounds fly all around, the effect is that of a pent-up dude in a studio with a lot on his mind and only one way to get it out.
Listen: "Yonkers"
19. Oneohtrix Point Never, Replica (Software, 2011)
Angling electronics toward an expansive spectrum of emotion is a specialty of this Brooklyn-based synth wizard. Parts of this mesmerizing album are abstruse and abstract, but it's also dependable for moments of real rapture and release.
Listen: "Remember"
20. Prurient, Bermuda Drain (Hydra Head, 2011)
Industrial intensity abounds on this screaming, raging, ripped-open vein of a record. Traces of techno, metal, and noisy electronic pop à la Nine Inch Nails are detectable in the din, but it's hard to think about anything outside the writhing mind of the guy who made it.
Listen: "A Meal Can Be Made"
21. Chief Keef, Finally Rich (2012)
The troubled, troubling Chicago rapper Chief Keef factors in the Yeezus song "Hold My Liquor," sharing a "vocals" credit with the bearded guy from Bon Iver in what will very likely be a one-time occurrence. He's on the front lines on his own debut, which stares out at the world as if peering through a gunsight with glassy eyes in tracks that match tense production to anxious, angsty rhymes.
Listen: "Hallejulah"
22. Death Grips, The Money Store (Epic, 2012)
Visceral and unvarnished hip-hop to the extreme, this manifesto by Death Grips bleeds manic energy and aggression from beginning to end. On the mike, MC Ride sounds angry and more than a little crazy, and the production mix assembled by drummer Zach Hill suits the mood.
Listen: "Hustle Bones"
23. Odd Future, The OF Mixtape Vol. 2 (Odd Future, 2012)
The mess of excitement and indignation that greeted the arrival of Odd Future a few years ago had to make an impression on Kanye West, himself no stranger to controversy but too famous to stay so low to the ground. This full-crew mixtape presents Odd Future in all their weary, bleary, fuck-all-y'all glory.
Listen: "Lean"
24. Le1f, Dark York (Greedhead, 2012)
Le1f is a New York rapper and producer working on the fertile outer margins of hip-hop at a time when the tradition is reshuffling and, well, anything goes. His production sound figured into some standout tracks for the group Das Racist, but the best lens into his world comes by way of this mixtape that's dense with out-there electronic whirs and rapping that sounds charged and checked-out at once.
Listen: "Wut"
25. TNGHT, TNGHT (Warp, 2012)
The timely duo of producers Hudson Mohawke (see above) and Lunice loads a lot of weight into a sound split between antic dance tracks and hip-hop bangers. This EP must have been what Kanye heard before enlisting them both for co-production credit on the momentous Yeezus track "Blood on the Leaves."
Listen: "Goooo"
26. Young Smoke, The Space Zone (Planet Mu, 2012)
Young Smoke is an adherent of the "footwork" sound currently streaming out of Kanye's hometown, Chicago. It's made to be danced to, but the rhythms couldn't be more cryptic or cracked, and the all-over electronic sound fans out to some strange outer spheres.
Listen: "Korrupted Star"
27. Silent Servant, Negative Fascination (Hospital Productions, 2012)
The kind of seriousness and solemnity at work in parts of Yeezus drives the austere techno sound of Silent Servant, a producer for whom dancing is less a matter of having fun and more a means for exorcism. Shades of gray turn into fantastic colors if you furrow your brow just right, and the kind of contemplation that attends zoning out can be cleansing.
Listen: "Invocation of Lust"
28. Evian Christ, Kings and Them (Tri Angle, 2012)
Part of the cast assembled for the Yeezus track "I'm In It," Evian Christ is a young U.K. producer and an acolyte of the au courant electronic-music label Tri Angle, home to spooky rhythmic refractions and deep-dive low-end sounds. Logic doesn't suggest exactly how it might scan, but there's a message lurking in a track titled "Fuck It None of Ya'll Don't Rap."
Listen: "Fuck It None of Ya'll Don't Rap"
29. Autre Ne Veut, Anxiety (Software, 2013)
Arty R&B writher Autre Ne Veut shares with Kanye a tendency to be so open and emotional and raw that things start to turn exhibitionist and strange. On his aptly titled second album Anxiety, it's all hanging out there, buzzing like a live-wire on the ground, and the current coursing through his songs can turn any which way.
Listen: "Play by Play"
30. Mykki Blanco, Betty Rubble: The Initiation (Uno NYC, 2013)
Mykki Blanco is busy keeping hip-hop weird — and not just weird, but really weird. A sort of performance-art drag persona adopted by Michael David Quattlebaum Jr. (himself the author of a poetry book called From the Silence of Duchamp to the Noise of Boys), she's a low-voiced messenger of rap as imagined for a phantasmagorical post-everything world.
Listen: "Angggry Byrdz"