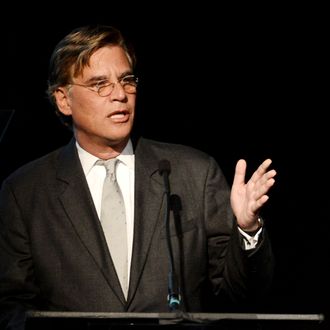 Photo: Kevin Winter/Getty Images
HBO let Aaron Sorkin completely scrap the first two episodes of The Newsroom and rewrite and reshoot them, Sorkin tells THR. "With my hat in my hand, I went to HBO and said, 'Would it be all right if I started again? I know it's going to cost time and it's going to cost a lot of money.' Other networks would have said no," he says. But HBO said yes, though the network did cut the season from ten episodes to nine. Not that Sorkin minds, because apparently writing is incredibly torturous for him.
With a degree of candor that is as surprising as it is endearing, Sorkin will walk you through his routine: take a shower, put on clean sweatpants, try to write; have another shower, put on a comfortable outfit, take a crack at writing; shower again. "I'm not a germaphobe; it's kind of a do-over," he says of the six showers he'll often take in a day. The progression is "horrible," he acknowledges. "Writer's block is like my default position. When I'm able to write something, that's when something weird is going on."
Try putting on some regular pants like a grown man, maybe? This is what Amy Sherman-Palladino was talking about.