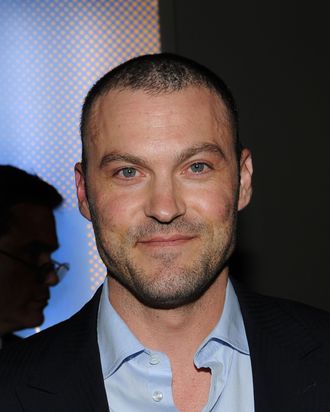 Brian Austin Green attends the Cinema Society & People StyleWatch with Grey Goose screening of "Friends With Kids" at the SVA Theater on March 5, 2012 in New York City.
Photo: Larry Busacca/Getty Images
Oh, David Silver, how could you? Brian Austin Green has been upped to a regular on aggro troll creature Charlie Sheen's FX sitcom Anger Management. Green has already appeared in three episodes, as Charlie's ex-wife's new boyfriend, and according to The Hollywood Reporter, he'll be the "new foil" for Sheen's character now that Selma Blair has left the show. (Acrimoniously.) And this whole time, we thought Charlie Sheen's foil was lawful citizenship and respecting women.