You thought we'd stop hunting for hidden gems in episodes one and two of the new Arrested Development season? You thought we couldn't possibly keep going with the extensive Easter egg-finding? Wrong! We can't stop and we won't stop! Here are episodes three and four, featuring all the things you might have missed on your first (and second, and third) viewing. Did you catch all of these? And did we miss any? Let us know below!
Episode 3: "Indian Givers"
Easy one first: We learned that Lindsay isn't the biological daughter of Lucille and George, and have the onscreen graphics to prove it.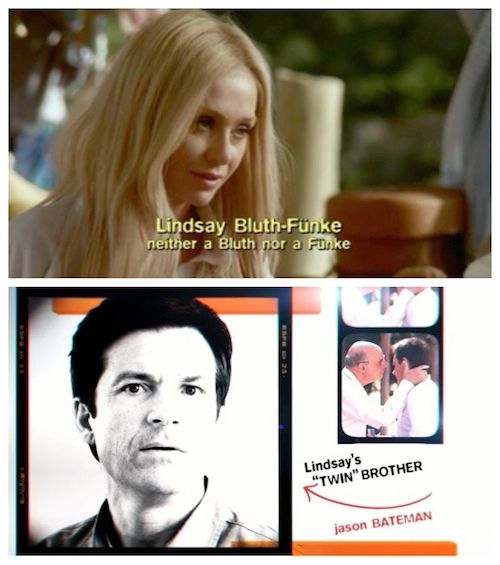 The TV graphic in the following photo reads: "Pursed lips sink ships."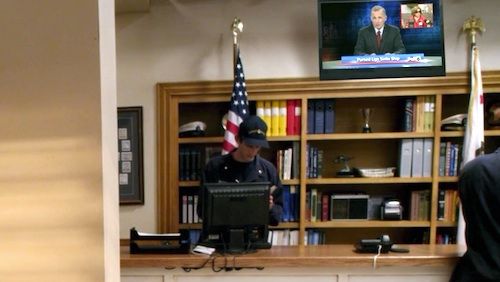 Lucille and Buster appear on the cover of Balboa Bay Window — "The Magazine of the American Society of Ladies Who Lunch — a Lot" — and seem to be protesting Prop 8 ("Proposition Ape"). Of course, nothing is made of the weirdness of their mother-son marriage.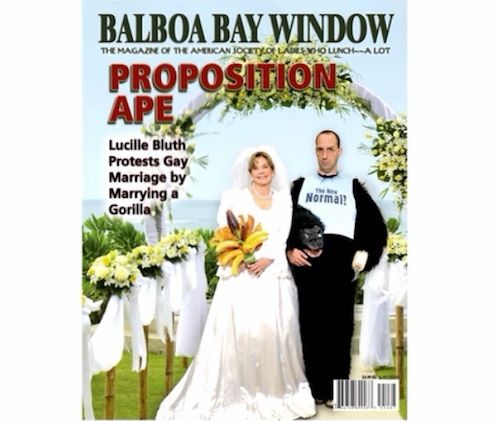 Tobias and Lindsay address the gorilla in their room: "This marriage of ours, it isn't working. There's nothing keeping us together." See screengrab.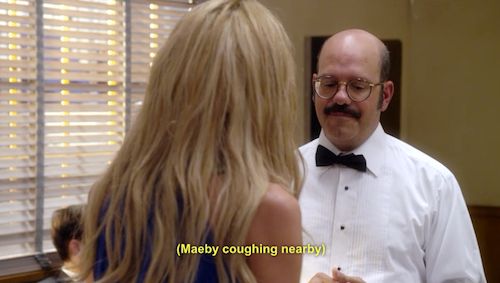 Cats, hats … Sound like Dr. Seuss to you? Remind you of anyone from episode one? And does it remind you that Brian Grazer and Ron Howard's production company, Imagine Entertainment, produced both Dr. Seuss' How the Grinch Stole Christmas and Dr. Seuss' The Cat in the Hat?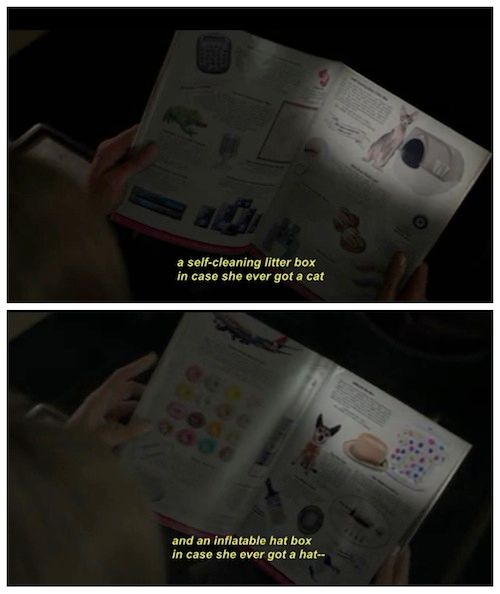 Lindsay's visit to the shaman gives her a reason to produce the Bluth family's signature prayer hands. "Shoot me if you ever catch me doing that," Michael says later.

Speaking of the shaman Lindsay meets at The Four Seasons (note the hotel choice!), the magical "man" looks suspiciously familiar. Those freckles? That face the shaman makes when Lindsay implies that she doesn't have children? Maybe that's Maeby saying, "Please don't squeeze the shaman!"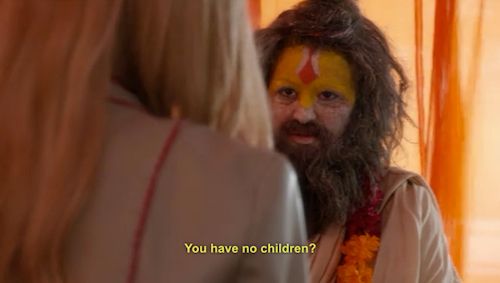 After the sham shaman tells her to go find her love (remember, she only read the "eat" and "pray" sections of Eat, Pray, Love), Lindsay returns home and convinces Tobias to buy a house. Who helps them? Ed Helms, in the form of James "I Don't Sell" Carr(s).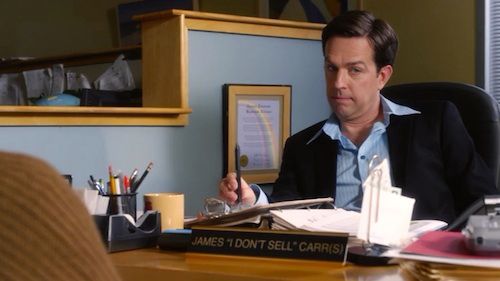 While Tobias and Lindsay get slowly suckered into buying their "dream home," Maeby draws penises (or phalluses!) on the whiteboard behind them. How are they able to buy the house with no cash? Using a NINJA loan ("NINJA, please!").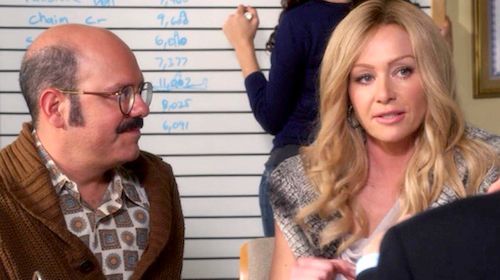 Is it any surprise that Buster's "Camp Kissa-Me Mommy" was just a tent propped up in Lucille Bluth's bedroom?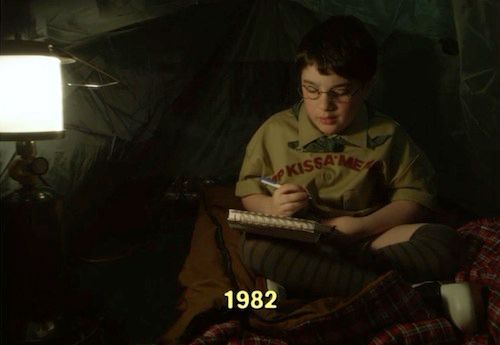 The circled flyer reads: "Feeling blue?"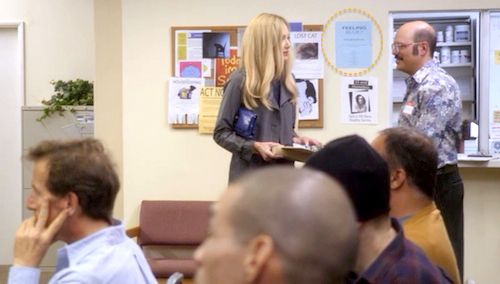 Marky Bark signs up for Al Qaeda because he wants a free beard brush. Obviously, the Bluth family has had its own shady dealings in the Mideast …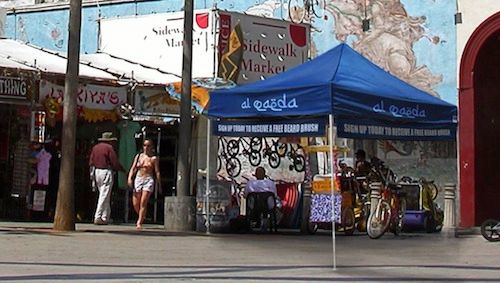 In a flashback, the Fünkes use the "Mommy, What Will I Look Like" signage to trap their Thanksgiving miracle. Remember George Sr. and Kitty's theoretical child?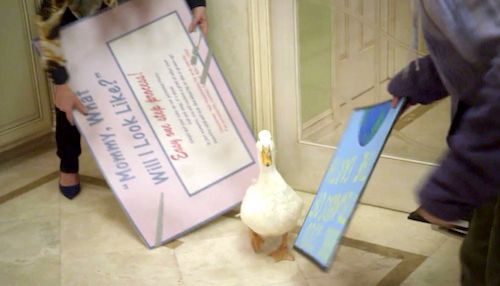 Recognize Loretta, the waitress from C.W. Swappigan's? She used to work at Klimpy's (where Lucille delivered arguably her best line ever: "I don't understand the question and I won't respond to it") and Skip Church's Bistro.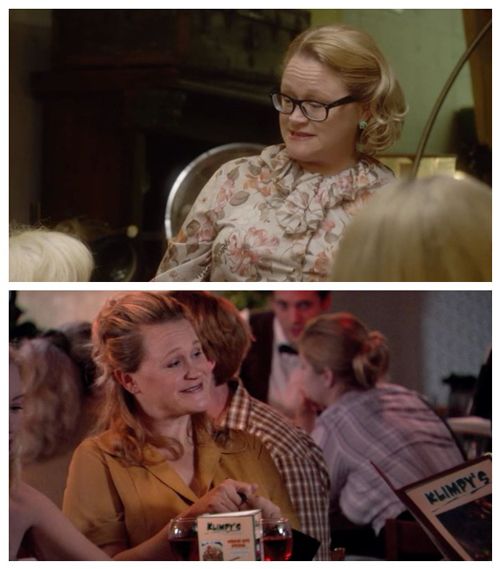 Pro tip: Watch Arrested Development with the captions on.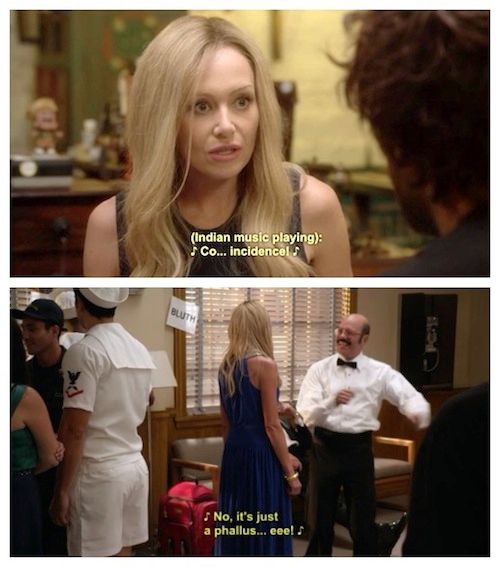 Episode 4: "The B. Team"
Bob Loblaw is back. In case you forgot, he's played by Scott Baio, the one-time teen heartthrob actor whose best-known role was Happy Days and Joanie Loves Chachi hunk Charles "Chachi" Arcola, a younger cousin of Arthur "Fonzie/the Fonz/Fearless" Fonzarelli, played by Henry Winkler (who, it goes without saying, recurs on Arrested Development as Barry Zuckerkorn, the Bluth family's other inept attorney); Chachi and the Fonz were pals of Richie Cunningham, played by Ron Howard. Chotchie joke explained!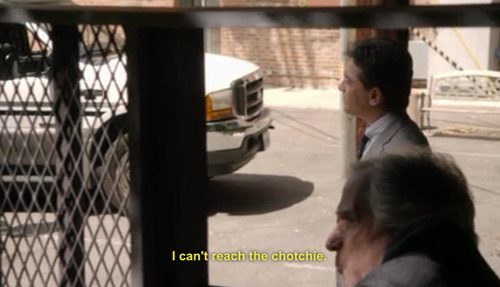 A Bob Loblaw Law Bomb? Has Tobias perfected this tongue twister yet? ("You, sir, are a mouthful.")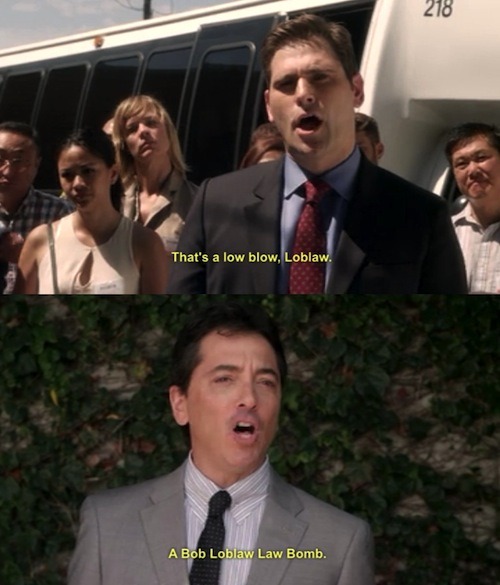 Michael gets a new car. This one's the "Something Car" (if you recall, Arrested Development doesn't like to name-check Google) and perhaps he realizes he hasn't gotten very far from the infamous stair car after all …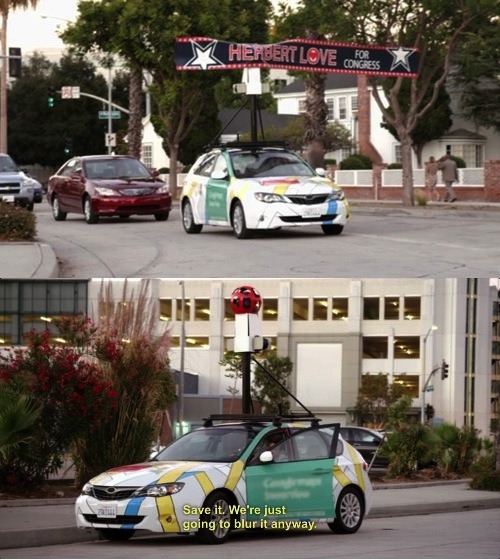 Once he gets to Imagine Entertainment to meet with Ron Howard (oh-so-meta!), he finds out that Kitty Sanchez works at Imagine. She says, "Michael! Remember me? Perhaps this will jog your memory!" —and then shows him the key card we'd literally pony up as much as $5,318,008 to own if they ever auctioned it on eBay (hint: read that figure upside down on a calculator).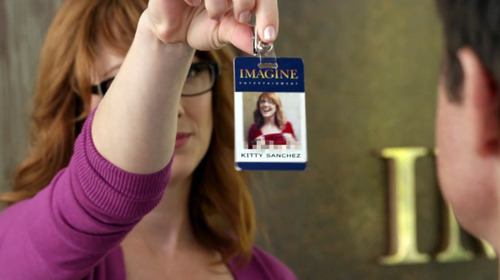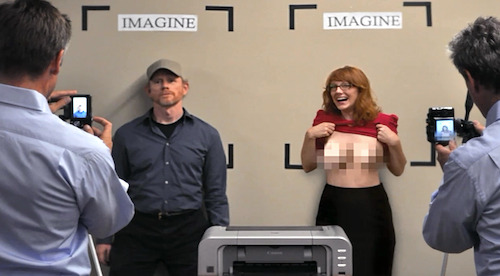 "Not Going Forward Development" — hyphen-deprived fun with in-boxes (Ron Howard, call copyedit, stat!).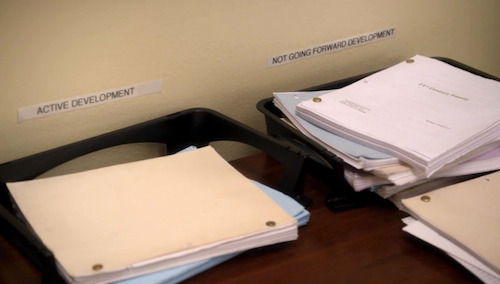 Ron Howard invites Michael into this Lunar Excursion Module (LEM); he says that he named each of his kids after where they were conceived. His daughter, Rebel Alley (conceived in an alley, perhaps?), has a child named Lem, hinting that she and her dad share a love for naming gimmicks and mooncraft.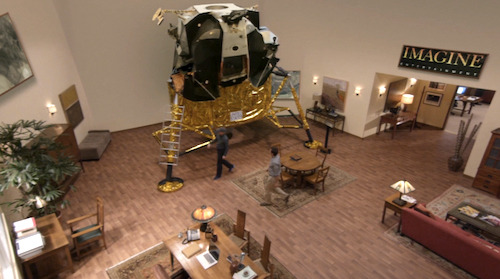 Yet another "old lady Grinch" reference …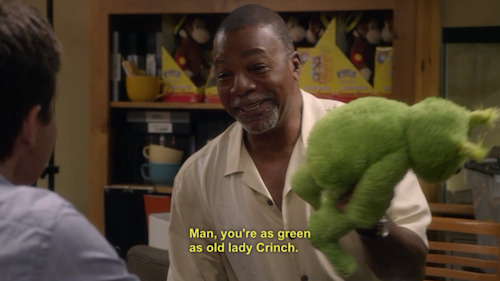 Carrie Fisher pops up in two different scenes: The first, "Carrie Fisher Ankles Big, Too," is a play on Variety parlance (where "ankles" equals "lands a role in"), so would mean she'd been cast in Big, Too, a likely sequel to the Tom Hanks dramedy; and the second is on the computer screen of John Krasinski's assistant to Jerry Bruckheimer, a rival producer whose (smaller) offices are located near Imagine Entertainment headquarters.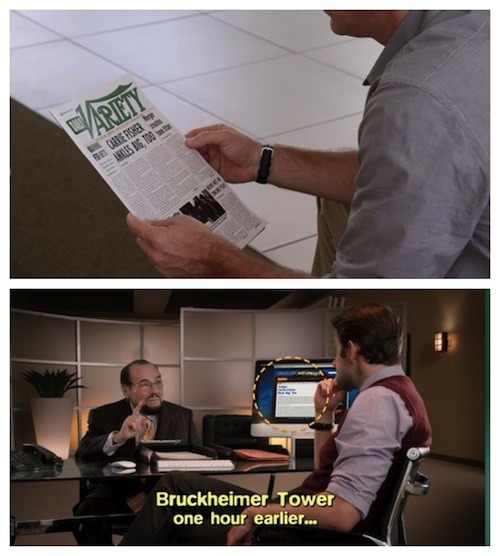 … thus, this repeated gag on their respective office buildings being in competition.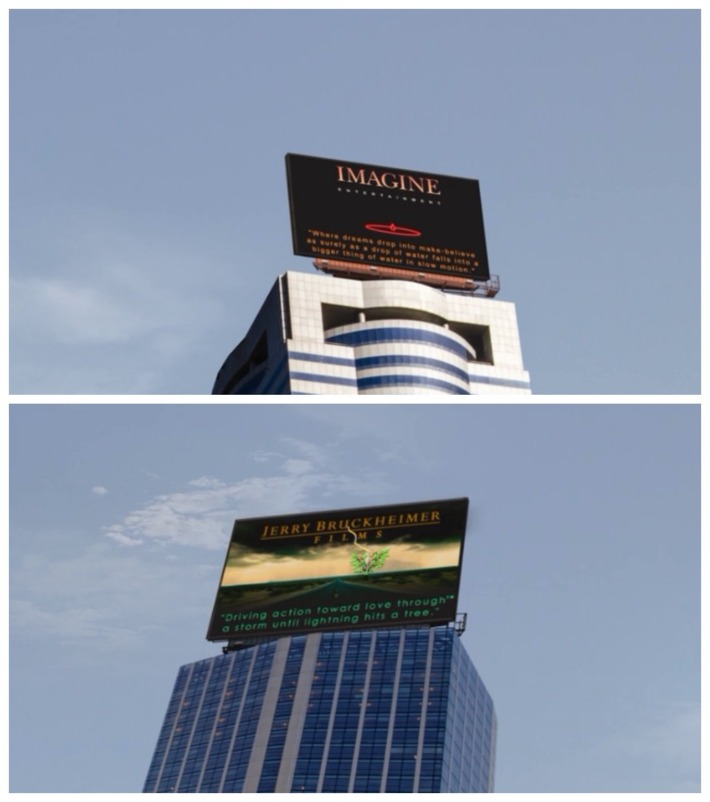 When Michael's so-called Dream Team (or, as the episode deems them, "B Team") finally does get to meet Ron and Brian, it's not exactly who the guys had planned. Warden Gentiles mentions that he wrote several episode of Rocko's Modern Life, which is mostly random, but many screenwriters do get their start writing for cartoons.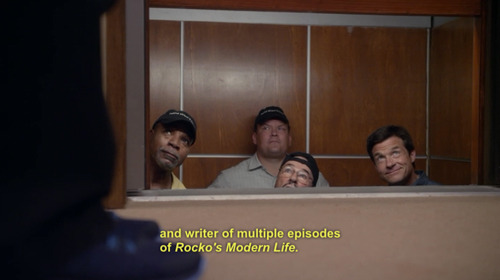 Please note that Brian Grazer is holding a script for Cap'n Crunch — a movie we'd all love to see. Meanwhile, the LEM meeting between Ron and Michael had some other fake scripts: Three Men & Two Babies, Tell It to the Hand, and Backgammon! (the last perhaps a nod to last year's Battleship).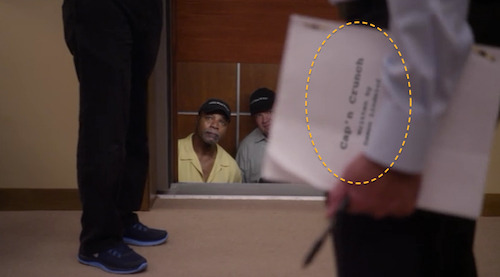 To make it easier to track down signatures for the release forms, Michael relocates from Imagine HQ to an office in Orange County. It contains a slew of Spanish-language posters referencing actual Imagine Entertainment films, including: Agua (English meaning: Splash), Señor Princesa (Cinderella Man), Dos Hombres, Uno Ve a Una Mujer con Otro Hombre Que No Es el Primer Hombre. ¿Que Hara? ¿En Caso de Que le Diga? (which loosely translates to Two Men, One Sees a Woman With Another Man Who Is Not the First Man. What Will He Do? What Will He Say to Her in That Case? — in other words, it's for The Dilemma). And there's a poster for Angeles y Diablos: ¡Mas! ¡Mas! ¡Mas! (Angels and Devils: More! More! More!, a nod to a (unfortunately fake) sequel to The Da Vinci Code with Tom Hanks's Bosom Buddy co-star Peter Scolari. And there's a poster for Cocoon (directed by Ron Howard) thrown in there for good measure.