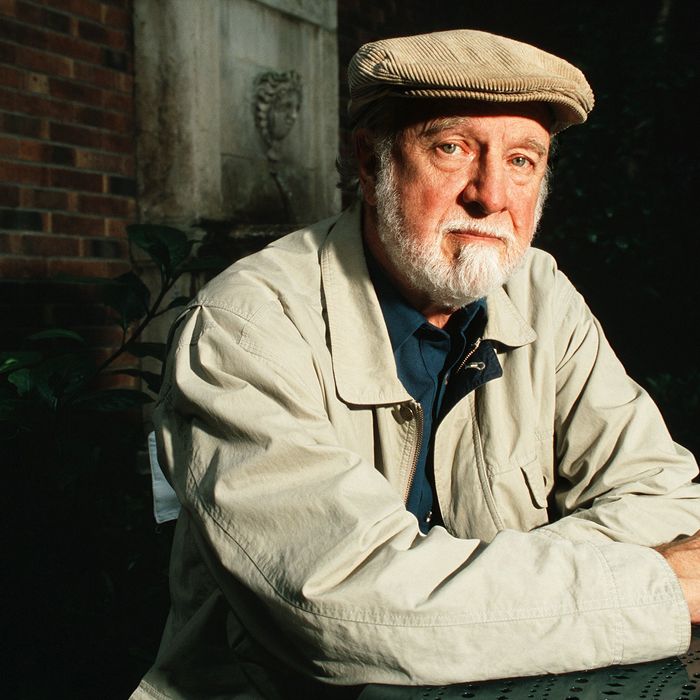 Photo: Photo by Xavier ROSSI/Gamma-Rapho via Getty Images
Every time I fly, I peer out the window and think about "Nightmare at 20,000 Feet," the short story made into a famous episode of The Twilight Zone about a gremlin on the wing of an airplane tearing apart the engine wiring. Every time I drive on the freeway and a semi fills my rearview mirror, I think of "Duel," the short story adapted into Steven Spielberg's first film about the unseen driver of a tanker truck playing cat-and-mouse with a terrified salesman. Every time I shop at Costco, I look at the barred ceiling windows and the stacks of dried goods and think that this would be the place to go when the apocalypse — so rivetingly and despairingly captured in the 1954 novel I Am Legend — finally turns our family and friends into night-stalking ghouls.
For this, I blame Richard Matheson, the short-story writer, novelist, and screenwriter, a dark sorcerer of words who impacted generations of writers. He wrote some of the best science fiction, fantasy, and horror you'll ever put in your eye.
At some point, every author is asked what they hope to achieve. The answer is this: They want to haunt. They want their make-believe narratives to get cluttered up with reality, so that we might believe we visited a hellish house that does not exist, so that we might wonder what a character like I Am Legend's Robert Neville is up to when we are walking the dog or pouring milk over cereal.
I am haunted by Richard Matheson. I see his stories everywhere, every day. He stalks my imagination. And now he who has conjured so many ghosts is a ghost himself.
Matheson was notable for his pared-down, knife-sharp prose. And his style often matched his subject matter. He wasn't a show-off. He often took something ordinary — a house, a truck, a child — and warped it, twisted it, made it sinister. He seeded our ordinary world with extraordinary darkness.
His characters were often psychological misfits, struggling with the demons within as they battled the demons without. It's sometimes unclear whether Tom Wallace, the protagonist of Matheson's chilling 1958 novel A Stir of Echoes, is psychic or merely hearing voices. Or whether there actually is a gremlin on the wing in that terrifying episode of The Twilight Zone starring William Shatner. Or if that truck in the rearview mirror in Duel is actually there at all. And Robert Neville makes his house into a fortress and paces the floor and talks to himself and contemplates suicide and drinks himself into oblivion and listens to records at top volume to drown out the voices outside before finally deciding to battle back against the virus that has decimated the world.
Dostoyevsky once said, "We all come out from Gogol's 'Overcoat,'" and these days, so many of us have crept out of Matheson's graveyard. Stephen King, Peter Straub, Dean Koontz, George Romero, and Anne Rice all claim him as an inspiring force, as do I. He's dead now. But if anyone is going to return to us as a ghost or a vampire or a zombie or an interdimensional traveler, it's him. I'll keep one eye on my nighttime window and the other glued to the page, where his stories still live.
"I am legend," his tombstone should read.
About the author: Benjamin Percy's most recent novel is Red Moon.