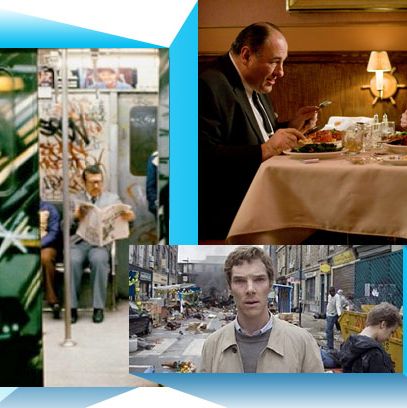 It's wild and wooly out there in the world of streaming video. As movies and TV shows become increasingly accessible through a variety of services, it has also become increasingly difficult to keep track of what is available where, what is expiring when, and what is actually worth watching. So every Friday, Vulture will have a list of recommendations of movies and TV shows that are new to Netflix (as well as Hulu, Amazon, On Demand, and other streaming sites), those that are expiring, and those that you should watch just because.
Not Fade Away
James Gandolfini wasn't a chameleon. Each time he appeared in front of a camera, his physical presence came with him. What changed with each role was his command of that presence. Gandolfini mastered the art of behavior — the characters' lives informed the way they walked, the way they talked, the way they gazed, the way they snapped, the way they felt the weight of the world on their shoulders. Gandolfini provided the nuance necessary to pull that off. So much so that, even when his characters weren't onscreen, they were.
This all dawned on me after watching Sopranos creator David Chase's 2012 film Not Fade Away. ("A glancing, disjointed little movie that captures as well as any film I've seen the mind-expanding mojo of rock and roll at the dawn of the counterculture," according to Vulture's David Edelstein.) In Chase's debut, Gandolfini plays Pat, an Italian-American father in the sixties who watches in despair as his son, Douglas, ditches the ROTC in favor of chasing rock-and-roll dreams. There are shades of Tony Soprano in Pat, likely owed to the influence of Chase's own past over both father figures. Gandolfini adeptly separates them; Pat is loving and gruff, capable of bursts of rage, but he's vulnerable in a way that Tony never allowed himself to be. Pat has mistakes from his past he's able to confess — one scene between father and son is downright heartbreaking in its honestly — yet he harbors regret, Gandolfini letting hints of envy emerge.
Not Fade Away is a percussive ride through the sixties rock scene that allows Chase to abandon typical structure or Hollywood convention in favor of pouring passion directly onscreen. It's a whirlwind of colors, sounds, and brightly shining memories. Gandolfini acts as an outside observer and conscience to Douglas. That was one of the actor's great gifts — while he could turn a script's dialogue into gold, his reactions spoke volumes. Chase takes full advantage, turning Not Fade Away into one of Gandolfini's best roles. (Available to rent on iTunes)
The Last Enemy
Unsettled by government Big Brother programs that gather your e-mail/phone calls/Facebook pokes and keep them handy for potential investigation? Benedict Cumberbatch is here to give you hope.
BBC's five-part mini-series The Last Enemy exists in an alternate London where every resident is monitored, their every movement and action rounded up into the T.I.A. (Total Information Awareness) database. Cumberbatch plays Stephen Ezard, a genius mathematician who returns home from China for the funeral of his brother, who has been killed in Afghanistan. He's immediately thrust into a thick mess of plotting — his sister-in-law is a doctor with connections to a mysterious disease, the T.I.A. courts him as their spokesperson, and Robert Carlyle pops up for a bit of shadowy skulking. In the first episode, Stephen is saddled with questions, complicated by his obsessive-compulsive and paranoid tendencies. He's a mess of a human being and a thrill to watch.
The Last Enemy can be tricky, dense like a Michael Crichton novel with the heart of Francis Ford Coppola's surveillance thriller The Conversation, but as always, Cumberbatch provides an entry point. The show contrasts his Star Trek Into Darkness and Sherlock work, allowing the actor to drop the confidence and struggle. Set against an all-too-real backdrop and calmly directed (no Enemy at the State hyperspying here), The Last Enemy presents a terrifying rendition of the future. But hey, if that future has Cumberbatch, it can't be all bad, right? (Available on Hulu)
Style Wars
With Kanye's Yeezus, the announcement of Jay-Z's Magna Carta Holy Grail, and Wale's The Gifted lighting up Twitter trends, mainstream hip-hop is dominating the music conversation this week. Oh, how far we've come.
Twenty Thirty years ago, PBS aired director Tony Silver's award-winning documentary Style Wars, an inside look at New York City's graffiti, break dancing, and rap movements. Hip-hop was in its infant stage and Silver captured it in raw form. The director followed artists as they navigated tunnels and city streets to find fresh canvases — often the sides of subway trains — and tag them with colorful, bubbly spray-paint murals. Alongside dance cliques like Rock Steady Crew, the artists' technically illegal activities caught the eye of the pop art community and suddenly, hip-hop burst forth from the streets of the Bronx.
Hip-hop had its opponents. Along with the taggers and b-boys, Silver turned the camera on Mayor Ed Koch, who targeted his crosshairs on the street artists. Koch believed the graffiti was so detrimental to the subway system and general morale of the city that he had two fences, barbed wire, and attack dogs placed around all of the city's train yards. But as evidenced in Style Wars and twenty years of evolution, nothing could keep hip-hop culture at bay. (Available on Netflix)
Ragnarok
In his latest stand-up special — which debuted exclusively on Netflix this week — humorist John Hodgman gathers a group of culturally savvy Brooklynites to prepare for Ragnarok, the Norse day of reckoning. Sporting aviators and a Tom Selleck mustache, Hodgman riffs off "the end of the world" to cover everything from the components of sperm whales to esoteric sports from ancient civilizations (he's worried the jocks, who can jump and survive physically demanding scenarios, may be better off during the apocalypse). There's a René Magritte joke followed by a Watership Down reference — which should tell you that Hodgman's style remains perfectly intact in this somewhat zany, filmed stage show. Appearances by 30 Rock's Scott Adsit, musician Cynthia Hopkins, and a 14-year-old British boy who acts as the audience's lookout, give Ragnarok a homespun feel. This isn't Hodgman's arena show. Any fan of the comedian's knows that's a good thing. (Available on Netflix)