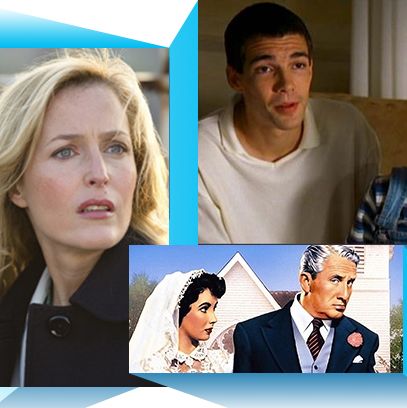 It's wild and wooly out there in the world of streaming video. As movies and TV shows become increasingly accessible through a variety of services, it has also become increasingly difficult to keep track of what is available where, what is expiring when, and what is actually worth watching. So every Friday, Vulture will have a list of recommendations for movies and TV shows that are new to Netflix (as well as Hulu, Amazon, On Demand, and other streaming sites), those that are expiring, and those that you should watch just because.
The Fall
Last week, this U.K. crime drama tiptoed quietly from its RTE/BBC run to a U.S. debut on the Arrested Development–dominated Netflix. Yet the procedural, starring X-Files alum Gillian Anderson, is buzzing like mad. Perhaps because it's filling the void left by AMC's polarizing The Killing, which is currently attempting to win back audiences with a third season. The Fall is basically The Killing gone right, an ensemble piece packed with complex personalities and tricky relationships that feel identifiable. The foundation of the show is a cat-and-mouse game: Anderson plays a detective superintendent brought into Belfast to track a family man–serial killer (Jamie Dornan of Once Upon a Time) as he hunts, strangles, and photographs beautiful Irish brunettes. The Fall is engrossing because it spends as much time investigating its characters as it does the murder case — something I'm still waiting for The Killing to get right. Anderson's currently on a hot streak with her guest-starring turn on Hannibal and the upcoming NBC drama Crisis. The Fall marks yet another career highlight. (Available on Netflix)
Father of the Bride (1950)
It has been a tough week for pop-culture nuptials. Game of Thrones viewers were shocked last Sunday by an event known as the "Red Wedding." HBO's gruesome, much-discussed episode appeared ahead of the wedding season like a dark cloud. That's why I'm prescribing the charming 1950 comedy Father of the Bride for anyone on the cliff of gameophobia. Before Steve Martin made the concept his own, Spencer Tracy, Elizabeth Taylor, and Joan Bennett starred. The movie is chock full of sitcom-isms — but that's the charm. In the fifties, a movie could wrangle top performers for a low-concept story with heartwarming laughs and still walk away with three Oscar nominations (those would be Best Screenplay, Best Actor for Tracy, and Best Picture). No shocking twists or celebrity cameos here. Just simple, rather lovely fun. (Available on Amazon Prime)
Funny Games
Every horror movie I have watched since viewing Funny Games for the first time (most recently, this weekend's The Purge) has resurfaced memories of this 1997 home-invasion drama by Amour writer-director Michael Haneke. Set against the lavish backdrop of an Austrian lake house, Funny Games depicts the psychological and physical torture of a well-off German family at the hands of two mentally disturbed young gentlemen. Peachy! But unlike today's bloodbaths that boast similar premises, Haneke never indulges in violence for violence sake. Funny Games has its moments of spine-tingling suspense and slow burn scares — an early scene sees one of the men continuously dropping eggs on the floor until the wife of the family suffers a panic attack — but Haneke's goal is disturbing because of the question it forces us to ask ourselves: "Why?" Why do we want to watch people get tied up and beaten and bloodied? Why are we waiting in anticipation to see what two horrible people will do next? Haneke throws the curviest curve ball of all when Funny Games deviates from reality, allowing its characters to break the fourth wall and dance around their victims without adhering to the laws of space or time. Think The Strangers by way of Bertolt Brecht.
Haneke also directed a 2007, shot-for-shot remake of Funny Games starring Naomi Watts and Tim Roth. But go with the German — especially if it's not your first language. A lingual disconnect should only add to the film's nightmarish quality. (Available on Netflix)