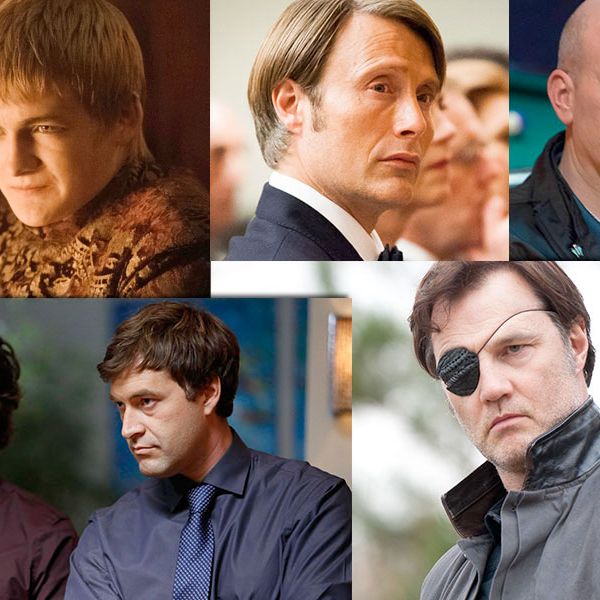 Eating victims. Feeding lovers to zombies. Being Walter White. All of these depraved acts resulted in some highly entertaining villains during the 2012–13 TV season. But our favorite bad guy from the past year was far more obnoxious.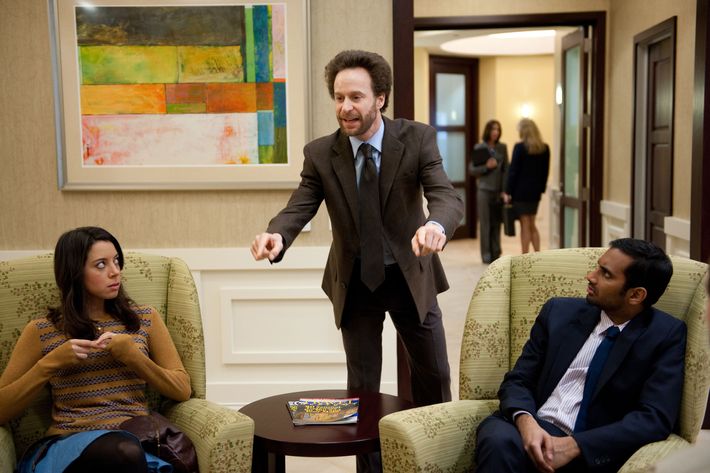 Best Villain: Parks and Recreation's Councilman Jeremy Jamm
He never murdered or physically tortured anybody, and yet this self-described "badass wild card" (played by a wickedly blow-dried Jon Glaser) is still the worst for his insidious, real-world evil. He may not haunt your dreams, but this kind of weasel will haunt your actual life. His C.V. of villainy is packed: His questionable pro–Paunch Burger agenda. His miniature-golf outfit. His unauthorized usage of Leslie Knope's toilet. But it was the decision to ruin Leslie's wedding that makes orthodontist and Pawnee city councilman Jeremy Jamm the absolute worst villain of the year — and by that we mean best villain. Not only did Jamm jeer Leslie as she walked down the aisle by singing, "Here comes the boo! All dressed in boo!" he also threw stink bombs. Jamm is your moronic little brother all grown up and in a position of authority — a position he seemingly occupies solely because it allows him to thwart and taunt opponents with his catchphrase "You just got Jammed!" There has never, ever been a bigger gnat in need of a smack, but like Leslie, all you'll probably ever get to do is push him into a pool. Justice not served.
Best (Worst?) of the Rest

2. Dr. Oliver Thredson/Bloody Face (American Horror Story)
Norman Bates might have stuffed his mother, but mommy issues caused Briarcliff's resident pretend doctor and serial killer to skin women for upholstery and home décor.
3. Lucille Bluth (Arrested Development)
Public enemy No. 1 south of the border, she invented Cinco de Cuatro to prevent her staff from taking off Cinco de Mayo, then schemed to get George to build a wall between the U.S. and Mexico. Only Buster gets it worse.
4. Joffrey Baratheon (Game of Thrones)
Westeros's homicidal teen king was at his prickiest when he stole his uncle Tyrion's footstool before his wedding to Sansa.
5. Matthew Mitcham (Top of the Lake)
The violent father and local drug kingpin casually drowned his real-estate agent for selling a piece of lakeside land he believed to be his birthright … among other terrible (spoiler-y) things.
6. The Governor (Walking Dead)
In post-apocalyptic Atlanta, friends kill friends. Friends don't turn friends (or even former friends) into walkers.
7. The midwives (The Mindy Project)
Handsome, successful, gentle, all-natural, and plastic-bottle-free since 2009. It's no wonder Danny can't stand the holistic DeLauriers.
8. Nick Augustine (Justified)
Yuck. All that dick sucking and "show me your tits" talk Theo Tonin's henchman directed at Ava still makes us wish she had succeeded in setting him on fire.
9. Dr. Hannibal Lecter (Hannibal)
Points for being a real gourmand who makes use of his entire product. Minus points for the product being, ya know, human.
10. Walter White (Breaking Bad)
Was Walt a bigger jerk for making Jesse and Skyler sit through the world's most uncomfortable dinner with him or for shooting Mike when he could have gotten the damn names from Lydia? Discuss.
Disagree? Let us know if you think one of the runners-up should have won top honors. Or is there someone even more diabolical who you think should have topped the list?