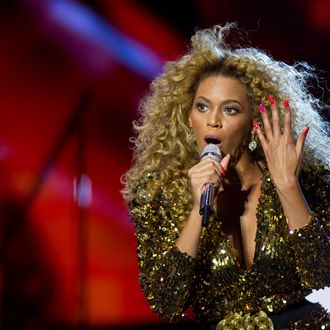 Beyonce performs live on the pyramid stage during the Glastonbury Festival at Worthy Farm, Pilton on June 26, 2011 in Glastonbury, England.
Photo: Ian Gavan/Getty Images
Despite an extravagant roll-out plan — a Super Bowl, an HBO documentary, and the world tour currently under way — there is still no official word on Beyoncé's upcoming album. That is probably because it is not done, according to Ne-Yo: "I'm still putting stuff together for Beyonce's album. They're still trying to figure out what they want that to be, which I'm not mad at. Beyonce's the kind of artist where you're not gonna see it till it's right." Okay, but it must have been pretty wrong to waste all that money promoting nothing (besides Beyoncé).