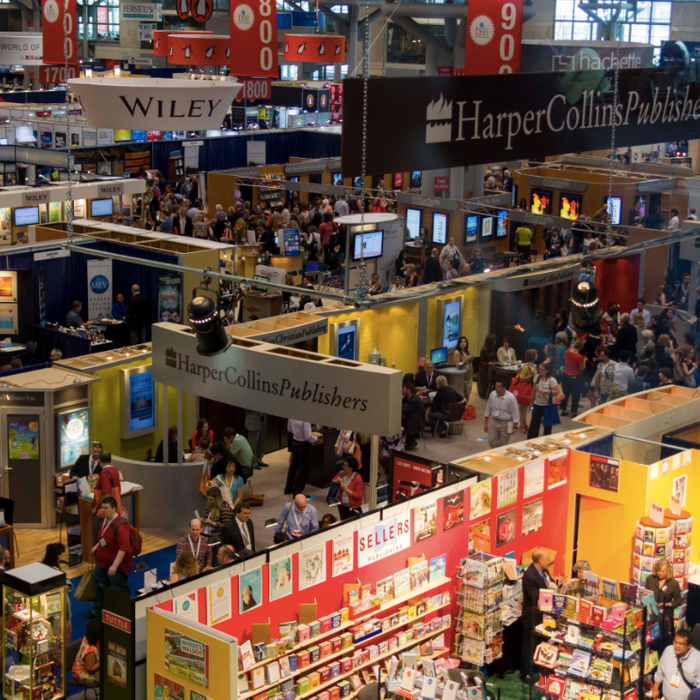 There's no better place than an industry convention for jargon verging on self-parody, and so it makes sense that Book Expo America, which wrapped yesterday at the Javits Center, was where I first heard the term "artisanal publishing." It was uttered in passing by the Silicon Valley proselytizer Guy Kawasaki, author of the book APE ("Author, Publisher, Entrepreneur"), on a panel titled "An Author's Transition from Traditional to Self-Publishing." If you want to know how to make your own transition into that bravely democratized new world, Kawasaki has some advice: Spend at least two hours a day working toward your goal of 10,000 social-network pals, some of whom might eventually kickstart you to bestsellerdom. "Some people say quality, not quantity of followers is what matters," said Kawasaki. "I'm telling you that is total bullshit."
Little of what I heard at BEA about the future of publishing was total bullshit, but a generous amount of it was evenly sprinkled throughout — the substantive and the silly seated side by side on dais after Silicon-addled dais. At a panel titled "Where Goeth the Book," Dan Jost of Inkling presented some fascinating illustrations of what they've done with enhanced e-books: a 3D picture of a cell in a biology text that you can rotate on an iPad; a guidebook to France that gives you the current weather and news. But first, the audience had to cringe through another presentation, a seven-minute YouTube performance-art video titled "Ceci N'est Pas Un Téléphone," wherein kitschy fifties images were paired with a breathy, arch-poetic voiceover intoning bon mots about "inimitable subliminal thresholds" and "re-mediated immediacy." (Google it, I dare you.)
At "The Future of eBooks and E-Reading," Michael Cader, founder of the biz site Publishers Marketplace, had many useful thoughts, mostly (and wisely) in the form of questions. Fiction works well in digital formats; what about nonfiction? As self-publishing spreads, will agents become publisher-producers? How many of these exhilarating innovations can be scaled up to serve mass markets? A couple of chairs away sat Jason Merkoski, a "technology evangelist" who helped develop the Kindle and, more recently, wrote Burning the Page: The eBook Revolution and the Future of Reading. "This is the golden age of reading — that's what's happening," he enthused. Agents, he said, are as good as gone, along with physical books (still 80 percent of trade sales, per BookStats). He envisions a world where we'll be able to talk to long-dead relatives and celebrities, whose every quirk and sense-memory will be transformed into a series of algorithms, "software solutions to disambiguate, to distill people into digital information." His way of demystifying the term "interoperability" was to reference (but not explain) Being John Malkovich.
This creeping TEDism seemed mostly to come from entrepreneurs with forthcoming books. (Malcolm Gladwell gave a key speech; a gargantuan banner for his next work, David and Goliath, adorned the entrance to the convention floor.) Reddit cofounder Alexis Ohanian, author of Without Permission: How The Twenty-First Century Will Be Made, Not Managed, seems like a genuine do-gooder — fundraising for the needy and nerdy alike — but he proved an immodest, frenetic, weightless speaker. You learned from him that "Forbes magazine has said some very generous things about me;" that the Internet will "make your awesome ideas a reality," and that the Millenials are not a "Me Me Me Generation," as Time magazine would have it, but an epochal force reinventing life from scratch.
It's interesting that, for all the talk of democratization, a panel meant to debate self-publishing ("Disrupter or Defender of the Book Business?") featured two speakers — Keith Ogorek of Author Solutions and Angela James of the digital-first Carina Press — whose imprints are owned by giant corporations. Maybe that's why their tone was more cautious, praising the innovations of self-publishing — reader feedback, long mailing lists, fan fiction — without ever saying it's better to go it alone. Self-interested, sure; but isn't everyone?
The third panelist, James McQuivey of Forrester Research (and, yes, the author of a book called Digital Disruption), argued against an either-or approach to the whole business: "Hybrid authors," who sometimes go conventional, sometimes artisanal, "are the smartest." All the panelists agreed that change is both distressingly fast (zombie algorithms or no) and reassuringly slow. "Let's say," McQuivey said, "that we're in chapter one or maybe chapter two of a Dan Brown novel. There are 49 more chapters to come. They may not be so long. But we're only at the beginning." Better a Dan Brown novel than "Ceci N'est Pas Un Téléphone."