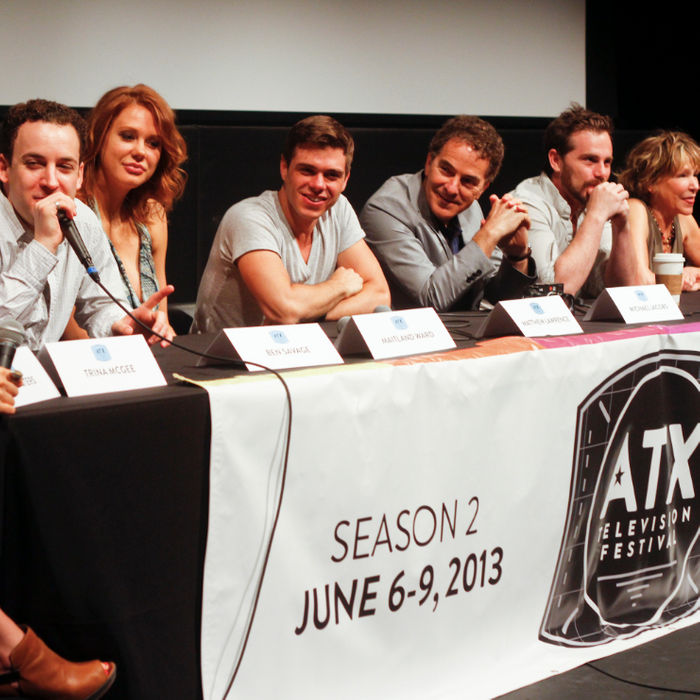 As part of the ATX Television Festival in Austin, most of the cast of the late ABC comedy Boy Meets World (which will have debuted twenty years ago this September) reunited, including Ben Savage (who played the eponymous boy learning about growing up, making mistakes, and falling in love with a girl named Topanga) and Rider Strong, who played Cory's good-hearted screw-up of a best friend, Shawn. Noticeable holdouts? Topanga (Danielle Fishel) and elder sage Mr. Feeny (William Daniels), though Fishel did tape a brief Q-and-A that was shown.
Boy Meets World, with its earnest, breathy affirmations, and traditionalist, laugh-tracked sitcom pattering, hasn't aged particularly well, especially compared to today's sharper, slicker comedies. But for Clinton-era youths who binged on the series at the height of its syndication (in the same way it feels like Bravo is always airing some episode from the Real Housewives franchise, as was BMW and Disney Channel), it was the bildungsroman. Because the show spanned Cory's life from middle school to after college, the show changed with its viewers' taste, from kid comedy to young adult drama. You could feel that sense of ownership and gratitude in the reunion's audience.
And after screening the show's series finale, where Cory, Shawn, Topanga, and Eric (Will Friedle, who also didn't attend but has apparently been doing a lot of voiceover work) flashback to key character moments in the show's history before leaving for New York, TVLine's Meg Masters moderated a panel where the cast and series creator Michael Jacobs shared some insider knowledge, teased the Girl Meets World spin-off, and recalled their special stalker family.
It was originally going to be about a three-guy trio.
If you look back at the series' first three episodes, Strong pointed out, there was a revolving door of young boys intended to be the guy that rounded out the Cory and Shawn friendship, but none of them took. (Topanga wasn't introduced until episode four.) In fact, Strong's character was initially a bit part. "I had like two lines in the pilot," Strong said. When Danielle Fishel joined, Jacobs cemented the three of them as the main trio. But the show was always about the natural, vacillating camaraderie between Cory and Shawn — as one fan at the panel pointed out, the two had one of the original bromances.
Rider Strong was the only actor who could play Shawn.
Literally. Strong was the first actor up to audition for the role, and Jacobs cast him right there, without seeing a single other actor. Not so for his eventual love interest Angela — Trina McGee went through five rounds of auditions before being cast. And Maitland Ward, who played Rachel, was given the role after a failed audition for Jacobs' Zoe, Duncan, Jack, and Jane (ostensibly for the part that ended up going to Selma Blair), which aired for two short seasons on The WB.
The network and the studio were pretty involved.
As a steady, unremarkable member of ABC's late TGIF lineup (R.I.P., Sabrina the Teenage Witch), both the network and studio Walt Disney had a vested interest in the ratings stalwart's continued success. Matthew Lawrence and Danielle Fishel recalled receiving a lot of notes for their early performances. But toward the end of its run, Jacobs and cast felt safe to try bold, occasionally weird, possibly meta experiments, like the Halloween episode that now serves as a proto-Community episode. "We were this safe, Friday night show that no one was writing about," Strong said.
They all thought William Daniels was British.
At least, when the young cast (who all started their roles at the ripe, young age of 13) first met him. It was a running joke until they realized he voiced KITT in Knight Rider.
The show's final scene was shot in one take.
The finale, a flashback-heavy tearfest that culminates in the main four (Cory, Shawn, Topanga, and Eric) assembling in Mr. Feeny's classroom for one last lesson, was genuine and emotional. "We were in exactly the position our characters were in," Strong said. Savage added: "That was the end of the end of our childhood."
And it was also … revealing. Jacobs remembers that in the final scene, you catch a glimpse of Danielle Fishel's neck tattoo, hidden for the entire series because the show's hair and makeup department "had never put her in pigtails before." Oh, late nineties–early aughts hairstyles! "You will not be seeing any neck tattoo in Girl Meets World," Jacobs said. And probably not other things.
Girl Meets World will be about "a different world."
Well, our current world, which is indeed much different than the sitcom world Cory and Topanga grew up in (both will be reprising their roles in the spin-off, which stars the characters' young daughter). Jacobs and the cast were mostly mum with details about the new show — probably because, technically, Disney hasn't picked it up to series yet. Though it all seems like a foregone conclusion following the pilot's shooting, which was reportedly received very well by network brass.
The show had a stalker family.
The cast and crew actually called the obsessive, dedicated family that went to every taping of the show The Stalker Family. To their faces. And they were totally fine with it! They even made them cookies once for coming.
Jared Leto saved Danielle Fishel from El Nino.
Sort of. (Close enough.) Fishel, 16 and driving her first car to work in Los Angeles during a massive storm cause by El Nino, hydroplaned and spun around in the middle of traffic. Nobody got hurt, but the only person who stopped? Jared Leto, who rolled down his window to ask if she was okay. "Jordan Catalanoooooooooooo!!!!"