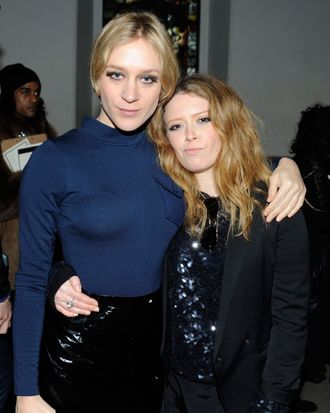 Chloe Sevigny and Natasha Lyonne.
Photo: Paul Bruinooge/? Patrick McMullan
It's hard to imagine a pair of actresses better suited for friendship than Chloë Sevigny and Natasha Lyonne. They both helped define the nineties; they both have stories about dating addicts; and hipsters love them. They are to New York what Shailene Woodley and Jessica Chastain are to Cannes: the perfect celebrity BFFs. What we learned last night, at the premiere of Lyonne's new Netflix show Orange Is the New Black, is that they are also the perfect travel companions.
"We go on crazy adventures," Lyonne told us. "I remember, at one point, we got some National Geographic Magazine, like 'The Seven Craziest Places in the World,' and I was like, 'Chloë, we got to get one of these whatever-the-fuck they are and go down the Nile. I want to go down the Nile.'" They haven't managed that trip yet, but they did recently travel to Greece, where Lyonne tended to dilly-dally. "She would kind of linger and I'd have to drag her along," Sevigny said. "I think I'm a good companion for her, because I keep her on track." And Lyonne helps pass the time. Just this week, they traveled to Darien, Connecticut, to Sevigny's mom's house, and "I gave her a long tutorial on Words With Friends," Lyonne said. "She still has a BlackBerry … She really struggled to understand: Wouldn't it be so boring and frustrating to wait for someone to play back? So we did actually spend about ten minutes on the train, discussing this." They also killed time looking through Lyonne's Instagram feed. "She had no idea, my passion for sloths," Lyonne said. May these two stay friends forever.