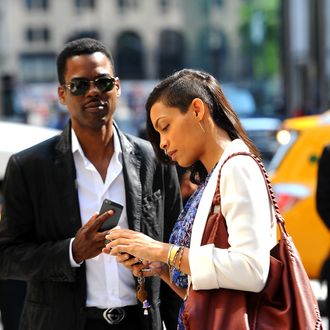 Chris Rock and Rosario Dawson on the set of Finally Famous.
Photo: Raymond Hall/Getty Images
As Chris Rock started doing less and less stand-up, Kevin Hart began to rise up and become the new stand-up who can easily sell out basketball arenas. So it makes sense that Rock would cast Hart in his next directorial effort, Finally Famous. In it, Rock plays a comedian turned "serious" actor, who's engaged to a reality-TV star (Gabrielle Union) excited to have their wedding on her show. The Wrap reports Hart will play Rock's Ivy League–educated agent, who very much supports the TV wedding. Additional casting includes  J.B. Smoove as his security guard, Sherri Shepherd as his high school ex-girlfriend, and Rosario Dawson as a New York journalist tasked with profiling Rock's character, who, as the photos from set reveal, has a full-on undercut — classic New York journalist.