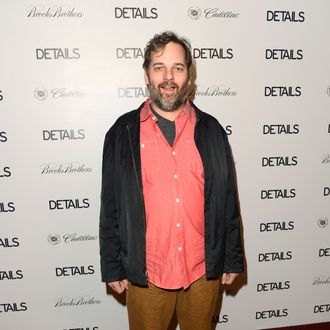 Photo: Jason Merritt/Getty Images
A couple weeks ago, we told you that Sony asked Dan Harmon to record the commentary for the fourth season of Community. He responded that he was going to watch the season first before making a decision. Well, he watched it and though he acknowledges that the replacement showrunners David Guarascio and Moses Port "tried their best," he not surprisingly wasn't too enthused with it. He spoke very frankly about it on the most recent episode of his Harmontown podcast:
"I watched season four. I guess I already knew this, but apparently, I'm quite a genius … I think I feel pretty comfortable expressing any kind of 'Eh, not my cup of tea' about it because — this has been expressed a thousand times over — it's obviously not somebody doing what they do and trying very hard to make people happy. It is very much like an impression, and an unflattering one. It's just thirteen episodes of 'Oh, I'm Dan Harmon! Derpy, derpy, durr! Die Hard! Durrrrr!' I feel like I'm going back to work tomorrow morning, and I just feel like, 'Do I talk like that?'… Man, watching those characters without me there is just not fuckin' cool, man. It's like flipping through Instagrams and watching your girlfriend just blow a million [other guys]."
Rough. Harmon did try to back up from the comments a bit by apologizing on Twitter: "I feel bad if I made anyone feel bad with my comments in harmontown. It's a dirty, personal comedy podcast, not charismatic for quoting." Still, man, he sure didn't Britta that burn.