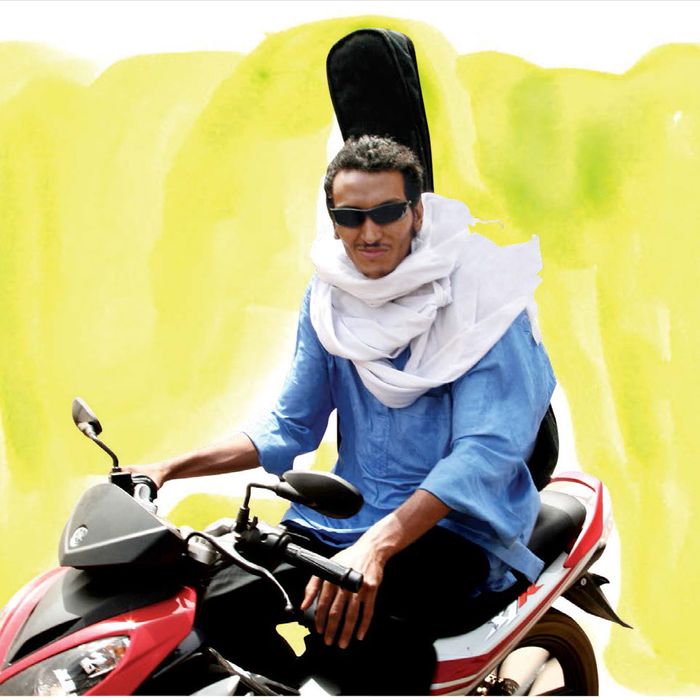 Every kind of music creates its ideal environment: the rococo chamber, the arena, the rank bar, the sweaty dance club. When I first came across the music of Bombino on his 2011 album Agadez, I sensed that it was created to be heard outdoors, somewhere quiet and wild and vast. His dark, sweet guitar spins languidly through the fading heat, setting into a lilting groove over the rattle and mellow thud of homemade percussion instruments. Later, watching a video clip, I realize that a soft bass boom I've had trouble identifying is produced by slapping a flip-flop on a gourd that sits in a tub of water. Bombino, a member of the nomadic Tuareg people, has spent many of his 33 years roaming Africa's northwestern hump, depending on which way the wars were blowing. Recently, he has embarked on a different kind of wandering, the life of the migrant musician, which brings him to the Prospect Park Bandshell for the Celebrate Brooklyn! festival on June 21. His new Nonesuch album practically titled ­itself: Nomad.
And yet the best place to play his brand of desert blues—the place he means when, as we speak French, he says chez moi—is just outside of Agadez, Niger, a one-story mud-brick city at the edge of the Sahara. There, he and a group of friends load their gear into a battered 4x4, head out into the bush, and spread carpets on the sand. "When I'm touring, or practicing in a studio, I always have the feeling that maybe I'm disturbing someone," he says. "But back at home"—chez moi—"there's so much space that you're not going to bother anyone. We get a little group together and go find an empty valley and hope that the generator lasts all night."
Lounging in his manager's tiny office in a Fort Greene walk-up, he could be just another Brooklyn musician, a scraggle of facial hair framing angular features, and a voluminous white muslin scarf looped around his throat. His singing voice is plaintive and reedy, but when he talks his voice drops into a shy baritone murmur. In French, he meanders quietly from thought to thought, starting each successive sentence without worrying where it will wind up at the end. That is not the way he plays the guitar. In music, his phrases are tight, polished, full of energy. The lyrics to his songs may soar in the original Tamashek—the language of the Tuareg—but in translation they sound vaguely Maoist: "Wake up, my people / Confront the difficulties of your current situation. / A long road awaits you."
He was born Omara Moctar into a people of goat herders and camel drivers, who plied the trade routes from Central Africa to the Mediterranean and live in a territory that crosses into Niger, Mali, Burkina Faso, Libya, and Algeria. Unloved by governments for their resistance to borders and central authority, the Tuareg have fought a series of rebellions. Crackdowns followed, forcing the Moctar family to migrate to Tamanrasset, Algeria, in the early nineties. It was there that he became addicted to music: "Whenever my cousins went out, I'd steal their guitar and try to play a bit," he recalls. His teachers were a couple of VHS cassettes of Jimi Hendrix and Mark Knopfler of Dire Straits.
When it was finally safe to return to Niger, the 15-year-old Omara made a detour in search of an uncle who, he had heard, traveled as far afield as Paris and returned bearing musical instruments. Without money or a ticket, he boarded a bus for the twenty-hour ride to the capital, Niamey, and tracked down the uncle. "He gave me an accordion. I swapped it for a guitar." Back in Agadez, the fresh-faced, fleet-­fingered kid attached himself to grown-up bands. Musicians referred to him as "the kid," corrupting the Italian word bambino.
Music has long been a crucial social glue for the Tuareg. A Smithsonian Folkways album of field recordings made in 1960 (called Tuareg Music of the Southern Sahara) claims to be a record of people whose "habits, dress, customs, belief and language [are] little different from what they must have been 2,000 years ago." That may be wishful thinking of ethnologists in search of fixed authenticity, but the recording captures the exuberance of gathering to sing and dance. The mesmerizing track "Tazenkharet" is a weave of chants, chattering, shouts, high-pitched trills, clapping, and bleating drones, all ecstatically intertwined.
The nations of Niger and Mali were born around the time that record was made, and so was Ibrahim Ag Alhabib, who would grow up to lead the first and most enduring Tuareg rock band, Tinariwen. Traditional rhythms and tunes meshed effortlessly with electric blues, perhaps because the music of that wandering tribe was already so hybridized. "Music has no borders," Bombino says. "In that area, so many cultures have gotten mixed together, and each generation brings a new cultural evolution." He is not fastidious about categories: "There are two kinds of music in the desert. If it makes you want to listen to it, it's the blues. If it makes you want to move, it's rock."
Any art form so important to a rebellious people was bound to become political. In the seventies and eighties, hostile regimes and a couple of devastating droughts turned nomads into refugees and musicians into fighters; the Libyan leader Muammar Qaddafi recruited Tuaregs into his revolutionary army, and members of Tinariwen joined a rebellion that broke out in Mali in 1990. In the mid-nineties in Agadez, Tuareg political parties established themselves through music: They signed up musicians, giving them guitars and amplifiers and hiring them out for weddings. The teenage Bombino got himself on the list, which meant that suddenly he was a professional, with tools, a trade, and a clientele. But by 2007, the guitar was so powerfully identified with the cause of Tuareg self-determination that the government of Niger banned it altogether. Two members of his band were killed; Bombino left again. "Artists are always the first victims, right after the poor," he says.
Through these spasms of violence and interludes of peace, music remained a potent force, spread by what the writer Andy ­Morgan has called a "cassette-to-­cassette ghetto-­blaster grapevine." The filmmaker Ron Wyman was shooting a documentary about the Tuareg in 2007 when he fell in love with the seductive twang of the guitar music coming from a bootleg tape in his driver's car. Two years later, Wyman found himself accompanying Bombino and a group of other musicians into the bush fifteen miles outside the city of Ouagadougou, Burkina Faso, where he filmed a jam session under the open sky. "People started coming out of nowhere, and they'd get up and dance," he recalls. "Someone had slaughtered a goat, and the women cooked all this food. The energy was just unbelievable." The resulting film, Agadez, the Music and the Rebellion, introduced Bombino to the non-Tuareg world.
Wyman wound up producing Bombino's first CD, Agadez, which he recorded partly at his house in Cambridge, Massachusetts, but mostly in a courtyard in Agadez. The live, dry sound lets you hear the night air around the notes and preserves the languid excitement of an all-night jam session. The album also helped Bombino get noticed. Nonesuch signed him, and the Black Keys' Dan Auerbach volunteered to produce his next album in his Nashville studio, a technological wonderland that wowed Bombino with its vintage amps and versatile session musicians. Nomad is tasteful, evocative, and sleek, but something has gotten lost along the way. All that luxurious reverb and elaborately edited perfection can't compensate for the casual camaraderie of desert blues, the kind that's played sitting on the dusty ground and shared with anyone who cares to show up.
Nomad. Bombino. Nonesuch Records.
*This article originally appeared in the June 17, 2013 issue of New York Magazine.