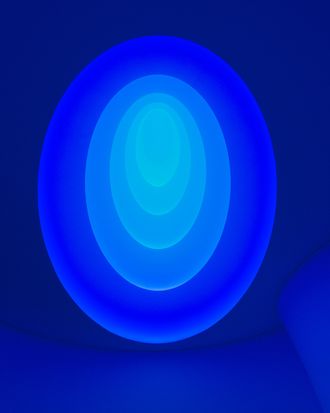 Starting this week, the Guggenheim's rotunda will look like this.
Photo: David Heald/photograph by David Heald. ? Solomon R. Guggenheim Foundation, NY
Visitors to the Guggenheim Museum usually pause in the cylinder of space and glance upwards, letting their eyes follow the whorl of the ramp as it spirals toward the skylight. James Turrell, virtuoso of light and disturber of visual fields, has given them a new reason to raise their gaze: a vertical tunnel of light and color receding into the heavens. The space is familiar but transformed from a processional past art-filled bays into a vacant, shimmering cocoon. 
"In New York, you never see anyone look up," Turrell says, smiling impishly behind a voluminous white beard. Tourists crane at skyscrapers, he acknowledges, but as for the rest of us, "We're completely involved in the maze. I'm interested in a landscape without horizon. There's some disequilibrium, and I find that exhilarating." 
The glowing atrium, a work titled Aten Reign, is part of a three-act Turrell retrospective running concurrently at the Guggenheim, the Los Angeles County Museum of Art, and the Museum of Fine Arts in Houston. Much of his art involves building vaulted chambers as smooth and seamless as a hollowed-out eggshell, so that the walls seem to vanish while the light acquires a viscous density. Aten Reign, though, begins with an idiosyncratic architectural environment that refuses to vaporize, so Turrell has forced it to metamorphose instead, curtaining off the ramp with luminous scrims and meticulously mixing daylight with LEDs. 
"The piece focuses on one aspect of the museum: the void at the center," says Guggenheim associate curator Nat Trotman. "It materializes that air and space with an elaborate structure that's meant to disappear. It erases itself. So as you look up from the rotunda floor, you're looking into a field of color." 
Seeing such a familiar work of architecture in a costume made of light is a kind of hallucinatory experience. "The lucid dream often has greater vividness of color than sight with the eyes open," Turrell says. "The work I do is about bringing dream light into the conscious state."