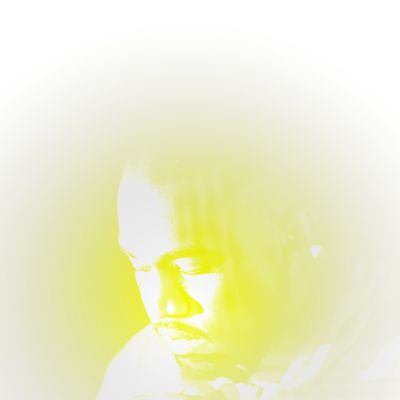 170431845SZ003_KANYE_WEST_A
Photo: Shareif Ziyadat/Getty
You can't title an album Yeezus and include a song called "I Am a God" without looking like an egomaniac, especially when you already have a well-established reputation as such. But while Kanye West's level of self-belief is more than healthy — "I am undoubtedly, you know, Steve [Jobs] of Internet, downtown, fashion, culture," he recently told the New York Times — the religious references on Yeezus are actually not so much about him becoming more self-important as they are about gods getting less so. In fact, in the context of his work since "Jesus Walks," the song that made him a star, Yeezus is the culimination of a transformation from a fairly traditional Christian outlook to a more secular vision.
Let's start at the beginning. The breakout song from West's debut album The College Dropout was "Jesus Walks," in which he describes a fractured relationship with religiosity. On the one hand, West has drifted away from religious practice: "I want to talk to God but I'm afraid because we ain't spoke in so long," he says. But on the other, the song is about how much he still relies on his faith: "I'm just trying to say, the way school need teachers / The way Kathie Lee needed Regis — that's the way I need Jesus." The refrain of the song is basically West in prayer, singing "God, show me the way because the devil trying to break me down."
He's hardly the first lost sheep afraid to return to the God flock. But the rest of College Dropout foreshadows a different path, one that's not a return to organized Christianity but a retreat from it.
Dropout includes a cover of the megapopular hymn "I'll Fly Away" (you might have heard this song in O Brother, Where Art Thou?, but there are hundreds of versions). "Fly" is about the redemption of the afterlife: However agony-filled this life may be, after death we fly to a place where "joy shall never end." True liberation comes when we leave this world and are welcomed into God's kingdom. West follows "Fly" with "Spaceship," a song with a similar theme about a crappy existence that could transform into a better one down the road. He talks about working a crappy retail job, and the closing bars are a sample of a Tony Williams song in which Williams sings, "I want to fly, I want to fly / I said I want my chariot to pick me up / And take me, brother, for a ride."
But in "Spaceship," that chariot isn't taking Kanye to heaven. He's not delivered from pain through grace or mercy or whatever it is in the afterlife that soothes sinners' souls; he is delivered from the agony of working at the Gap through the power of fame and financial success. The spaceship isn't flying to God's celestial shore, hallelujah by and by; it's flying to a Maybach dealership. Kanye is replacing predestined salvation with a devotion to perfecting beats, replacing heaven with earthly delights.
On his next album, Late Registration, West is still wrestling with the relationship between spirituality, fame, and financial success. On "Diamonds From Sierra Leone," he looks at it through a lens of an enduring self: He talks about his baptism, wonders if his albums are considered "classics"; the hook is Shirley Bassey singing that diamonds are forever. So what's forever? Your baptized soul? Your artistic output that will outlive you? A gem?
On Graduation, he used Christian rhetoric in different ways. In "Stronger," West says, "Bow in the presence of greatness / 'Cause right now thou hast forsaken us," but he's not talking to God. He's talking to the woman he's with, and he himself is the "greatness." In the King James version of the Christian Bible, Jesus cries out during his crucifixion, "My God, My God, why hast thou forsaken me?" (Mark 15:34), and West applies that quote not in a spiritual context but in a jokey sexual one.
By 808s & Heartbreak in 2008, all the religious allusions are gone. Right around that time, West started talking in interviews about his struggle to reconcile his beliefs with what he perceived as mainstream American Christianity. "I don't believe in religion and giving it all up to Jesus and stuff like that. I don't believe in that," West told Vibe magazine in January 2009. "I just believe in God. I would never say that it's in Jesus' hands." It's a sentiment West echoed in a (deleted) interview with Bossip, saying, "I believe in Jesus as an icon, but I don't feel the responsibility to put my life on Jesus. I feel I need to take responsibility for my own successes and failures. Why I say, 'I don't give it all up to Jesus' is because there are a lot of people who don't take responsibility for their lives, and always think Jesus is gonna handle it. And, that's what I refuse to do."
It's not quite that resolved, though. West has said repeatedly that God has a plan for him. He told Rolling Stone in 2006 — in an interview for which he posed with a crown of thorns on his head — that he knew there would be "backlash" to him speaking out against homophobia, but "it didn't scare me, because I felt like God wanted me to say something about that." In 2008, he told Fader: "I'm like a vessel, and God has chosen me to be the voice and the connector. I can't be responsible. I'm good, but I'm not that good. So my job is just to be in the studio and do videos, and I just stand here and let God do the rest." And in the February 2009 issue of Details, there's this: "My story is so written, like God has a plan for me."
West can't seem to decide where he stands on free will and determinism: Is he just following God's plan, or is it his own work and sacrifice that led to his success? He also seems to be drawing a distinction between God and Jesus, something most Christians do not do. (God, Jesus, and the Holy Spirit comprise a "holy trinity," but neither is wholly separate from the other two. It is very complicated.) But struggle is driving him further and further from traditional Christian practice.
That dynamic continues on My Beautiful Dark Twisted Fantasy in 2011. West told Fader at the time, "I get to represent somebody I don't think is getting represented right now. The regular dude: the guy who believes in God but still likes pussy." Hence the song "Devil in a New Dress":
The way you look should be a sin, you my sensation
I know I'm preaching to the congregation
We love Jesus, but you done learned a lot from Satan
[…]
May the Lord forgive us, may the Gods be with us
In that magic hour I seen good Christians
Make rash decisions, oh she do it
What happened to religion? Oh, she lose it.
"I was taught to believe everyone is going to hell," West said in the Bossip interview. "I was taught to hate gays … And I don't really believe in any of that. I really believe in absolute truth. And I believe that people have the right to make their own decisions," he said. That's in full force by MBDTF. Believe in God all you want, but know that when there's a beautiful woman in front of you, you might make some less-than-Christlike decisions. That's even clearer on Watch the Thrones's "No Church in the Wild," where West says, "We formed a new religion / No sins as long as there's permission / And deception is the only felony."
Which brings us back to Yeezus. West has dropped Biblical allusions throughout his career — Mary Magdalene, quotes from the Gospels, even a nod to Godspell. But "I Am a God" — in addition to riffing on Psalm 82 — is basically a riff on Christopher Hitchens: God is not that great. Kanye is talking to Jesus again, but this time they're almost buddies:
I just talked to Jesus
He said, "What up, Yeezus?"
I said, "Shit, I'm chilling
Trying to stack these millions"
I know he's the most high
But I am a close high
Mi casa es su casa
That's that cosa nostra
"What up, Yeezus?" is not, as in "Jesus Walks," the way "schools need teachers." It's a casual, colloquial, borderline peer relationship, one that developed not because Kanye got so much better but because Jesus got taken down a peg.
In "No Church in the Wild" from Watch the Throne, there's a line that asks, "What's a mob to a king? What's a king to a God?" That gets answered in "I Am a God," and the answer is "another god," Kanye-as-deity. But what does this godliness entail? Readily available massages, threesomes, cars, and pastries. As Jody Rosen puts it, "no one is funnier about celebrity egotism than West himself," and "I Am a God" is more tongue-in-cheek self-mockery than a claim for divinity. It's not that Kanye's status has changed, then, it's that his opinion of gods (or just God) has. A god is someone who can demand croissants, on the spot. Jesus is someone you chill with while counting money. Don't forget to say your prayers.
While some of this is undoubtedly posturing — "I am a god" is about as braggy as one can get — underneath is actually an idea common to a lot of people around Kanye's age: that traditional organized religion holds less and less appeal, even if some aspects, like a higher power or versions of predestination, still affect us. "I am a God" is like saying, "I don't need a church to know right from wrong" or "I can make my own rules." It's something a lot of Americans do, particularly rock stars and pop icons.