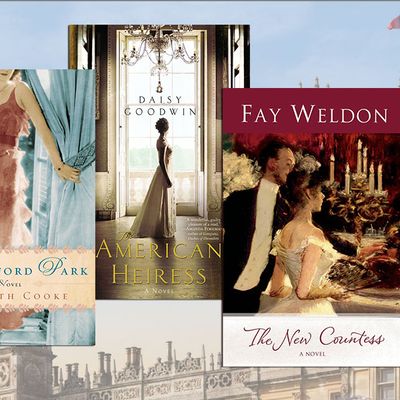 This just in: Downton Abbey is very popular — so popular, in fact, that there is a small Downton-inspired book industry churning out novel after novel of Grantham-esque beach reads. American heiresses are saving English nobility, ladies of the house are falling in love with the help, and housemaids are discovering nasty secrets that could unravel the good name of the family. It's like Downton Mad Libs, which is great if you are a fan who can't wait until January for your season-four fix. You don't have to! You can read these books instead.
Rutherford Park by Elizabeth Cooke (Unreleased July 2, 2013)
Lady Octavia Cavendish lives a privileged life inside of Rutherford Park in Britain's countryside, but a web of secrets kept by a downstairs maid threatens to decimate this family's legacy.
Time Frame? 1913 (a year before World War I)
Fancy House? Yes.
Downton-esque Characters? Lady Octavia has a Cora vibe (her fortune keeps the estate going); the maid has tones of O'Brien.
Park Lane by Frances Osborne (June 12, 2012)
Grace Campbell takes a job as a maid after she fails to find work as a secretary. The lady of the house, Beatrice, joins a group of radical women in the suffrage movement after a romantic relationship fails.
Time Frame? Pre-WWI
Fancy House? In London, but yes.
Downton-esque Characters? Grace sounds like Gwen Dawson in reverse; Beatrice is a combination of Lady Edith and Lady Sybil.
The American Heiress by Daisy Goodwin (March 27, 2012)
While traveling abroad, American heiress Cora Cash becomes the duchess of Wareham. She marries a secretive man named Ivo and finds herself at the center of an English social scene full of fair-weather frenemies.
Time Frame? 1893
Fancy House? Yes.
Downton-esque Characters? Cora Cash and Crawley share a first name, they're both American heiresses, and it's their money keeping the estate afloat.
Summerset Abbey series by T.J. Brown: Summerset Abbey (January 15, 2013) and Summerset Abbey: A Bloom in Winter (March 5, 2013)
When Sir Philip Buxton dies, his three daughters are sent to live with their uncle at Summerset Abbey. The uncle forces the youngest sister into a life of servitude.
Time Frame? 1913 (a year before World War I)
Fancy House? Yes.
Downton-esque Characters? Three sisters with three very different personalities — sounds a lot like the Crawley girls. And Sybil eventually becomes lower-class, right?
The Last Summer by Judith Kinghorn (Dec. 31, 2012)
Clarissa Granville spends her time attending parties, playing tennis, and doing other rich-people things — before she falls in love with the housekeeper's son. Her parents don't approve. Then the housekeeper's son leaves for World War I, and their bond is tested.
Time Frame? 1914
Fancy House? Yes.
Downton-esque Characters? Clarissa Granville falls in love with the help, just like Sybil Crawley. 
Love and Inheritance Trilogy by Fay Weldon: Habits of the House (January 15, 2013), Long Live the King (May 7, 2013), and The New Countess (due December 17, 2013)
The earl of Dilberne's finances are in disrepair after an unwise investment, and his unwed children are causing an additional financial burden. To save the family estate, he marries his son to a wealthy American heiress named Minnie.
Time Frame? 1899
Fancy House? Yes.
Downton-esque Characters? The wealthy American heiress saves an English house again! (Also, why are Earls so bad at investments?)
Downstairs Rules by Sullivan Clarke (May 11, 2013)
Ella Carter was born into service, but when her lady dies, she is sent to a new house to serve Lady Baxter. She learns that Lord Baxter spanks his wife when she doesn't behave. But then she learns that Lord Baxter also intends to spank the help.
Time Frame? Not Specified. Small details that aren't crucial to erotica.
Fancy House? Yes.
Downton-esque Characters? There are a lord, a lady, and a maid. If you want to imagine Lord Grantham and his season-two friend in the Red Room of Pain, that is on you.
A New Man of the House Series by Sera Belle: Whatever You Desire, My Lord (May 30, 2013), Anything Else, My Lord (May 28, 2013), and  Sweet Dreams, My Lord (May 28, 2013)
Edwin Mudd arrives at Marchmount House, and Dame Mary advises him to enjoy "the pleasures of the flesh" the house has to offer. Over three days (each described in fewer than 30 pages), raunchy sexual encounters ensue again and again and again.
Time Frame? Not Specified. Small details that aren't crucial to erotica.
Fancy House? Fancy pleasure house?
Downton-esque Characters? There are lords, ladies, and maids/sex slaves, but the Downton vibe ends there. Unless Edwin Mudd dies mid-sex-scene (just like Kemal Pamuk did in Mary's bed) and the maid has to relocate his corpse …