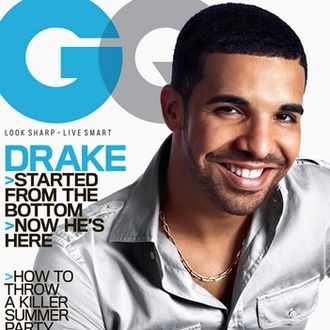 Drake, this is a pretty big smile, man. Is everything all right?
The last time GQ headed to Drake's $7.7 million San Fernando Valley homestead, there were bronze elephants and giraffes. (Drizzy also tried to seduce the writer, Claire Hoffman. Now it's Michael Paterniti, whom Drake does not attempt to seduce.) This time, the Gatsby-ish party scene depicted at Drake's den includes, but is not limited to: a 30-foot waterslide, some stables, a mechanical bull, an air-conditioned doghouse, something called the "Safari Room," and a female voice that says "access granted" when you walk through the door, which is just some Bill Gates–sounding sci-fi shit. Drake still manages to insist that "this ain't every day — I really don't live some crazy rapper life." Also inside Casa del Drizzy resides an MP3 of a Whitney Houston–sampling, Noah "40" Shebib–produced song called "Tuscan Leather." It's set to kick off Drake's Take Care follow-up, Nothing Was the Same, now supposedly dropping in August.
But if Drake décor isn't your jam, Drizzy also talks about his feud with Chris Brown some more ("I wish we could sit down, just like you and me are right now, and talk it out man-to-man. But that's not going to happen. … If I think about it too much, I feel it wrapping around my foot, like I get a feeling it could end really badly. … Like, it gets really dark") and learning about true love from Will Smith. Just read it; go spend some time in Drake's world of dark synths and dark feelings and exotic stuffed tigers.