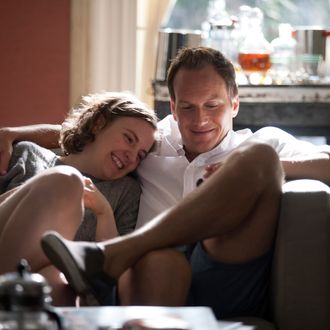 Photo: Jessica Miglio/HBO
Not one to shy away from criticism, Lena Dunham occasionally finds herself addressing controversial Girls moments. Now, the L.A. Times centered an entire interview around her speaking about this season's most debated episodes. First on that list is "One Man's Trash," the episode in which Hannah has a two-day sex-hang with Patrick Wilson:
That was the only argument I heard: "It feels weird to me." And I'm like, "Dude, I get it. It felt weird to kiss an actor that looked like Patrick Wilson." I get so tired of having to cry out "misogyny," but that's what's going on in this situation. People questioning the idea that a woman could sleep with a man who defied her lot in the looks bracket hews so closely to these really outdated ideas about what makes a woman worth spending time with. Really? Can you not imagine a world in which a girl who's sexually down for anything and oddly gregarious pulls a guy out of his shell for two days? They're not getting married. They're spending two days [having sex], which is something that people do.
Dunham also addressed the infamous Adam sex scene: "Did what Adam do constitute rape? That's hard for me to answer." She continued, "But I don't think Adam is a villain. If he thought he had even touched the R-word, he would be unable to live. To me, it seemed like a terrible miscommunication between two people who didn't know what they really wanted." And what about, you know, the end of that scene: "A moment like that, which is so humiliating to Natalia, wouldn't be visceral enough unless you show the offending substance. My dad's personal trainer thought it was too much semen. Everyone's a critic."