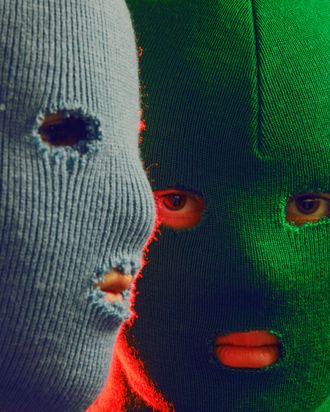 Photo: Christopher Anderson/Magnum Photos.
Photo: Christopher Anderson/Magnum Photos/New York Magazine
The young women climbing into an SUV near Bryant Park introduce themselves as Puck and Headlight. "It's not fixed, so you can mix them up or choose yourself," says the one I label Headlight. "Yeah, we don't care," says Puck.
Puck and Headlight are part of Pussy Riot, the Russian feminist punk-rock collective that made international headlines last year after five of its members descended on a Moscow church, wearing vibrant balaclavas and lip-synching "Mother of God, get rid of Putin!" The act lasted 40 seconds, but the more absurd spectacle came in its aftermath as three of the performers were tried and found guilty of "hooliganism." Since then, the women have become celebrated martyrs, championed by Madonna, Yoko Ono, and Björk; credited by the fashion world for the return of riot-grrrl chic; and, now, featured in an HBO documentary, Pussy Riot: A Punk Prayer, airing June 10.
Two of their bandmates, Nadia and Masha, are still serving out terms in prison, and Puck and Headlight are en route to meet with some of Pussy Riot's supporters. It is the girls' first time in New York, and, having left their balaclavas behind on this humid Friday afternoon, they are feeling a bit skittish. They won't reveal their real names, ages, or whether they are in fact the other performers of the "Punk Prayer" who were never identified.
"We cannot say if we were there or not," says Headlight.
"For security reasons," says Puck.
Though we all speak Russian, an interpreter named Irina is on hand to assist with translation. Every time the women speak, Irina talks over them in English.
Do they believe the Russian government is still pursuing their arrest? "It's entirely possible," says Headlight. "They don't inform us of their plans."
"It's sort of a political game," says Puck, but something about her answer makes Headlight nervous. The girls whisper among themselves and ask Irina not to translate. "We can only speculate," Headlight finally says, "but it is clear that we need to proceed with caution."
Of the two, Headlight is cheerful but slightly more formal; Puck is coquettish, her movements ethereal and light. They forbid any mention of their physical appearance, but after some negotiation, they allow for descriptions of their clothing. Puck wears a navy baby-doll dress and black Keds with white socks. Headlight has on cropped Army-green pants and a white T-shirt bearing the Russian phrase I WILL NOT EAT BUCKWHEAT PORRIDGE, YOU IDIOT, a reference to Vladimir Putin's alleged mistress, Alina Kabaeva, who has bragged that she maintains her figure by adhering to a strict diet of kasha. I am not allowed to describe their backpacks. "We're not planning on changing them," Puck says.
Puck, who has a blue camera suspended from her wrist, snaps a photo of all of us and then directs her lens to the sights outside the car window. When Puck and Headlight approve of something, they describe it as kruto, the Russian word for cool, or "very nice." The subway, which they took the previous day, is kruto. Their lunch at HBO was "very nice." The support they've received from the West is not only "very nice" but also "important."
We arrive at a hot-pink recording studio in Chelsea, where the girls greet Simonne Jones, the singer who, along with Peaches, recorded the anthem "Free Pussy Riot."
Jones tells them about a protest she staged in their honor at the Russian Embassy in Berlin. "Kruto!" says Headlight, and both girls nod approvingly.
Jones wants to know where they see themselves in five years. "Hopefully not behind bars!" says Headlight.
As the girls make their way out of the studio, Jones declares them to be "awesome and very brave." "I want to kidnap you guys and hang out!" Jones says. "Come to Berlin, okay?"
A quick cigarette break—American Spirits for the girls, Winstons for our translator—and we're back in the car heading farther downtown. "We like it very much," Puck says of New York as she gazes out her window again. Headlight had hoped to visit the Statue of Liberty—"because it is a woman and she is fighting for freedom"—but was disappointed to learn that it's closed for renovations. Puck, a fan of Basquiat, just wants to walk around the streets.
"But the most important thing for us is not to see stuff," she adds, her tone growing serious, "but to meet with people and establish contacts." "Yes, we're not tourists," says Headlight.
"We're here on a mission," says Puck. The exact length of that mission, however, is unclear. "You can't say when we arrived or when we're leaving," Puck warns.
"We're just here, you're meeting with us, and that's it," says Headlight. "Who knows what happens to us next."
The SUV pulls over on Lafayette Street, and the girls rush off to their next meeting.

*This article originally appeared in the June 17, 2013 issue of New York Magazine.