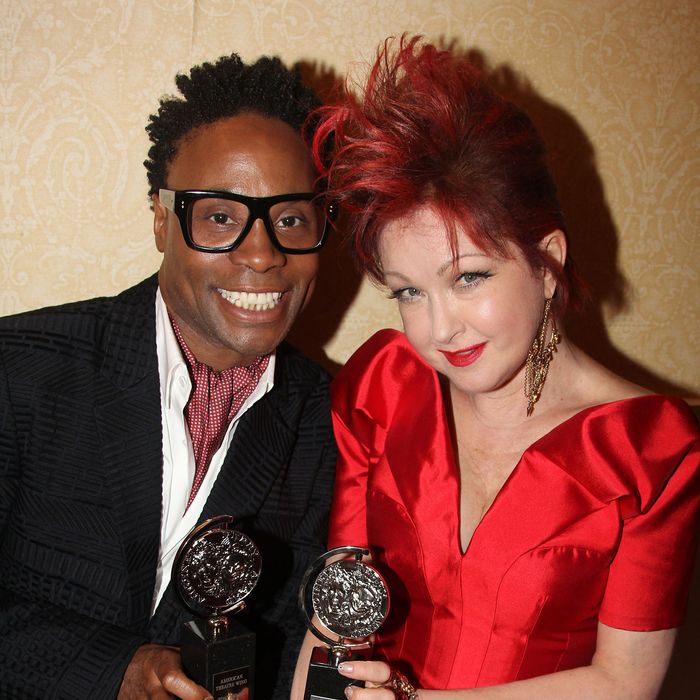 Billy Porter and Cyndia Lauper.
Photo: Bruce Glikas/Getty
While the rest of us watched the Tonys (or Game of Thrones) on TV, Vulture reporter Jennifer Vineyard got to watch the awards show live at the American Theatre Wing. She also sat through rehearsals, manned a red carpet before the ceremony, and hopped from after-party to after-party until the wee hours of this morning. Here, her behind-the-scenes highlights, from roughly 10 a.m. on Sunday to 4 a.m. today.
9:50 a.m. Rehearsals are under way. Neil Patrick Harris, dressed as a member of Once, holds his guitar and delivers his Shia jab: "I wouldn't be here tonight unless someone else hadn't passed on hosting, so special thanks to Shia LaBeouf." It kills in the room, as it will later that night.

9:54 a.m. NPH does his magic trick, getting in a box and reappearing in the aisle. Mystifying even in rehearsal: Suck it, Gob!

9:55 a.m. "Can I have my Tom Hooper–Les Miz close-up please?" We're so glad this joke made the final cut.

10 a.m. Zachary Quinto squints and smacks his gum through his presenter speech. Something seems off. More on that later.

10:58 a.m. Jesse Tyler Ferguson will be presenting for Best Score, and he stumbles over a pronunciation for the Phish front man, nominated for Hands on a Hardbody: "Oh God, I'm not going to be able to say that! Trey AHnastasio? Trey AnAHstasio?"

11:27 a.m. A fast-talking, hoodie-wearing Jessie Eisenberg struggles to slooow dooown when describing the nominated plays. "And the uh, oh, yeah, okay, and the Tony award goes to …" he says when done.

11:31 a.m. NPH brings out Sandy, the dog from Annie. Dog licks his face. "Do you want to hear about our next nominee? I'll take that as a yes!" Dog won't stop licking his face. Does that mean NPH is delicious? "You're not in a relationship, right?" he asks the dog.

11:38 a.m. NPH begs the audience not to tweet out details about his opening number or the mid-number or the Sandy bit. "We're doing all these weird little one-offs, so please don't let people know before tonight."

12:07 p.m. Cyndi Lauper sings "True Colors" for the in memoriam package, stagehands try to figure out the best way to wheel her around with all the candles.

12:32 p.m. Patti LuPone, audience favorite, comes out in yoga pants.

12:42 p.m. NPH: "Congratulations, fake people! This is where normally I do the closing number, a big closing number. Here it is: Seven!" On cue, the number 7 flashes on the screen; dress rehearsal is over.
6 p.m. The red carpet starts.
6:10 p.m. Nominees Carrie Coon and Tracy Letts from Who's Afraid of Virginia Woolf are engaged. Discuss.

6:15 p.m. Nominee Shalita Grant, who plays a Cassandra-like psychic in Vanya and Sonia and Masha and Spike, shares her predictions: "I see tequila, after 11. Either way, there's going to be some tequila. It's going to go down."
6:25 p.m. Nominee Charl Brown from Motown the Musical (he's Smokey Robinson) is conflicted because the Game of Thrones finale is on at the same time as the Tonys. "Oh my God. I'm still recovering from the Red Wedding. This is good grief counseling for me."
6:30 p.m. Tom Hanks glides by with Rita Wilson, who spots Jane Krakowski and pulls her along with them for a quick chat.
6:35 p.m. Andrew Rannells wonders if NPH would ever consider him as an understudy. "If he gets sick, I hope he calls me! Can you see what you can do about that?" Not a bad idea.
6:40 p.m. Sandy, the dog from Annie, is walking the carpet. Was he supposed to be licking Neil's face in rehearsals; is that part of the act? "Neil is just delicious," laughs dog trainer Bill Berloni. "He's everybody's dream."
7:00 p.m. Cyndi Lauper says she's a little worried because her rehearsal went too smoothly. "It's bad. A good rehearsal is scary. I'd rather have a bad rehearsal, because then I know it'll be fine."
7:10 p.m. Nominee Tom Sturridge from Orphans doesn't think NPH will be able to rhyme his name, should he include it in his finale song. "People who've been bullying me my entire life have been trying to come up with one and never really succeeded. And Orphans? You're not going to come up with anything. It's impossible. So hopefully we won't be in the song."
8:00–11:00 p.m. The Tony Awards!

11:10 p.m. Mass exodus. We run into Debra Messing and Will Chase on their way out, and Will says he didn't know that the mid-show number about Broadway transplants' TV shows getting canceled — which Debra called "awesome" — would give him a shout-out. (Rannells says, "Suck it, Will Chase.") "I just tried to play along, act asleep," he says with a grin. "But it was so cool."
11:15 p.m. Kinky Boots director-choreographer Jerry Mitchell tries to tally the show's total Tonys. "Did we get five or six?" While he counts on his fingers, he hands us his Tony. "Spin it!" he suggests.
11:55 p.m. The dance floor is empty at the gala at the Plaza. Perhaps it's because everyone is downstairs sampling macaroons, sushi, yogurt, and the crowd favorite, lobster rolls. Also, the air-conditioning is not working.

11:58 p.m. Anna Kendrick gathers her floor-length dress in her hand as she waits in the very long line for a lobster roll. We weren't kidding about the lobster rolls.

12:15 a.m. At the Vanya and Sonia and Masha and Spike after-party at the Sea Grill, David Hyde Pierce explains stomping on NPH's phone during the show, since it didn't happen during rehearsal. "We didn't plan it, I just took his phone and destroyed it," he jokes. "No, that was an idea that came to Neil when he came to our show, saw my rant against texting, and thought it would also be funny in connection to the critic who grabbed a phone at a musical, and smashed it. But it was unrehearsed. And what I didn't know was how much people wanted me to do the stomping. What was funny was the reaction in the audience, many of whom were surrounded by people who were texting during the whole show, so it was wish fulfillment!"
12:25 am Andrew Rannells does several laps at the Plaza, solo. He's finally stopped by some female Girls fans, with whom he takes a few photos. "He's so tall in real life," one girl comments. She's right.
12:37 a.m. At the Sea Grill, D.J. duo AndrewAndrew declare the Tonys "gayer than the Oscars, even though the Oscars were pretty gay this year and gave the Tonys a run for the gay money." They say it's time for Cyndi Lauper to turn Kinky Boots into a movie so she can get an Oscar — EGOT alert! — and lament that the song she did for The Goonies, "The Goonies 'R' Good Enough," wasn't considered good enough to win.
12:55 a.m. Someone put photos of all the Vanya and Sonia and Masha and Spike cast and crew on Pop-Tart-size cookies — one with each person on them. "Now you can eat me!" Sigourney Weaver chortles. She missed the moment when it was announced her play won, because she was backstage with her co-presenter, Mayor Bloomberg. She also missed David Hyde Pierce stomping on Neil's phone. "I'm so glad you told me. I'll have to go on YouTube later to see it … People say the Tonys are just a big commercial for Broadway, but what's wrong with that?"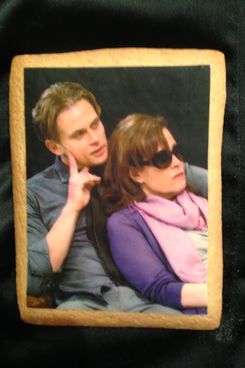 1:20 a.m. At the Kinky Boots after-party at Ruby Foo's, Billy Porter laughs off how both he and Cyndi Lauper referred to washing dishes in their acceptance speeches. "It's what one does, when one is trying to clean up one's house!" he says. He's also dumbstruck by NPH including him in the opening number. "Thank you! That's a new phenomenon for me, people talking about skinny jeans and bouncing quarters off my behind. That's new for Billy Porter, so I'm happy about that, at almost 44 years old! And you know you've made it when you've made the lyric of the opening number at the Tonys."

1:30 a.m. Cyndi Lauper poses with fans doing a "fierce" face. But she's starting to fade …

1:40 a.m. Marquise Neal (who plays the younger version of Billy Porter's character Lola) and Kevin Smith Kirkwood (who plays Angel) have a dance-off. "We just did that for fun," Neal says. "I'm normally in bed by nine!"

1:55 a.m. Cyndi Lauper is leaving with husband David Thornton by her side. "There's talk of doing a movie," he says. "It'd be a great movie. I have no doubt."

2:05 a.m. O&M's after-after-party at the Carlyle is especially festive, since the PR firm scored big with both best play (Vanya and Sonia and Masha and Spike) and best musical (Kinky Boots).

2:25 a.m. Darren Criss is celebrating his first Tonys. "They don't let TV people come to these things!" he jokes. He went with his writer pals Benj Pasek and Justin Paul (A Christmas Story, The Musical). "I'm on tour right now, so I literally flew in today just to celebrate this, and [Pasek's] birthday."

3:00 a.m. Zachary Quinto explains why he was a mess during rehearsals. "I was up all night the night before! And I couldn't see a thing!" He's not ready to sleep yet, though, and he keeps wandering around the party, which has spilled over from the 21st floor to the downstairs bar.

3:30 a.m. Scarlett Johansson squeezes my arm and tells me that she's calling it a night — soon.
3:30 a.m. Alan Cumming explains his presenter's speech, in which he joked about presenting without being nominated: "If you're presenting you can do whatever the fuck you like." Oh.

4:00 a.m. We show Billy Magnussen the Vanya cookies, and he tells us that his parents ate "him." "You can eat me," he tells us. "You can suck on me, I don't care." It's late and he's drunk — must be time to leave.
With additional reporting by Darla Murray.