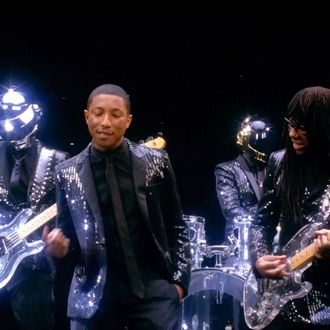 And "Blurred Lines" is still No. 1 on the Hot 100, which means we have ourselves a real, top-quality Song of Summer battle. A few questions: Can Daft Punk dethrone Robin Thicke on the singles chart at this point, and if so, how many weeks do they have to hold in order to achieve a conclusive victory? (We're going with three, at least.) Do all of the "Blurred Lines" commercials and spoofs give Thicke an advantage? (Probably, though see below.) Is it now acceptable for Pharrell to wear a crown around all summer? (Yes, definitely. He should do that.)
On the subject of spoofs, here is Black Simon and Garfunkel (Questlove and Captain Kirk Douglas) covering "Get Lucky." It happened last night:
In conclusion: "Get Lucky" is up this week, but the battle could last all summer. Have you picked a side?