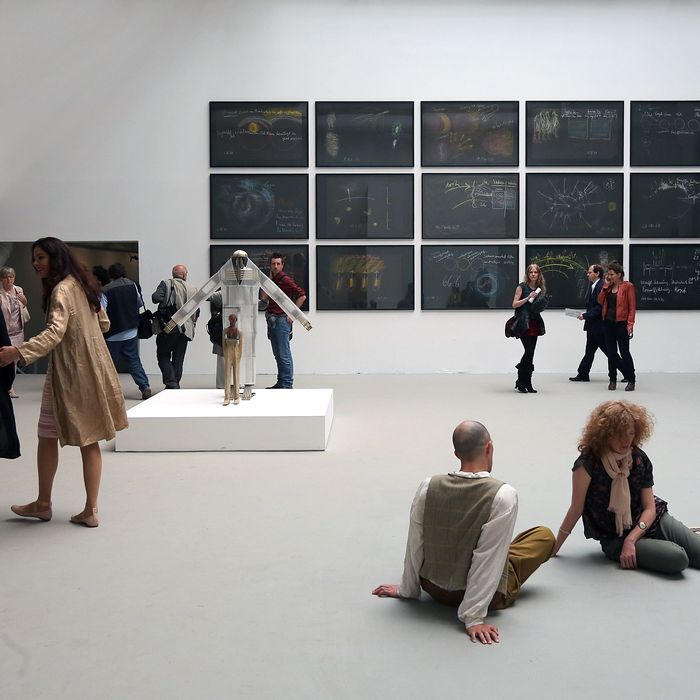 The Tino Sehgal at Central Pavilion during the official opening of the Biennale
Photo: Barbara Zanon/Getty Images
Don't listen to me today. I'm just a grumpy cat about being too socially maladjusted to attend the gigantic Venice Biennale wingding that opened the 2013 show last week. All I know is that while sweating it out here, working and watching the Yankees tank, I perused hundreds of pictures of what looked like 50,000 well-trod VIPs taking it all in, at once, together, between group breakfasts, long lunches, gala dinners, after-parties, and nightcaps. I love being around people and doing all that, too. But I'm not wired for it, and I get squirrelly fast. My wife and I are going to London next week, once the art mob moves on to do its business in Basel. We head to Venice after that, and will see the art when they've all returned home. This way I can look at things without constantly grousing, "Don't talk. I can't hear myself see," revealing my maladjustment, then reading it tweeted out to the world by an eavesdropper. D'oh!
"The Encyclopedic Palace," as the Biennale is called, has been organized by Massimiliano Gioni, a good friend of mine and a curator who's done some fantastic shows as associate director and director of exhibition at our own New Museum. Every advance notice I've read says "The Encyclopedic Palace" is a triumph. I don't remember more positive early word-of-mouth and online reviews in my life. Good for Gioni. Good for art. I can't wait to see the show for myself. And to eat pizza.
But something's strange about the reports. Almost all of them talk about this show in terms of its being a corrective to our manic, mad, moneyed art world. Even Thomas Campbell, director of the Metropolitan Museum of Art, was at the celebration. I don't recall any other Met Director being at one of these shindigs. Yet he celebrated this Biennale as "anything but commercial" and for being "thought-provoking and engaging." Moreover, every major curator, museum director, and high roller has been saying the same thing. Thus while laying down one of the largest carbon footprints on the planet to do so, the group mind — collected en masse from shopping sprees and business deals at the Hong Kong Art Fair on their way to the Basel Art Fair — are exalting that this isn't a show about the exact trophy art, and trophy artists, that so many have been on about for the past decade.
The show is said to point to a way out of market madness to concentration, slowness, looking, vision, self-styled cosmologies. Love that. And we all want honesty, discovery, passion, insight, and vision in our art — even if saying you believe in these things is like saying you believe in truth, beauty, or children. All the strangeness of the early reactions seemed to fall into place when I read a quote in this morning's New York Times. It's from Tobias Meyer, Director of Contemporary Art at Sotheby's worldwide. I've known, liked, and squabbled with Meyer for years. Today, however, I lost it when I read what he said about this show. Meyer opines that it "finally addresses the theory of contemporary art that is based on (Carl) Jung, on unearthing of the subconscious. The art world right now is all about Pop and global culture and dispersing images via the Internet whereas this is about exploring the deepest sense of oneself and the genesis of art. It is the antidote to Warhol and Koons."
Excuse me: This is from Darth Vader? From the same man who praised the opposite of self and exploration, saying, "The best art is the most expensive art because the market is so smart." Pardon me while I reserve judgment and remove the safety from my disbelief and nausea. Meow.