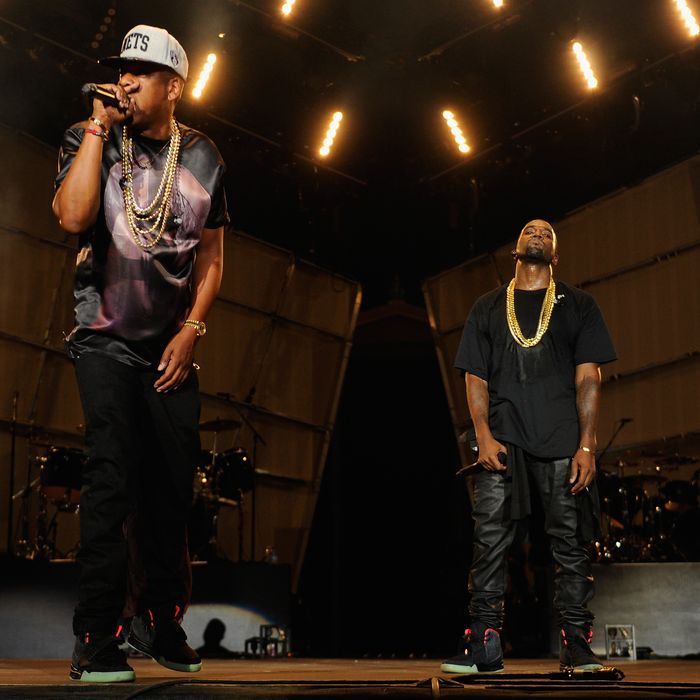 PHILADELPHIA, PA - SEPTEMBER 01: Jay-Z and Kanye West perform during the Budweiser Made In America Festival Benefiting The United Way - Day 1 at Benjamin Franklin Parkway on September 1, 2012 in Philadelphia, Pennsylvania. (Photo by Kevin Mazur/WireImage)
Photo: Kevin Mazur/Getty
Technically, Kanye West got upstaged twice this weekend. The first was a happy surprise: the birth of his daughter with Kim Kardashian, reportedly five weeks early (but, as almost everyone with a Twitter account who cares about music pointed out, just in time for the release of Yeezus). The second maybe stung a little. At halftime during Sunday night's NBA finals game, Jay-Z — Kanye's mentor turned partner, his Throne BFF — announced a new, top-secret solo album due on July 4. Like, two weeks from now. And as if the music were not enough, Jay buried the news in a delightful three-minute Samsung commercial filled with goofy faces and quotes like, "I always wanted to be a verb." Predictably, all the Internet's attention redirected to Jay, and sad, angry Kanye was left alone with his Christmas presents on the day before his release date. To put it in familiar terms, 'Ye got Big Brother–ed again.
Yes, this is an old story — 'Ye released "Big Brother," about living in Hov's not-always-generous shadow, back in 2007 — and we always knew that Watch the Throne was a temporary project, a way to further aggrandize two already-legendary solo artists. It's also possible that Jay did not organize his announcement with an undermining spirit. Maybe Samsung insisted on the NBA tie-in; maybe Magna Carta Holy Grail is actually Jay's Freemasons audiobook, and therefore has to be released on July 4. Maybe Kanye (who surely knew MCHG was on its way) and Jay discussed the albums rationally, and came to a mutual agreement to release them in succession, like a two-part attack on the summer. Maybe.
But probably not, and we all know why: Jay-Z is still the greatest, according to Jay-Z, and because sharing is not a celebrity (rap or otherwise) value. Jay-Z would totally upstage Kanye on purpose, to remind everyone that he is still beloved, and more beloved than his former producer; that he was here first, and that he, or the umpteen companies that bear his name, will be here long after. Even the details were pointed: Kanye made Yeezus with Rick Rubin? Okay, Jay's got Rick Rubin lounging on his couch, riffing about Picassos. Kanye's got one self-mythologizing name in his title? Okay, Jay's got two.
It was harsh, and for a moment, despite the previous week of bonkers lamp quotes and wildly alienating music, it made me feel sorry for Kanye. For all his talk about "anti-celebrity" and making "'em un-like you," Kanye craves approval, and while that is sometimes a destructive quality when applied to society as a whole, it is entirely understandable in the context of personal relationships. And Jay is still as important to Kanye as he was in the "Big Brother" days, or at least he was during Watch the Throne. "There was still a thing where I didn't feel comfortable, you know, going out on tour, the this, the that — all that by myself, yet," he told the New York Times about the 2012 tour. "I needed to connect with Jay." Aw. It is hard to stay connected when you are promoting albums against one another.
Granted, competition has always been a part of 'Ye and Jay's dynamic, and Kanye is so rich and talented and profoundly difficult that this sympathetic impulse doesn't last too long. If anything, my reaction betrays a misguided desire to find anything relatable in the narcissistic, purposefully off-putting undertaking that is Yeezus. Kanye doesn't do appealing. (That, as the Magna Carta Holy Grail video so clearly proved, is Jay-Z's bag.) But for a minute on Sunday night, you couldn't help but wonder about Ye's reaction, and when exactly Jay had broken the news to him. Maybe you even worried about Kanye's feelings. It turns out that is still possible — which is almost as surprising as the Jay album itself.