Jeff Garlin Arrested After Allegedly Smashing Some Car Windows
Parking spaces are provocative things.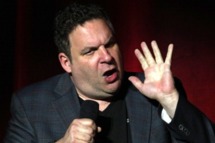 Jeff Garlin was arrested in Studio City, L.A. on Saturday after allegedly smashing the windows of someone's Mercedes following a parking space dispute. The arrest fell under felony vandalism and Garlin was out of jail by Sunday morning. You've seen Garlin in Curb Your Enthusiasm, Arrested Development's new season, and a little cameo on Maron. To our knowledge, no windows were smashed in the making of said shows.