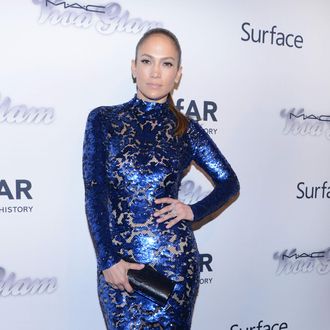 Photo: Michael N. Todaro/FilmMagic
Jennifer Lopez left the cement to dry on her new Hollywood Walk of Fame star and jetted off to a Caspian Sea resort in Turkmenistan to perform for leader Gurbanguly Berdymukhamedov's 56th birthday celebration on Saturday. AFP reports that a culture ministry confirmed J.Lo's arrival in the Central Asian state, known mostly for its "vast gas reserves and a dismal human rights record." (Opposition activists and reporters there are frequently harassed and jailed, and Internet use is heavily restricted and censored.) Lopez is believed to be the first major Western celebrity to visit the Muslim country, and she reportedly made quite an impression, "[dancing] with half-naked backing dancers" and later donning traditional Turkmen clothing to sing "Happy birthday, Mr. President" for an "enthusiastic" crowd of government officials, ambassadors, and CEOs of state-run companies.
Earlier in the day, tweets from @JLoDancers and choreographer J.R. Taylor praised the breeze and jetskis in the resort town of Avaza, so it seems like everybody had a pretty good time. But, if Hilary Swank's 2012 appearance at Chechen dictator Ramzan Kadyrov's birthday or Mariah Carey, Usher, and Beyoncé's performances for the Qaddafis are any precedent, we won't be surprised if Jenny from the Soviet bloc(k) encounters some backlash for the trip.