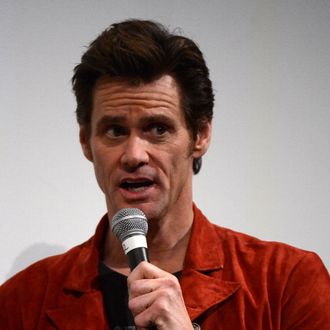 Perhaps having just gotten around to watching the Kick-Ass 2 trailer, Jim Carrey tweeted some reservations on Sunday evening. "I did Kickass a month b4 Sandy Hook and now in all good conscience I cannot support that level of violence," he wrote. "I meant to say my apologies to others involve with the film. I am not ashamed of it but recent events have caused a change in my heart." Mark Millar, creator of the Kick-Ass comics as well as executive producer of the films, almost immediately shared a lot of thoughts on his website. Millar was ecstatic for Carrey — "an actor like no other, an unpredictable force of nature who brings a layered warmth and humanity to his work as well as that unstoppable energy" — to join the film, and praises Carrey's performance as Col. Stars and Stripes. But the writer is confused by Carrey's sudden change of heart.
Millar writes:
"As you may know, Jim is a passionate advocate of gun-control and I respect both his politics and his opinion, but I'm baffled by this sudden announcement as nothing seen in this picture wasn't in the screenplay eighteen months ago. … Like Jim, I'm horrified by real-life violence (even though I'm Scottish), but Kick-Ass 2 isn't a documentary. No actors were harmed in the making of this production! This is fiction and like Tarantino and Peckinpah, Scorcese and Eastwood, John Boorman, Oliver Stone and Chan-Wook Park, Kick-Ass avoids the usual bloodless body-count of most big summer pictures and focuses instead of the CONSEQUENCES of violence, whether it's the ramifications for friends and family or, as we saw in the first movie, Kick-Ass spending six months in hospital after his first street altercation. Ironically, Jim's character in Kick-Ass 2 is a Born-Again Christian and the big deal we made of the fact that he refuses to fire a gun is something he told us attracted him to the role in the first place. Ultimately, this is his decision, but I've never quite bought the notion that violence in fiction leads to violence in real-life any more than Harry Potter casting a spell creates more Boy Wizards in real-life. … Jim, I love ya and I hope you reconsider for all the above points. You're amazing in this insanely fun picture and I'm very proud of what Jeff, Matthew and all the team have done here."
It'll be interesting to see how this plays out, or if that's really Carrey's final word.