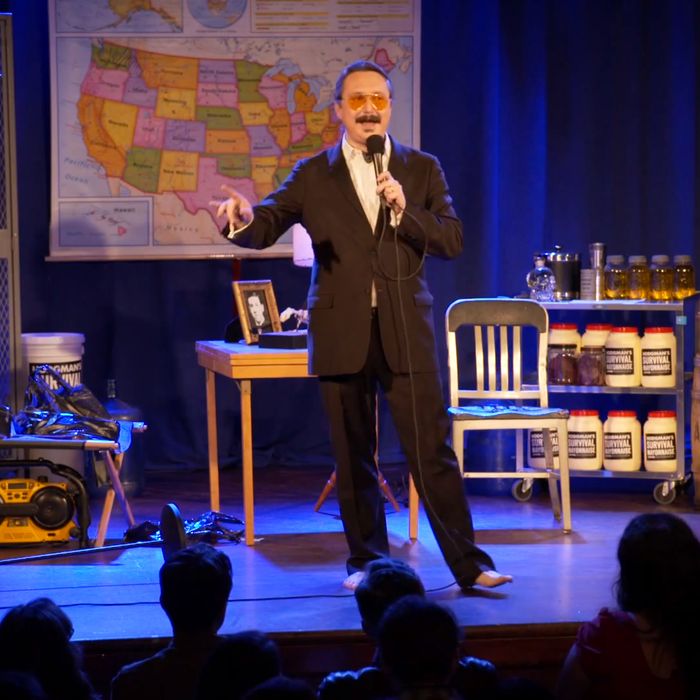 On June 20, Netflix releases John Hodgman: Ragnarok, a one-hour comedy special featuring the mustachioed Daily Show correspondent and best-selling author's signature musings on the apocalyptic end days, and also "mayonnaise, hockey instruction, and tips on raising sperm whales." (Click here to watch on Netflix, or check out the preview below.) Sadly, the Netflix Original's release date meant Ragnarok wasn't eligible for our Best of TV week, but we figured we'd let Hodgman have the last word here so that he won't have to bother when he wins top prize in every category next year.
And now, in his own words, here is Hodgman:
Here are some of the best moments of television from last year, according to me, John Hodgman, a person who is still on television sometimes:
5. One of the best things to happen on TV was Science Channel's Stuff You Should Know, and not only because I appeared on an episode. One of the least best things to happen on TV was that Stuff You Should Know was pulled after just one airing, which was a bad thing made worse when the episode I appeared in got burned off in a weekend marathon. SYSK was a Flight of the Conchords–ian sitcom following Josh Clark and Chuck Bryant, two funny, incredibly genial (and insanely popular) podcasters in Atlanta who just love explaining stuff. Plus, it had Rufus Wainwright singing the national anthem at a taco bar in Spanish. Doing swimming-pool comedy with Chuck while wearing a fake spacesuit is still among the best fun I've had on TV, and you can still see it in its late lamented glory via iTunes.
4. Watching Downton Abbey with my 11-year-old daughter and discovering the perfect euphemism to use every time she starts getting cold and mean with her brother and parents: "Watch out. You're getting a little Mary Crawley."
3. It's a bit outside Vulture's draconian June-to-June eligibility parameters, but of course: I am still amazed not only to have appeared on Community, among the best comedic ensembles ever assembled, but also to have done so before the departure of Dan Harmon. But far better is the unexpected pleasure as a viewer of welcoming his triumphant return. Children, I know you all want to binge-watch Community nine months after air on your beep-boop machines, but remember: It is still a network TV show. If you want to support it, watch it live.
2. The episode of Mad Men where everyone gets speed injected into their butts was a revelation. Who knew that with just a little ass speed, TVs most somber drama would be Jekyll-and-Hyde'd into its most surreal office sitcom. I said it on Twitter, but I'll say it again: Aaron Staton's tap dancing ought to equal instant Emmy.
1. It was not technically on television, but seeing Tom Hanks's amazing performance on Broadway in Lucky Guy, and then seeing Peter Scolari walk out onstage and realize that this is not only a great play but also a cryptic Bosom Buddies reunion made me audibly gasp with soul-deep happiness.