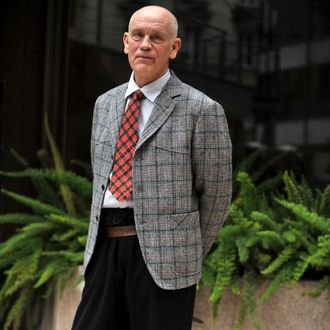 Yup, we said Ryan Gosling
Photo: TIZIANA FABI/AFP/Getty Images
We have a new celebrity hero, everyone! Actor and gentleman John Malkovich came to the rescue of an injured tourist on a Toronto sidewalk on Thursday night, according to Canada's CBC News and CTV News. Malkovich, who is in town to play Casanova in The Giacomo Variations, was smoking a cigarette outside the King Edward Hotel when 77-year-old Ohio resident Jim Walpole tripped and cut his neck on some scaffolding. "The way he was spurting I thought it was the carotid [artery] or the jugular [vein]," explained his wife, Marilyn, who is not squeamish because she is a retired nurse. Luckily, Malkovich "took over just like a doctor" by using his scarf to apply pressure to the wound until an ambulance arrived.
"I asked, 'What's your name?' He said, 'John.' And I didn't ask the last name 'cause I didn't figure I'd remember it anyhow," said Walpole. Malkovich even comforted his fellow American, who was worried about being taken to a county hospital, by saying, "Listen, they got a really good [health care] system up here." Local restaurateur Ben Quinn, who also helped take care of Walpole, told CBC that after the ordeal ended, "Malkovich turned and thanked me. I thanked him. We couldn't shake hands, I was covered in blood. He was just off, didn't want any attention."
Later, the Walpoles confirmed that they had never really heard of Malkovich or seen any of his movies, but Marilyn promised, "I'm going to watch all of them that I can." It sounds like she should probably start with the most obvious one.