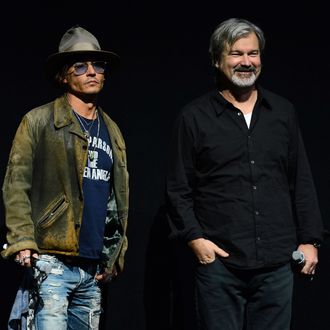 Photo: Ethan Miller/Getty Images
Oh, Johnny Depp. On the one hand, enduring nineties sex symbol, international super movie star, fedora king, etc. On the other, 50-year-old dude making dumb jokes and being a little confused. In a new profile in Rolling Stone, Depp calls TMZ TLC — even though he also claims to be a Honey Boo Boo fan and would thus know what channel his beloved show is on. He also jokes about wanting to be in an ALF reboot, probably because the last time Johnny Depp wasn't crazily famous was during the era of ALF.
[Depp] pauses, looks up through his blue-tinted aviator glasses and laughs, recognizing the mental cul-de-sac he just hit. "What's it all about, Alfie?" he says. "Or, ALF! Probably best to go to ALF, actually. What's it all about, ALF?"

That might be a good role for him, I venture. "I should play ALF," he says, delighted. "Fucking fantastic. ALF. Yeah, it should be called ALF: The Stuff You Never Saw."
Do it! Call Tim Burton and make a weird ALF thing, you beautiful lunatic!