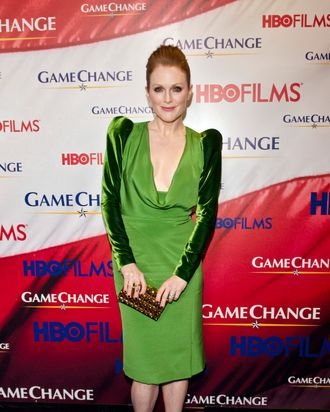 Julianne Moore poses on the red carpet, wearing Tom Ford during the "Game Change" premiere at The Newseum on March 8, 2012 in Washington, DC.
Photo: Kris Connor/Getty Images
Oooh! Nothing is official yet, but Deadline reports that Julianne Moore is being considered for the last two Hunger Games movies — in the role of President Alma Coin. If you have not read the books, just know that Coin is a politician who figures heavily in Mockingjay, and that Moore would be great for it. If you have read the books, then are you imagining that one scene and freaking out too? Thought so.