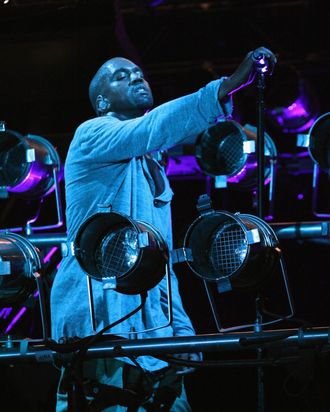 Photo: Taylor Hill/WireImage
We are rapidly approaching the release of Yeezus — eight days and counting — and still, the majority of our album knowledge comes from YouTube videos of face projections on random buildings across the world. In that light, maybe high-quality YouTube videos of actual concert performances will seem like an upgrade? (At least they aren't Vines. Six-second concert videos: not helpful!) Kanye played New York City's Governors Ball last night, and in addition to "Black Skinhead" and "New Slaves," he performed three more Yeezus tracks. We got 'em all below.
First up: "I Am a God," also known as "the screaming song," which will forever ruin civil behavior at spas and bakeries.
Then there is "On Site," which is helpful for understanding how little of a fuck Kanye gives.
And this one is still untitled, so we will call it the "Dying Birds" song until further notice.