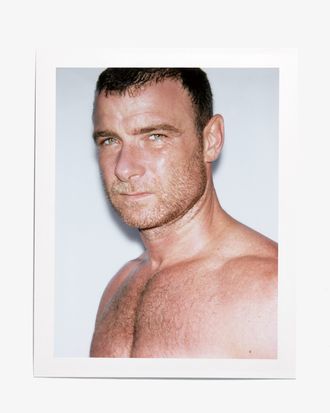 Photo: Lucas Michael/New York Magazine; Hair by Daniel Erdman at Solo Artists; Makeup by Sabrina Bedrani at Tracey Mattingly
Photo: Lucas Michael /New York Magazine
Go ahead, Liev Schreiber motions, pointing a ­boxing glove at his ­stubbly jaw. "I have the kind of face that people want to punch," says the actor, who has portrayed both Shakespearean ­heroes and a Stan Lee ­villain ­(Sabretooth in 2009's ­X-Men Origins: Wolverine) and stars in the new Showtime drama Ray Donovan. It's a declaration made all the more ­ridiculous by his mouth guard, which ­imparts a slobbery lisp. Schreiber, a ­frequent narrator of sports ­documentaries, has been boxing for ­nearly a decade. I've been at it for a mere ten minutes.
"Good," he shouts when one of my swings passes his swatting mitts and ­finally connects with his nose.
Wearing boxing trunks and a ­Teamsters tank top with his name on the back, he's been working out with Rob Garcia, a trainer who also spars with ­Peter "Kid Chocolate" Quillin. "Don't they call me White Chocolate around here?" ­Schreiber jokes. Along with Ray Donovan co-stars Jon Voight, Eddie Marsan, and former boxer Pooch Hall, Schreiber, who recently moved to Los Angeles, is a regular at Wild Card West, a private gym and ring in Santa Monica partly owned by Garry Shandling and Peter Berg. Boxing, says the tall, impressively chiseled star, has improved his neuroplasticity after extensive shoulder surgery. The 45-year-old has also been following a dietary regimen designed to reduce systemic inflammation. "I grew up vegetarian, and when my grandfather first gave me some pastrami, I remember thinking, Holy shit, where have I been? So I've always been skeptical about ­nutrition, but this is really working."
Schreiber's muscularity informs his titular role on Ray Donovan, which ­debuts on June 30, after Dexter. A gritty bit of contemporary noir, the series takes South Boston characters out of the milieu of The Fighter and drops them into the sticky maw of Hollywood. While his brothers eke out a living and train at the eldest sibling's gym, Ray earns fat cash as the Zegna-suited fixer for high-strung L.A. lawyers and their wealthy, witless clients. He disposes of dead bodies and beats up blackmailers but barely breaks a sweat before returning home to his ­family—and fracturing marriage—in a San Fernando Valley McMansion.
After earning a master's in drama at Yale, Schreiber briefly relied on his brawn, toiling as an assistant to one of his brothers, a brick mason. By comparison, he says, the physical labor of "pretending to be intimidating is not a bad job." ­Despite his deft wit and a sweet silliness that emerges when I ask about his sons, Sasha, 5, and Kai, 4, with actress Naomi Watts, Schreiber makes a convincing thug. "I have Slavic fat pads that make me look like a chipmunk and arched predatory eyebrows," says the actor, who is a stew of Russian and Middle European bloodlines. "With that, you're not going to get funny. That's why I play so many bad guys."
Schreiber made his Broadway debut in 1993 and quickly established himself in films as a better-looking heir to the likes of Walter Matthau, Gene Hackman, and Dustin Hoffman. But he's always kept a foot in the Manhattan theater scene, where he has become one of his ­generation's most lauded interpreters of the Bard. "Theater is consistent. You ride your bike to work. You get most of the day off so you can see your kids. My problem is that after three months I go mad. One of the reasons I never thought I could do a TV show is that I hate doing the same thing over and over again." But that's also why he signed up for Ray ­Donovan: "Part of me always feels like things should be hard."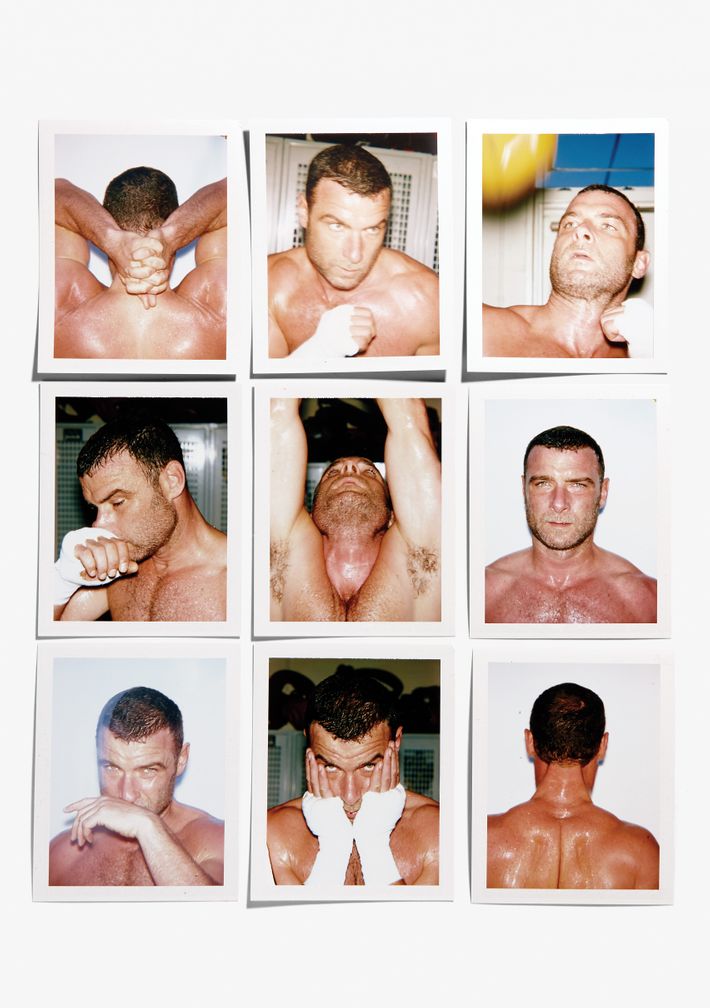 Having once studied semiotics and ­media criticism at Hampshire College, ­Schreiber developed his ­Donovan dialect based on Southie college friends "who were always talking about the fucking ­Patriots." There is something about that world, "along with all of its darkness," he explains: "an old-school morality and a culture rooted in goodness, realness, and masculinity." After reading the pilot script by showrunner Ann Biderman, the ­creator of Southland, Schreiber was sold.
"She writes about violence, vulnerability, and the façade of machismo in a glossy, sexy way, but with depth, duality, and ­humanity," he explains. "He's very lonely and very isolated. The contract of ­marriage, sexuality, relationships, all of that stuff is outdated. Every other social group has­ gotten an upgrade except for the average white man, and Ray is working on old software, functioning in a world that no longer appreciates men as breadwinners and warriors, and there is a lot of pain in that." And though he blurs the line between right and wrong and ­dispenses plenty of rough justice, ­Donovan also somehow serves as a moral compass for the show. "It's weird," ­Schreiber says. "Despite what he does, he has a sense of what is fair."
The father of two admits he was ­terrified to take on a role that occupies half his year and could last until his kids hit ­middle school. "But what's interesting about series television is that it is not ­finite like a play," he says. "It is unknown and unfolds in the way that life does." But Ray Donovan, he adds, "gets into some pretty heavy shit. And it's hard playing dark for so long." Los Angeles has its ­diversions—roller derby, surfing in ­Malibu—but it's neither ­convenient nor spontaneous. "I'm fucking homesick," confesses this child of the ­Lower East Side. "I miss New Yorkers. I miss the ­bustle, having people around to walk on the street and look at."
Schreiber never wanted to leave ­Manhattan. "When we met, I said to ­Naomi, 'I am really crazy about you, but I don't know that I can live in L.A., and is that okay?' " That was in 2005. She rented her house and went to work on The ­Painted Veil. "Naomi forced them to hire me. She wanted to continue our ­relationship, and the only way to do that was to take me on the road with her," ­Schreiber says with such a delighted twinkle in his eye that I ask if he's busting chops. He's not, he ­insists: "We wanted to be together, and I'm decent enough to handle that role. It wasn't, like, total nepotism."
Thereafter, he followed her around for three years, "traveling the world and ­being manny to the children." Together, they seem to be the rare celebrity couple that people genuinely admire. "I get ­photographed a lot with my children," he says. "People see me take them to school, and they seem to like that."
They have not married, Schreiber ­confirms. "It's complicated," he says ­tersely, "and it's private, too."
The pugilist, who plays the father of teens on Ray Donovan, lets down his guard on the subject of parenting. "It has made me a better person in fits and starts," he says. "I had been a very selfish person most of my life, and that shifts quickly and dramatically. It's painful and fascinating and ultimately really wonderful, but I am particularly lucky because I have exquisitely beautiful, talented, ­brilliant children," he says, grinning. "If I had had ugly, stupid children, it would've been difficult to turn that corner."
*This article originally appeared in the June 17, 2013 issue of New York Magazine.