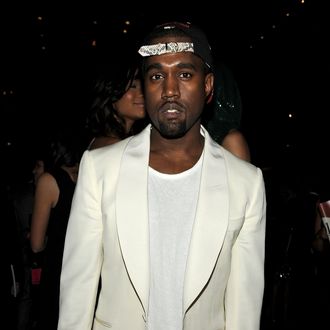 Photo: Larry Busacca/Getty Images
It's Sunday afternoon — your last chance to read all that stuff you were too distracted to read last week before Monday brings a new deluge of things you will want to read. Below, some of our recommendations:
"Behind Kanye's Mask" by John Caramanica (New York Times): Perhaps Kanye West's most quoted interview ever (released during Kanye's biggest week ever), in case you somehow missed it.
"Questlove is the Hardest-Working Man in Showbiz, and He is Lonely Enough to Prove It" by Jenna Sauers (The Village Voice): "You know, after work, everyone hangs and they go to a bar and stuff?" says the DJ and Roots drummer. "I don't socialize that way. I don't have a posse. I don't have friends. I got the people I work with. I got a mom and a sister."
"Hollywood's completely broken" by Lynda Obst (Salon): On how the public's shift from DVDs to streaming changed the way movies get made.
"So Many Handbags, So Little Time" by Andrew O'Hagan (London Review of Books): On the concentric circles that created The Bling Ring.
For more in-depth weekend readings, visit our friends at Longreads.