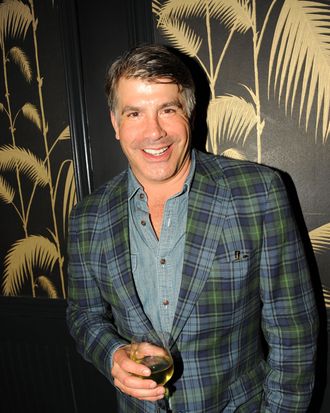 Bryan Batt.
Photo: Paul Bruinooge/Patrick McMullan
Earlier this week, we made a plea for Mad Men to bring back Sal Romano. No telling whether Matthew Weiner heard us, but Bryan Batt, who played Sal, sure did — he told us so himself last night, at a screening of I'm So Excited hosted by the Cinema Society. (His exact words: "It was nice to see the little piece in the Vulture.") Sadly, the conversation didn't give us much hope that Sal is, in fact, slated to return to the show. But you still never know; and it was at least fun to find out what Batt thinks Sal might be up to these days. Here's how our conversation went.
What would Sal be up to if he were back on Mad Men? Would he be out of the closet?
I don't think so. It's '68. And next year is '69, and that's the Stonewall Riots. Everything happened in '69. When you think about it, it's really an incredible year. I have no idea, whatever the writers and Matt would come up with is far beyond whatever I would come up with. But we can hope Sal's not dead.

Do you think he'd be smoking pot?
I think maybe he'd be experimenting. Last time we saw him, it was in the Rambles [in the park], you know, calling his wife. It's very interesting: I have come across, in very close circles, someone that I've known all my life, someone much older, like eightysomething, married for over 50 years, and found out that the whole time he was having affairs with men on the side. And I never would have suspected it. And then another guy I knew from high school, married nineteen years, just says, "Guess what?" So you never know. Sal might have continued to pretend, you know, for much more drama.

What about LSD? Do you think he would have gone the Roger Sterling route?
Oh god, no. I don't think so. I think Sal is very — he was so uptight and conforming.
What would be a dream scene to come back into?
I have no idea, whatever they come up with would be fun. No caftans, no Fire Island. No, I'm teasing, I'm teasing. But you never know what they are going to do. The seasons I was on I had a blast. It's just wonderful.

And if they called, it would be a no-brainer?
Yeah, I think so.