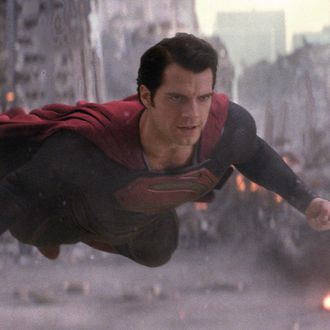 HENRY CAVILL as Superman in Warner Bros. Pictures' and Legendary Pictures' action adventure "MAN OF STEEL," a Warner Bros. Pictures release.
Photo: Courtesy of Warner Bros. Pictures/? 2013 Warner Bros. Entertainment Inc. and Legendary Pictures Funding, LLC ?
The latest Superman reboot set a new record for best-ever June opening weekend with a projected four-day cumulative total of $125.1 million domestically and $196.7 million worldwide. The less obviously heroic bros of Seth Rogen and Evan Goldberg's apocalypse comedy This Is the End brought in a projected $20.5 million for the movie's first weekend, putting it in second place at the box office. As with last week, Now You See Me took third with $10.3 million for the weekend. (It cumulative earnings are now $80 million domestically and $107 million internationally.) Meanwhile, box-office wonder Fast and Furious 6, which has now picked up $636.9 million worldwide, fell to fourth place with $9.4 million in domestic weekend loot. Most surprising of all, last week's top film, The Purge, dropped to number five this weekend after only making $8.2 million domestically.