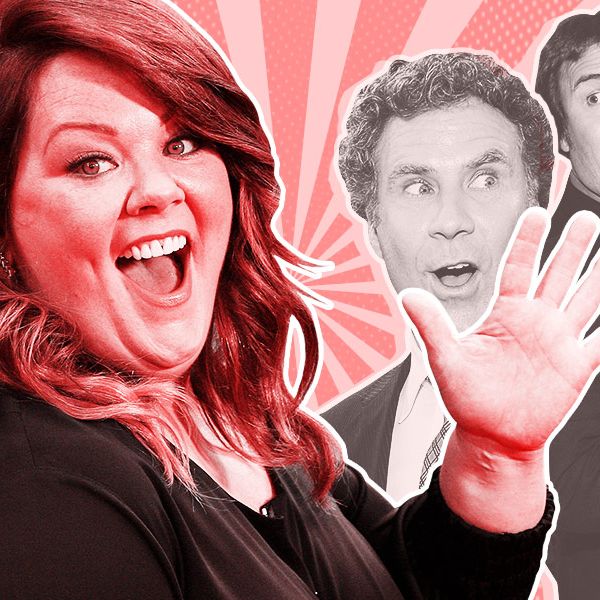 The Heat grossed an impressive $40 million this weekend, putting it on track to be Melissa McCarthy's second hit comedy in the last six months. Sure, some of that had to do with co-lead Sandra Bullock, a genuine movie star. But Bullock was the straight woman; it was McCarthy who had to bear most of the comedic burden. This was also the case in Identity Thief, which got middling reviews yet did incredibly well, grossing $135 million domestically on the back of McCarthy's appeal. On a weekend when the fourth-place debut of Channing Tatum's White House Down dampened Hollywood's hopes that they had a new action star who could ensure surefire hits, McCarthy has emerged as comedy's new sure thing … at least for now. But how long can it last? She's at a point where the decisions she makes over the next few years could either position her as a long-term comedy fixture or a flash in the pan. A case study is in order: To gauge where she's headed, let's compare her approach to that of two similarly high-energy comics who both had their big breakouts ten years ago but now find themselves in very different places: Will Ferrell and Jack Black.
Like McCarthy in Bridesmaids, both Ferrell and Black first established their star potential by stealing movies in supporting roles: Ferrell in Old School, Black in High Fidelity. Then in 2003 came Elf and School of Rock. Ten years later, Ferrell remains one of the premiere comedy movie stars, while Black told Marc Maron on "WTF" last August that he "[feels] the pinch" of things "[slowing] down on the movie front." Let's look at two key career strategies they did and didn't engage in, and which one McCarthy is emulating.
1. DIY Comedy-Making
In the wake of his Elf success, having established his comedic brand as someone with no vanity who could make dumb jokes with highbrow weirdness, Ferrell immediately used his clout to write and star in a movie that was the purest distillation of his sensibility: Anchorman. (He also arranged for his comedy soul mate, Adam McKay, to make his directing debut on the film.) While Anchorman was not the smash that Elf (still Ferrell's highest grossing film) was, it still made good money ($85 million domestically, with a reported $26 million budget) and had a long tail as a perpetually quoted cult classic, bolstering a fan base dedicated to Ferrell's loopy style. He went on to codify his sensibility with a mini comedy empire that includes FunnyorDie.com and his production company, Gary Sanchez Productions, formed with McKay.
Conversely, following School of Rock, Jack Black took several years to make his movie. In the interim, he dabbled in celebrity voice work (Shark Tale), co-starred with Ben Stiller in a bomb (Envy), and took a straight role in Peter Jackson's King Kong. It would be easy to Monday-morning-quarterback these picks, but they're not bad choices on paper: Shark Tale was an all-star Dreamworks movie, Stiller was a big star, and Jackson was coming off of the Lord of the Rings trilogy. However, these weren't roles Black planned for himself; that wouldn't happen until three years later with Nacho Libre (which he produced) and his true passion project, Tenacious D in the Pick of Destiny. Unfortunately, neither popped: Nacho Libre only made $5 million less than Anchorman but had no quotable afterlife, while, more notably, Tenacious D bombed. And since Tenacious D is the purest essence of the Jack Black persona (and the movie followed a hit D record), its failure reflected poorly on his appeal. From that point on, he predominantly remained a gun for hire, rather than looking to create a role from the ground up that would epitomize his sensibility.
McCarthy appears to be aggressively following the Ferrell model (not surprising, as she shares an agent with Ferrell). She has started a production company, On the Day, with her husband Ben Falcone (her McKay), and they already have four films in development for her to star in. One of them is her next starring project, Tammy, which she co-wrote and is co-directing with Falcone. (No small things, those two facts.) With a release date set for July 4, 2014, it's described as a dark, raunchy comedy, in which McCarthy — in her first time carrying a movie solo — plays a woman who, after she loses her job and gets cheated on by her husband, goes on a road trip with her alcoholic grandmother (Susan Sarandon). The words dark and raunchy indicate that this film will be in line with what she's done before: It's a safe bet, but one she's in total control of.
2. Showing Range
No actor wants to be typecast, but comedic actors have an added burden — they run the risk of burning out their fan base. Audiences' comic sensibilities change with time, and when Ferrell's two big post-Anchorman comedies (Bewitched and Kicking and Screaming) underperformed, he mixed up his repertoire: The Producers (supporting role in a high-pedigree — if ill-fated — musical), Talladega Nights (very Ferrell-ian broad sports comedy that made $148 million in the U.S. and is still his second-highest grosser), and Stranger Than Fiction (whimsical but straighter-faced dramedy). All very different comedic performances. Compare this to Black's starring roles, which seemed like the same character in different situations, even when it was a drama: His voice, his delivery, his appearance never changed that much. Nacho Libre was Black with a Mexican accent, and even though his King Kong turn was more serious, it just felt like Jack Black in a monster movie. He was affecting in Noah Baumbach's Margot at the Wedding, but even there was still just a slacker-y, Jack Black–ery bit of comic relief.
You can argue that there's also a commonality to Ferrell's trademark performances (he's usually playing an arrogant dope prone to manic freak-outs), but just the fact that he varies his characters' physical appearance and voice can often make each film feel like a fresh restart. And doing the occasional indie also helps cleanse the palate. But regardless of how funny Black can be, his look and physicality — his manic grin, furrowed brow over staring eyes, and punchy diction — rarely change from project to project. So when a big film fails, there's a much bigger risk that someone will look at the next one and say, "Oh, he's just doing that Jack Black thing again, forget it." He was marvelous and different in Richard Linklater's Bernie, but after Gulliver's Travels, which felt like a sad, generic family comedy for a guy who first burst out with such dangerous energy, it didn't get the attention it deserved.
McCarthy has been taking the Ferrellian chameleon approach: In her first three films, she has played incredibly out-there characters, but they all look and sound different. This may seem like a reductive point (just put on a different wig and you'll go forever!), but there is something to it: When people see a trailer for a new McCarthy film, they're often excited to see what new character she's cooked up, as opposed to looking at her and thinking she's doing the same thing over and over. (A lot of this can be credited to McCarthy's training at the character-focused improv/sketch school the Groundlings, where Ferrell also got his start.) Going forward, the key is to mix it up a bit. McCarthy fought hard to be part of the Weinstein Company's Bill Murray indie St. Vincent De Van Nuys, reportedly beating out many big-name comedic actresses for the female lead of a single mom who agrees to let her curmudgeonly neighbor watch her son. And as for showing variety, having a regular TV gig on Mike & Molly actually might work for her. It's not critically loved, but it's fairly popular, and McCarthy is very charming. Above all, Mike & Molly, which will return for a fourth season in the fall, is a weekly showcase of her ability to play the straight woman.
At minimum, McCarthy will have a stable comedy career for the foreseeable future. (She's also leaning toward something Ferrell never has done: sequels, with talks about Identity Thief and Heat follow-ups). It's not hard to imagine a future where her movies routinely top $100 million at the box office and receive decent reviews. Will Ferrell has been that actor for the last ten years. And by continuing to follow his game plan, McCarthy can be that actor for next ten.