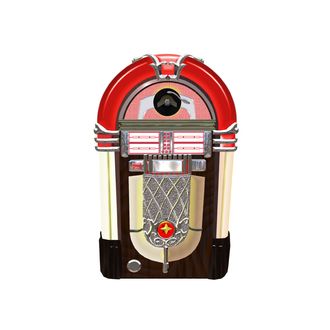 I'm Jody Rosen, New York's new pop critic. I'll be posting here on Vulture, and writing longer essays and features for the magazine. My editors have asked me to say a few words about myself, which is embarrassing. So let's keep it brief.
I previously worked as a music critic for Slate and the Nation. I was also a critic at Rolling Stone. (I was the guy they turned to when they needed a Demi Lovato review.) And I've written about music for various other publications. In 2006, I compiled and annotated an anthology of turn-of-the-century Jewish novelty songs; it included your great-great-grandfather's favorite jam, "Cohen Owes Me 97 Dollars." I wrote a book about another Jewish song, "White Christmas."
I've sometimes been called a "poptimist," I guess because I've written favorably about commercial country music and Britney Spears and, occasionally, dissed Bruce Springsteen. But when it comes to my personal Top of the Pops, my tastes are pretty traditional. (This is my favorite band. These are my two favorite singers. This gets my vote for best pop song ever. Etc.) In a pinch — when I need a helping of musical comfort food — I turn to the stuff I grew up listening to with my grandmother (song standards, Sinatra, Billie Holiday) and mother (seventies soul, "Che gelida manina").
I'm a song guy. I've never gotten much into symphonic music. I have limited patience for sprawling art-rock "suites" and jazz odysseys. I admire Kid A but it bores me. I love the rigor and efficiency of great pop — how it compresses its effects into tight spaces and short running times.
In lieu of a mission statement, I've put together a big Spotify playlist: one song for each of the past 100 years, from 1913–2013. These aren't the "best" songs of those years; they're not even necessarily my favorite ones. They're just some songs I like. The list follows below; you can listen here.
1913: Al Jolson, "You Made Me Love You (I Didn't Want to Do It)"
1914: Billy Murray, "He'd Have to Get Under — Get Out and Get Under, to Fix His Automobile"
1915: Mark Sheridan, "Belgium Put the Kibosh on the Kaiser"
1916: Nora Bayes, "Homesickness Blues"
1917: Walter Van Brunt, "My Melancholy Baby"
1918: Bert Williams, "O Death, Where Is Thy Sting?"
1919: Marion Harris, "Jazz Baby"
1920: Mamie Smith & Her Jazz Hounds, "Crazy Blues"
1921: Eddie Cantor, "The Dumber They Come, the Better I Like 'Em"
1922: Eva Tanguay, "I Don't Care"
1923: Henry Burr, "My Buddy"
1924: Vernon Dalhart, "Wreck of the Old 97"
1925: Vaughn De Leath, "Banana Oil"
1926: Waring's Pennsylvanians, "Looking at the World Thru Rose-Colored Glasses"
1927: Helen Kane, "That's My Weakness Now" (1927)
1928: Whispering Jack Smith, "All By Yourself in the Moonlight"
1929: Scrapper Blackwell & Leroy Carr, "Getting' All Wet"
1930: The Missourians, "Prohibition Blues"
1931: Lee Morse, "I'm an Unemployed Sweetheart"
1932: Gene Autry, "That Silver-Haired Daddy of Mine"
1933: Ronald Frankau, "Everyone's Got Sex Appeal for Someone"
1934: The Mills Brothers, "Sleepy Head"
1935: Alberta Hunter, "You Can't Tell the Difference After Dark"
1936: Andy Iona, "Hawaiian Paradise"
1937: Sidney Bechet & Noble Sissle, "You Can't Live in Harlem"
1938: Rosetta Howard, "If You're A Viper"
1939: The Ink Spots, "If I Didn't Care"
1940: Fats Waller, "Eep, Ipe, Wanna Piece of Pie"
1941: Hoosier Hot Shots, "I Like Bananas (Because They Have No Bones)"
1942: Charles Trenet, "Que Reste-t-il de Nos Amours"
1943: Louis Jordan, "The Chicks I Pick Are Slender, Tender, and Tall"
1944: The Pied Pipers, "Milkman, Keep Those Bottles Quiet"
1945: Bing Crosby & Les Paul, "It's Been A Long, Long Time"
1946: Bob Wills, "Roly Poly"
1947: Peggy Lee, "Don't Smoke in Bed"
1948: Tex Williams, "Smoke Smoke Smoke That Cigarette"
1949: Benny Moré, "Que Te Parece Cholito"
1950: Jerry Lester, "Orange Colored Sky"
1951: Lefty Frizzell, "Mom and Dad's Waltz"
1952: Billy Eckstine, "Kiss of Fire"
1953: Ruth Brown, "Mama, He Treats Your Daughter Mean"
1954: Ray Charles, "Come Back Baby"
1955: Hoagy Carmichael, "Stardust"
1956: Peanuts Wilson, "Cast Iron Arm"
1957: Roy Hamilton, "Don't Let Go"
1958: Sanford Clark, "Love Charms"
1959: Joni James, "I Can Dream, Can't I?"
1960: Willie Nelson, "Night Life"
1961: Etta James, "Seven Day Fool"
1962: James Darren, "Conscience"
1963: Chavela Vargas, "¿Donde Estás Corazón?"
1964: The Barbarians, "Moulty"
1965: Shirley Ellis, "The Clapping Song"
1966: Walter Jackson, "My Ship Is Comin' In"
1967: The Velvet Illusions, "Hippy Town"
1968: La Lupe, "Puro Teatro"
1969: Joe Tex, "Buying A Book"
1970: Willie Colon & Hector Lavoe, "Ausencia"
1971: Nektar, "King of Twilight"
1972: Novos Baianos, "Brasil Pandeiro"
1973: Tammy Wynette, "Woman to Woman"
1974: Stevie Wonder, "Heaven is 10 Zillion Light Years Away"
1975: Tony Bennett & Bill Evans, "Some Other Time"
1976: Suzi Quatro, "Tear Me Apart"
1977: Augustus Pablo & King Tubby, "King Tubby Meets Rockers Uptown"
1978: Marvin Gaye, "You Can Leave, But It's Going to Cost You"
1979: Barbra Streisand & Donna Summer, "No More Tears (Enough Is Enough)"
1980: Hall & Oates, "Everytime You Go Away"
1981: Grace Jones, "Nightclubbing"
1982: The English Beat, "Sole Salvation"
1983: Trans-X, "Living on Video"
1984: Egyptian Lover, "And My Beat Goes Boom"
1985: Aretha Franklin, "Sweet Bitter Love"
1986: Run-D.M.C., "Peter Piper"
1987: The Bee Gees, "You Win Again"
1988: Ultramagnetic MCs, "Ease Back"
1989: Troop, "I'm Not Soupped"
1990: Lee Ann Womack, "Never Again, Again"
1991: Ice Cube, "Doing Dumb Shit"
1992: Fu-Schnickens, "La Schmoove"
1993: The Muffs, "Saying Goodbye"
1994: UGK, "Front, Back & Side to Side"
1995: Take That, "Back for Good"
1996: Oscar D'Leon, "Volver a Verte"
1997: Alan Jackson, "Everything I Love"
1998: Ivy, "I've Got A Feeling"
1999: Jim O'Rourke, "Ghost Ship in a Storm"
2000: Sade, "Every Word"
2001: Nick Lowe, "Homewrecker"
2002: Cee-Lo, "Closet Freak"
2003: R. Kelly ,"Ignition (Remix)"
2004: Rachid Taha, "Tekitoi"
2005: Brad Paisley, "Waitin' on a Woman"
2006: Busy Signal, "Step Out"
2007: The Pierces, "Boring"
2008: Benji Hughes, "All You've Got to Do Is Fall in Love"
2009: Muthoni the Drummer Queen, "Mikono Kwenye Hewa"
2010: Cage the Elephant, "Shake Me Down"
2011: Miguel, "Sure Thing"
2012: Akufen, "Battlestar Galacticlown"
2013: Alice Russell, "Heartbreaker"