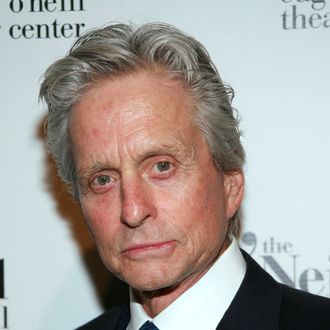 Photo: Sylvain Gaboury/Patrick McMullan
In a "surprisingly candid interview" with The Guardian, actor Michael Douglas told the paper that his battle with stage-four throat cancer started in the bedroom. The story came up when the interviewer asked Douglas if his well-documented history of smoking and boozing may have led to his illness. Douglas answered:
"No, because without wanting to get too specific, this particular cancer is caused by HPV which actually comes about from cunnilingus. I did worry if the stress caused by my son's incarceration didn't help trigger it. But yeah, it's a sexually transmitted disease that causes cancer. And if you have it, cunnilingus is also the best cure for it."
London surgeon Mahesh Kumar was skeptical as to whether Douglas's cancer was caused solely by HPV, though he did confirm that HPV type 16 has been proven as "the causative agent in oropharyngeal cancer." "Maybe he thinks that more exposure to the virus will boost his immune system. But medically, that just doesn't make sense," the doctor added. Though in other ways, it does.