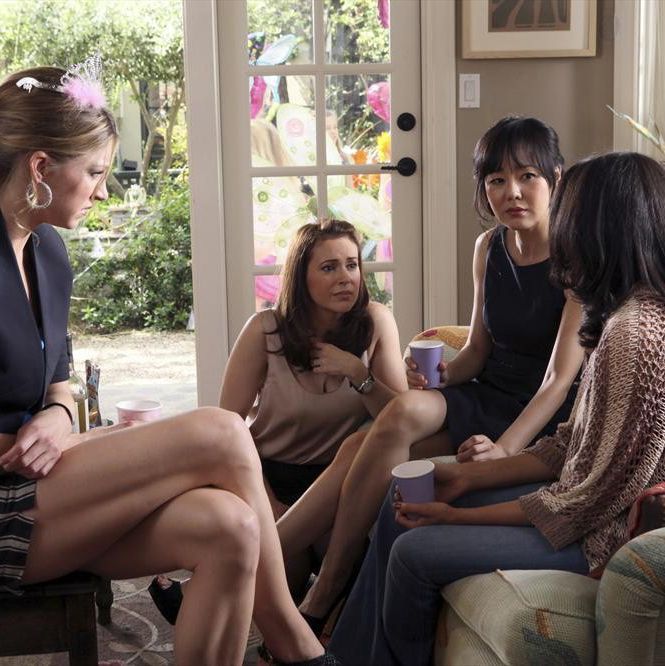 ABC's summer soap Mistresses premiered last night. It's about … mistresses. And friendship! Alyssa Milano stars as Savi — short for Savannah, pronounced like savvy, oy — a not super-happily married lawyer hooking up with a co-worker. She's besties with Karen (Lost's Yunjin Kim), a shrink who slept with one of her dying patients; April (Rochelle Aytes), a widow and single mom; and Josyln (Jes Macallan), the naughty real-estate agent younger sister. It's not that Mistresses is so terrible or anything. It's that it's shockingly generic, and feels exactly like the failed 2008 lady dramas Cashmere Mafia and Lipstick Jungle. Every line from Mistresses could be from something else. For example, these exchanges from the pilot:
Patient: I am in love with you, Karen. Please tell me I'm not crazy. Please tell me that you feel it too.
Guess what? She feels it too.
Savi: I miss that. I miss us.
The show is called Mistresses. We get it: It's an unhappy marriage.
April: Karen, what's wrong?
Karen: [cries] Everything!
Look, I like a chatty show, and in general I like more dialogue rather than less. But this exchange works better if Karen just cries. We can tell that a lot of things are wrong! Just crying really gets that across.
Suitor: How about tonight?
April: [A bunch of excuses, catches herself] — tonight is perfect!
This feels like a Ross Gellar joke.
One at a time, these exchanges are just sort of blah filler. But you can't have blah dialogue and blah circumstances. Mistresses' ostensible naughtiness — OMG, PANTIES — is just there so people will call the show "steamy," when in truth it's basically Amish compared to other contemporary prime-time shows. And not even the nudity-and-boning extravaganzas on cable. Even other network shows! The Good Wife has made much, much better hay out of adultery and general carousing. As has Scandal. And Nashville. Castle has more charm. From the get-to, Grey's has had better internal character conflicts. The Vampire Diaries has more sex appeal. Revenge has better clothes. There are a lot of sexy, interesting, fun shows on these days. You're gonna need a little more than Alyssa Milano in a bustier to stand out, Mistresses.