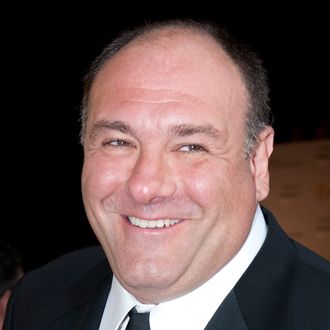 Photo: Pool/2011 Getty Images
Details of the death of actor James Gandolfini have begun to trickle out. According to the manager of the Roman hotel at which Gandolfini was staying, who spoke with the Today show, Gandolfini's 13-year-old son, Michael, discovered his father having a heart attack at about 10 p.m. local time (4 p.m. ET) Wednesday and called for help. The hotel's staff rushed to the room and immediately called for an ambulance. ABC News reports that the actor arrived at the local hospital in cardiac arrest. Resuscitation procedures had started on the ambulance and continued for 40 minutes at the hospital, until he was pronounced dead at 11 p.m., the head of the hospital's emergency room told the Associated Press. TMZ reports Gandolfini was in Italy to have a "guy's trip" with his son before attending the Taormina Film Festival in Sicily.
Actress Edie Falco, who played Gandolfini's onscreen wife in The Sopranos, had the following to say about her longtime co-star:
I am shocked and devastated by Jim's passing. He was a man of tremendous depth and sensitivity, with a kindness and generosity beyond words. I consider myself very lucky to have spent 10 years as his close colleague. My heart goes out to his family. As those of us in his pretend one hold on to the memories of our intense and beautiful time together. The love between Tony and Carmela was one of the greatest I've ever known.