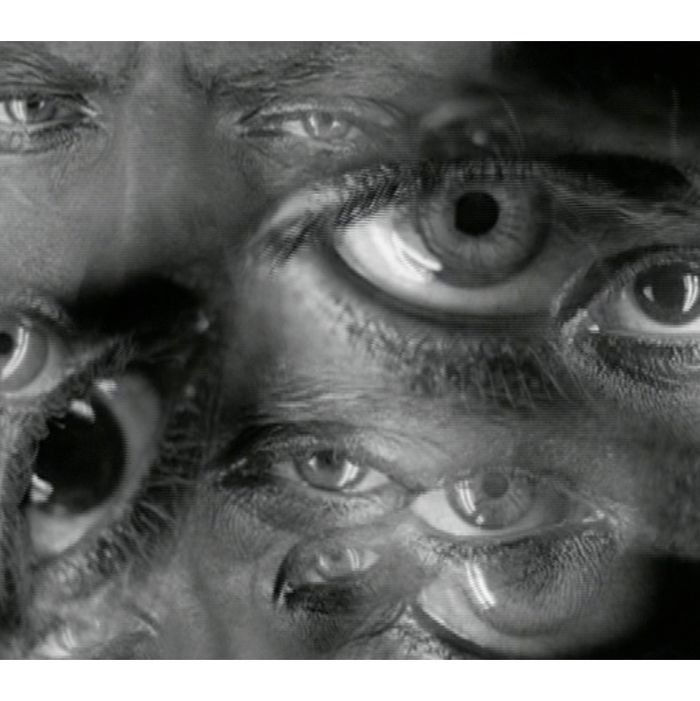 It's easy to be upset about the news that the NSA is monitoring phone calls and other communications — the whole thing is a case of many of our worst, movie-fed fears finally becoming reality. Over the years, depictions of surveillance have been one of cinema's go-to methods for creating unease and paranoia in the viewer. Here's a brief timeline of surveillance in the movies. (And, needless to say, we didn't list every relevant movie. Feel free to chime in.)
Metropolis (1927)
Type of surveillance: Footwork
Social fears tapped: The power of a dystopian police state
Fritz Lang's legendary sci-fi epic was extremely prescient in terms of design and mood, and shows us the most old-school way of keeping tabs on citizens — by following them in person. In this rigidly controlled, extremely hierarchical slave state, a hired thug (known as the Thin Man) watches people on behalf of his boss, the Master of Metropolis.
M (1931)
Type of surveillance: Everybody watches everybody else
Social fears tapped: Child murderers; police and criminal collusion
Four years later, Lang made this classic film in which a demented child killer is pursued by the cops, who are so zealous in their chase that they wind up disrupting the criminal underworld's operations. In response, the criminals step up their own surveillance of the city, utilizing armies of informants and even mob rule. Eventually, everybody is snooping on everybody else. And though Lang's main aim was to tell a terrifying tale about a monster who killed kids, he wound up presaging the paranoia of what Germany would become a few years later.
Le Samourai (1967)
Type of surveillance: Police bugging
Social fears tapped: Unethical cops
In this Jean-Pierre Melville film, Alain Delon's moody hit man has his single-room flat bugged by Parisian cops after they suspect him of a contract killing but can't pin the crime on him. Lucky for him, Delon's character realizes he's being listened to pretty much as soon as he comes home and discovers that his pet bird's feathers have (literally) been ruffled.
The Anderson Tapes (1971)
Types of surveillance: Cameras, bugs, other tracking devices
Social fears tapped: An ineffectual government
In this extremely prescient crime film directed by Sidney Lumet, Sean Connery plays a burglar who, as he puts together a crew to rob an entire apartment building, winds up being surveilled by a variety of groups: the IRS, who are after his mob connections; the FBI, who are after black activists; the Bureau of Narcotics and Dangerous Drugs (a precursor to the DEA), who are after a drug dealer; and a private investigator who has bugged Anderson's girlfriend's apartment on behalf of a sugar-daddy boyfriend of hers. Hilariously, none of these organizations has managed to coordinate with the others; the crime itself is foiled by ham-radio operators. At the end, the "Anderson tapes" are erased to prevent causing the government any embarrassment.
The Conversation (1974)
Type of surveillance: Bugging. So much bugging
Social fears tapped: Creeping technology and the existential dilemma of watching and listening in on others
In Francis Ford Coppola's contribution to the seventies paranoia genre (which also includes classics like The Parallax View and Three Days of the Condor), Gene Hackman's obsessive surveillance expert bugs a couple walking around a San Francisco public park, using a variety of miked-up operatives scattered throughout the area. However, when our normally disinterested hero begins to suspect his mysterious client (known simply as "The Director") of murderous motives, somebody starts watching and listening in on him. The film ends on an open-ended note, as Hackman desperately tries to find the bugs in his apartment — to no avail.
Nineteen Eighty-Four (1984)
Type of surveillance: Telescreens
Social fears tapped: Socialist dystopia, Thatcherite conformism
In this adaptation of George Orwell's novel, the surveillance is, for the most part, not secret, because society has already accepted that Big Brother is watching – through two-way TVs called telescreens that are conspicuously present in every middle-class home. However, sometimes these ever-present, watchful pieces of dystopian furniture have to be hidden: When John Hurt's Winston Smith has a forbidden love affair with a fellow worker, it turns out the picture on the wall of their hotel room houses a telescreen.
Enemy of the State (1998)
Types of surveillance: GPS tracking, bugs, hidden spy cameras, satellite imaging, aerial surveillance
Social fears tapped: Computers! Satellites! Sociopathic hackers! And the highly organized government bogeymen who can use them at will
After an old friend secretly gives him a video implicating an NSA official of killing a freedom-loving congressman, labor lawyer Will Smith finds his house bugged, his bank accounts frozen, and his life upended. Meanwhile, he's covered in bugs and GPS tracking devices (not just his cell phone and his pager, but also his watch, his pen, his shoes, and his pants are compromised), which allow the NSA's hot-dogging hackers (played by, among others, Seth Green and Jack Black) to follow him via satellite imagery, helicopter pursuit, wire frames of the buildings he enters, and the occasional camera hidden in a jacket button. He finally finds an ally in … Gene Hackman, playing a paranoid rogue surveillance expert — a character modeled after his earlier turn in The Conversation. Patterns, boom.
The Truman Show (1998)
Types of surveillance: Omnipresent cameras everywhere, informants
Social fears tapped: Reality TV
In Peter Weir's existential satire of public voyeurism and suburban complacency, an unwitting Jim Carrey's artificially constructed life, created by TV visionary Ed Harris, is broadcast to the world as a heartwarming nonstop reality TV fairy tale. Cameras are implanted everywhere in Truman's life: in every lamp, mailbox, mirror, car, and bystander — even the dogs.
Minority Report (2002)
Types of surveillance: A futuristic society of total transparency, coupled with a police force that can see crimes before they happen. Also, creepy spider robots that can scan your retina
Social fears tapped: Technology run amok, corporate and government collusion, the end of habeas corpus
In this Steven Spielberg masterpiece, the authorities can't just see what you're doing, they can see what you're going to do. Thanks to the use of three "pre-cogs" — basically, individuals who have visions of the future — the cops are able to get video images of crimes before they happen, get instantaneous court orders via judicial telepresence, and then jet off to stop the crime before it happens. (They even have nifty little counters that tell them exactly when the crime is going to happen, so there's always an exciting countdown.) Additionally, Minority Report presents us with a society that's a more ominous version of Cheers. Here, every billboard knows your name, and presents you with customized, targeted advertising; in order to evade society's all-seeing eye, Tom Cruise's rogue cop character has to actually have his own retinas surgically replaced.
Red Road (2006)
Type of surveillance: Closed-circuit Television (CCTV)
Social fears tapped: Widespread public surveillance, abuse of public trust
There is, reportedly, one CCTV camera per every 32 people in Britain. The country employs a massive CCTV surveillance system that watches street corners, traffic stops, train and tube stations, parking lots, and other public spaces for signs of crime. Andrea Arnold's mopey drama is about a young CCTV security guard who, as she monitors a small corner of surveillance, sees a man she recognizes from her troubled past, and begins to follow him.
The Lives of Others (2006)
Types of surveillance: Bugging, registered typewriters, informants, and monitoring of correspondence
Social fears tapped: Totalitarian communist paranoia
In this Oscar-winning period piece about an East German Stasi agent who becomes emotionally entangled in the lives of the people he's asked to monitor, the state is always watching: The target of the surveillance in this case is a state-approved, pro-communist playwright whose girlfriend is coveted by a party apparatchik. Meanwhile, suspicious letters are steam-opened, and typewriters have to be registered with the state. And nobody seems able to trust anybody else; even lovers inform on each other for personal gain and protection.
The Bourne Ultimatum (2007)
Types of surveillance: Phone hacking, CCTV
Social fears tapped: Government snooping and assassination
In the third Jason Bourne film, a British journalist makes the mistake of mentioning a CIA codeword for a secret operation over a cell phone. Soon enough, he's being followed by the CIA, and when he meets up with Matt Damon's recovering super-soldier, a wild pursuit ensues in London's busiest train station — where Damon tries to help the journalist evade the human operatives and assassins and CCTV cameras strewn throughout the building.
The Dark Knight (2008)
Type of surveillance: Mass cell-phone hacking
Social fears tapped: Someone using our devices to watch us, our fear that someone might not do so
In Christopher Nolan's second Batman film, Bruce Wayne (Christian Bale), in a last-ditch attempt to find the Joker (Heath Ledger), hacks into every cell phone in Gotham City and turns them into a city-wide sonar. Many viewers at the time thought that this was Nolan's right-wing apologia for George W. Bush–era surveillance methods, but it's worth pointing out that what Batman does in the film is considered beyond the pale, even by his most loyal allies — stooping to the Joker's level — and once he's done, he arranges for the system to be destroyed. Still, uncool move, Batman.