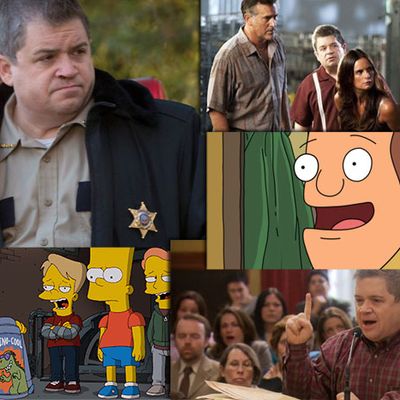 If television as a whole seemed a little obsessed with casting comedian Patton Oswalt last season — he appeared in no fewer than seven shows! — it's because no one plays obsessives better. He was Justified's eager-beaver volunteer constable Bob Sweeney. He was the competitive frenemy of Ashton Kutcher's Walden on Two and a Half Men. He was a professional Evite replier on Portlandia. Even his wildly different roles on Parks and Recreation (a strict constructionist), Burn Notice (an ace smuggler), Bob's Burgers (a food critic), and The Simpsons (a too-cool kid without a television set) can be measured by their degrees of mania. The funny thing is that Oswalt himself didn't realize he'd become TV's go-to obsessee. "I didn't have an overall sense that I'd been everywhere until I got the e-mail from you guys saying I had," he chuckles to Vulture. "Oh, lord — I'm turning into Michael Caine."
Oswalt's acting skills aren't the only reason for the Patton-ification of television; showrunners also want Patton to be himself. Take what is arguably the best known of his recent alter egos, his Parks and Recreation character Garth Blundin, who attempts to thwart the overturning of an outdated Pawnee law by filibustering the city council with an elaborate proposal for the new Star Wars film — a proposal that includes a crossover with the Marvel universe, the beheading of Chewbacca, and a secret tryst between Princess Leia and Lando Calrissian. "I'm not saying this to brag," Oswalt says of the eight-minute pitch (which has logged nearly 3 million hits on YouTube since being uploaded as an outtake in April). "That really was me riffing off the top of my head." The character was only supposed to speak for a minute and a half, but producers let the cameras roll as Oswalt continued to spin. "It was almost like all my pop-culture knowledge came out at once out of sheer terror, because I didn't want to do a shitty job," he says.
Oswalt also finds that Portlandia's Thor 83, a guy who improbably gets paid to craft witty Evite replies, hit suspiciously close to home. "I'm guilty of doing that," says Oswalt. "It was eerie how they knew. And yes, there have been tweets where I'll go back, as I'm writing it, and think, Maybe I should start with a verb … Let's just say, I've put work into tweets that I don't think Oscar Wilde put into his sentences. If he was alive today, he'd be like, 'My God, you people, you're just spitting into the ether.'"
(Live-tweeting his favorite shows has become a thing for Oswalt and his 1.3 million-plus followers, but he swears he's not doing it to score more jobs, even though he admits to being "a total nerd" for the seven shows he appeared on this past year. "I'm not trying to tweet my way on to shows," he says. "I just want people to watch them. I had a full-on nervous breakdown when Enlightened was canceled, I was so bummed out. People should have been watching!" He also doesn't think he's right for everything. "If I got an offer for Game of Thrones, which I love, I'd refuse. I could not think of a more inappropriate show for me to be on. I'd be like, 'Hey, it's really cold here.' Or, I'd ask to be a court jester with a big warm shawl. Or a member of the Night's Watch guarding the fire.")
Oswalt's characters could also give King Joffrey Baratheon and Councilman Jeremy Jamm some competition in the Most Infinitely Punchable category; he has been beaten bloody on both Justified and Burn Notice, and only narrowly escaped a pounding on Bob's Burgers, on which he is also insufferable. "There I was, a guy you wanted to torment: the snotty foodie," Oswalt says. "Like, shut up, eat a sandwich already." Similarly, you wanted to smack his Simpsons character, T-Rex, a nerdy-hip teen from Portland. ("Oooh," marvels Lisa. "Look at all the obscure card games. Do you have Uno?" T-Rex's retort: "Yeah, when I was uno.")
As he demonstrated in films like Big Fan and Young Adult – also both about obsessives! — what Oswalt does so well is humanize the off-beat and far-gone. Empathizing with Justified's Bob was easy because he's somewhat self-aware: He knows he's pathetic but also thinks he's underrated as a utility cop. "There was a lot of getting into, or rather, letting my natural Napoleonic complex get even bigger when I got onto the set," Oswalt jokes. Of all the offers he got last season, the call from Justified creator Graham Yost was the most surprising to him — not to mention his fans. The show's producers had previously tried to cast the comedian ("ironically, I think I was shooting something else," he groans), but he signed on immediately when they called back with a role crafted just for him, a home-grown constable in Harlan who befriends Deputy U.S. Marshal Raylan Givens in the premiere.
Oswalt admits that he over-prepped, even going so far as to devise a Southern accent and try it out with his friends. "I wasn't doing any annoying Method stuff," he says, "but I practiced in case Tim [Olyphyant] and I needed to riff, which we did —  I added in the beef stew [joke], and I was getting all excited about [fake] stabbing him, which was really creepy. But I wanted to be ready because you fuck up Justified and it's like fucking up a Glengarry lead."