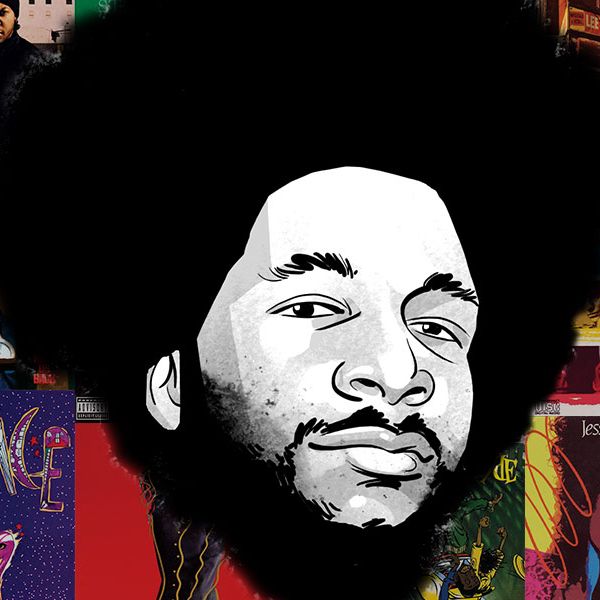 In this excerpt from his upcoming memoir, Mo' Meta Blues, the Roots drummer and Jimmy Fallon's bandleader shares the albums that defined him, from his years growing up in a musical—and increasingly religious—family, to the day he landed his first record deal.
1971:
Sly and the Family Stone, There's a Riot Goin' On
My sister was giving me a bath, and soap got in my eyes. I went running downstairs, and it just so happened that "Just Like a Baby" was playing in the background. Anytime I hear it now, I wish I had Johnson's No-Tears.
1972:
Stevie Wonder, Music of My Mind
There were records my father thought I liked for the profanity. In "Sweet Little Girl," Stevie's talking smack to his girl for not giving him some, and as the song is fading out, he says, "Don't make me get mad and act like a nigga!" I thought that was hilarious.
1973:
Sly and the Family Stone, Fresh
I loved Fresh, but I especially loved side one. I treated it like a full song suite. I never really played side two until I was an adult.
1974:
Bill Withers, +'Justments / Rufus, Rags to Rufus
When my parents were going away on tour, they would wait until Sunday to tell me and my sister. +'Justments was on during one of those Sundays. "Sideways," on Rags to Rufus, is like a jam session. Evidently no one stopped the tape, because you hear Chaka Khan say, "The food is here?"
1975:
Ohio Players, Honey
My parents got me this record for my 5th birthday. Later on, I asked my mother, "Come on! How did you approve of that cover?" She explained that their eyes weren't open to the evils of the world until years later, when Prince came along.
1976:
Stevie Wonder, Songs in the Key of Life
On the first day of school, our teacher told us to have our mommies and daddies buy us this record. She started us on "If It's Magic" so we could hear the harp. Then we went to "Love's in Need of Love Today" to learn about harmony. That record was my textbook.
1977:
Rufus, Ask Rufus
My parents were going to do an extended trip. When they told me how long they'd be away, the string breakdown of "Egyptian Song" came on. And then the story got sadder. In Louisiana, my aunt Karen met a man, and they decided to get married. She took the record with her.
1978:
Average White Band, Warmer Communications
This was the first year I had a major punishment. To lay down the law, my father banned me from getting new records. But he had his own music, including the Average White Band album, which he played in the car. I wasn't allowed to sing along.
1979:
Stevie Wonder, Journey Through the Secret Life of Plants
Whenever I hear "Seasons," I'm right there all over again, with my sister walking home from Broad Street in Philadelphia. There is snow on the ground, and posters for Steve Martin's The Jerk, which is coming in Christmas.
1980:
Diana Ross, Diana / The Commodores, Heroes
I spent the entire summer of 1980 living in a vacation resort called Frenchman's Reef in the Virgin Islands. The Diana record was the only contemporary record that I heard, because the owner of the nightclub where my parents were playing had it on continuously as filler music between my father's shows. I liked the Commodores record because of the consistency of the logo. I was always liking records for the wrong reasons.
1981:
The Time, The Time / The Jacksons, The Jacksons: Live
There was a kid in sixth grade whose mom allowed him to bring his boom box to the cafeteria. When "After Hi School" came on, I tripped over the cord and knocked his boom box over. "You owe me money," he said. I knew that my dad kept at least $4,000 hidden in the library. I figured I'm just going to take a twenty. I took $25 instead. I had gotten whippings throughout my life, but when he found out I had taken the money, it was that and then some. That set the course for our relationship. If Joe [Jackson] hadn't given his kids all those whippings, then they never would have made the record, and I never would have gotten my whipping.
1982:
Prince, 1999
It was difficult to keep Prince records as my parents became more religious. One Saturday, the radio was on, and I realized they were about to play the sexy part in "Lady Cab Driver," so I ran to the kitchen and shattered a bowl. When we got back, Prince was on to the guitar solo.
1983:
The Police, Synchronicity
One day we were driving to a bar gig. We had two vans. The family was in van one, and the band was in van two. When we pulled up alongside each other, "Mother" was playing. "Turn that devil shit off in front of my son," my father said. I was 12, so whatever was a no was an instant yes.
1984:
Sheila E., The Glamorous Life
I convinced my parents that even though Sheila E. sounded like Prince, she had nothing to do with him. But there's a line from "Oliver's Party" where she says, "She got drunk and called me a bitch just cuz I kissed him," and that was that. Good-bye, Sheila E.
1985:
Jesse Johnson, Jesse Johnson's Revue
Prince wanted to beat the Beatles at their own game. Around the World in a Day was his bid. I dug it. I loved it. But I also missed the straight, stripped-down Minneapolis funk, and that's why I gravitated toward [Prince's guitarist] Jesse Johnson's first record.
1986:
Janet Jackson, Control
I D.J.-ed for Janet three times, and she just shit when I put on "He Doesn't Know I'm Alive," which is one of the few songs from that record that didn't become a hit. I wanted to show her that she was important to me, that I remember when she sang "The Magic Is Working" on Diff'rent Strokes.
1987:
Prince, Sign 'O' the Times
When I first heard "Housequake," I was at a local laundromat, and when the song came on, with the Camille voice saying, "Shut up already … damn!," I just freaked out. I ran right home to get my hands on a cassette player so I could tape it. I made it in time for Prince to say, "A groove this funky is on the run."
1988:
Public Enemy, It Takes a Nation of Millions to Hold Us Back
I bought this cassette before I went to work. I wasn't allowed to have my Walkman on when I cooked fries, so I kept sneaking to the freezer to hear "Show 'Em Whatcha Got." It enlarged me. "I'm going on lunch break," I said, but I knew I was never going back.
1989:
Beastie Boys, Paul's Boutique
Here was an album making art of my dad's soft rock and yacht rock and my sister's mainstream junior-high-school rock albums. It's when I realized I wanted to make records.
1990:
Ice Cube, AmeriKKKa's Most Wanted
At first I hadn't been sure about N.W.A. They had Jheri curls and seemed kind of corny. It wasn't until Tariq [Trotter] made me listen to "Fuck tha Police" that I realized how good they were. Ice Cube's first solo album upped the ante. It was like watching a movie with no screen.
1991:
De La Soul, De La Soul Is Dead
I cut church to hear this in my boy's car. Every song knocked me out: "Pease Porridge," "Let, Let Me In," "Ring Ring Ring (Ha Ha Hey)." Sitting there, I told myself to cherish that magical moment, because there was no guarantee that I would ever know when it felt like that again.
1992:
The Pharcyde, Bizarre Ride II the Pharcyde
A highly unexpected sucker punch. When I heard the tremolo effect on "4 Better or 4 Worse," I knew that we needed a Fender Rhodes. That's kind of how Scott Storch got into the group.
1993:
A Tribe Called Quest, Midnight Marauders / Wu-Tang Clan, Enter the Wu-Tang (36 Chambers)
There have been plenty of classic records. But these were the end of the innocence, and they came at such a great moment for me. [My bassist] Hub and I were freezing in a van with a gospel group that we didn't particularly like. Our minds were back in Philly and New York, wondering if we were going to sign a record deal or not. When we got word that the record deal was coming through, we just quit. We left them high and dry, no drummer, no bass player. When the band picked me up in the van the next day to drive to New York and sign our contract, they had both cassettes. It was the greatest day ever.
From the book Mo' Meta Blues, by Ahmir "Questlove" Thompson and Ben Greenman. © 2013 by Ahmir Thompson. Reprinted by permission of Grand Central Publishing. All rights reserved.

*This article originally appeared in the June 17, 2013 issue of New York Magazine.

Click here to listen to the playlist on Spotify.