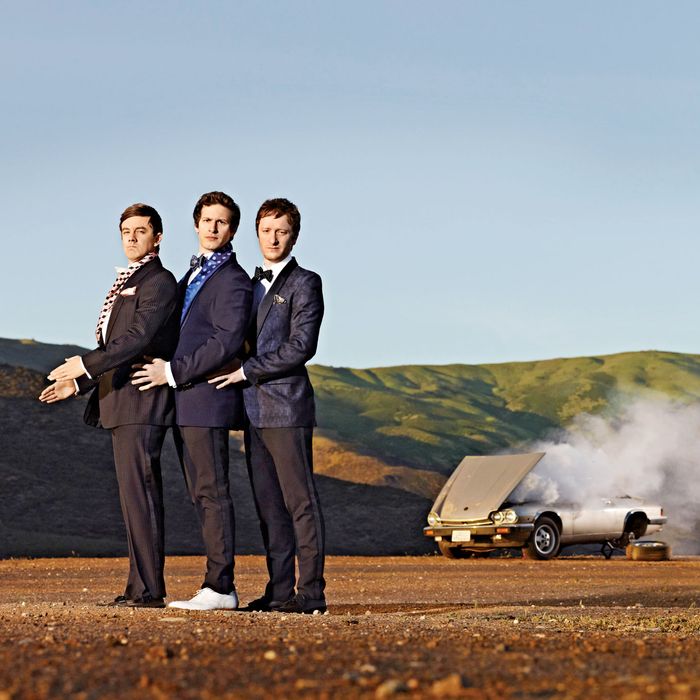 Photo: F. Scott Schafer/New York Magazine
If you want to begin reckoning with the phenomenon of parody music, a good place to start is the Parable of Madonna and "Weird Al" Yankovic. It was 1985. The Like a Virgin album was shattering sales records, and Madonna ­wondered aloud why Yankovic, the star musical lampooner, hadn't gotten around to one of her hits. Word filtered from Madonna's camp to Yankovic's manager, and by June, Yankovic could be seen on MTV, revving a chain saw in a hospital operating room while singing "Like a Surgeon." Over the years, many top musicians have refused Yankovic's requests to spoof their songs; Madonna, the savviest operator in pop history, effectively ordered up a Yankovic spoof. She understood the truth about Weird Al: He wasn't just a dork with an accordion and a Ronald McDonald 'fro. He was a musical prime mover, a queen-maker, a canonizer. If your song is big enough to be burlesqued, it's gonna last.
Today, of course, we live in the world that Madonna made, a ­musical universe ruled by fearsome divas and pan-media pop ­spectacle. But look around: Isn't it also Weird Al's world? There's the president of the United States, slow-jamming the news. There's Bruce Springsteen, wearing his mid-eighties bandanna-headband, singing LMFAO. There's Katie Couric, her voice awash in Auto-Tune, "duetting" with T-Pain. There, God help us, is Jay Leno, sending up Taylor Swift's "22."
The history of parody pop is long. It stretches from bawdy military marching tunes to vaudeville "travesties" of Tin Pan Alley hits to schoolyard chants ("Jingle bells, Batman smells, Robin laid an egg"). It takes in Spike Jones and Tom Lehrer and Allan Sherman and Victor Borge and the Rutles and This Is Spinal Tap and Tenacious D. The lineage even reaches back to the primeval American ditty, "Yankee Doodle"—a parody of a parody, a feisty Revolutionary-era rewrite of a British musical satire originally aimed at New World rubes.
But today parody pop has moved from the margins to the center. It's a generational shift. Jimmy Fallon, the fresh-faced heir to The Tonight Show, runs what is essentially a millennial update of an old-fashioned musical ­variety show, with parody songs given a starring role. Fallon's chief competition, Jimmy Kimmel, found his groove when he unleashed "I'm Fucking Matt Damon" and its sequel, "I'm Fucking Ben Affleck," for which he enlisted a supporting cast of Hollywood A-listers that would make a Golden Globes producer drool.
The big game-changer is the obvious one: the Internet, which has radically democratized musical satire. A YouTube search for "parody song" returns over 11 million hits. A few years back, Cracked.com ran an article, "Why It's Time for YouTube to Ban Song Parodies," lamenting the more than 90,000 "funny" cover versions of Katy Perry's "California Gurls" that had appeared in the months following the song's release. Now, amateur ­parody is transforming the hit parade. After Billboard overhauled its chart ­formula to include YouTube views, ­Baauer's "Harlem Shake" shot to the top of the Hot 100, propelled by all those ­homemade dance videos—a musical sketch-­comedy routine, with a doofy visual punch line. In 2013, we're all Weird Al Yankovic.
Of course, some Yankovics are better than others. The current parody-song boom began in December 2005, with the Saturday Night Live broadcast of the Digital Short "Lazy Sunday," starring Andy Samberg and Chris Parnell, and cooked up by Samberg, Jorma Taccone, and Akiva Schaffer, the comedy trio known as the Lonely Island. Since then, Samberg, Taccone, and Schaffer have become our most prolific and reliable musical jokesters—an achievement, given that the field of competition has widened to encompass countless thousands of professional and semi-professional comedy writers, not to mention every Earthling within spitting distance of a laptop camera. Their record speaks for itself: "Jizz in My Pants," "Like a Boss," "I'm on a Boat," "Iran So Far," "I Just Had Sex," and the sublime "Dick in a Box," a cultural artifact that deserves to be in the next time capsule that NASA shoots off toward Jupiter.
On The Wack Album, the Lonely Island's third full-length record, their charm is intact. They're fine joke tellers, adept at both guy humor—good-natured gags about small penises and big farts—and more, um, sophisticated satire. "YOLO" upends that silly catchphrase, turning it from a carpe diem slogan ("You only live once") to a Nervous Nellie's cautionary tale ("You oughtta look out"). ("Two words about furniture," raps Samberg. "Killing machines.") "Spring Break Anthem" makes a sneaky pro–gay marriage argument while mocking the aggro antics of frat boys.
But the best jokes by these "fake ­rappers" are about hip-hop itself. For fully three decades, comedians have been ­serving up rap parodies with a single punch line: I'm a geeky white guy ­rapping, isn't that a riot? But Samberg, Taccone, and Schaffer actually are good rappers and even better producers. In this respect, they have an advantage over earlier ­parody-music greats like Lehrer: Their music sounds like the stuff it's sending up. The production on The Wack Album takes in pop-rap, trap music, nineties G-funk; the beats alone will tickle the funny bone of a hip-hop fan. My favorite song is "Semicolon," which mimics the cadences of hashtag rap ("Get ready for a whale of a time: Shamu / My whole team coming clean: shampoo") and throws in a joke about bad punctuation.
"Semicolon" has a big, airy chorus, sung by Solange. It's as catchy as anything you'll hear on hit radio; I've found myself singing the hook, out loud, in public. Increasingly, the best parody music is delivering the goods we expect from "real" pop. "Man or Muppet," the Academy Award–winning song from The Muppets (2011), written by Flight of the Conchords' Bret McKenzie, is a power-­ballad spoof that's as stirring, musically and otherwise, as any Diane Warren song. There's no punk or hip-hop provocation of recent years that can match "In My Country There Is Problem (Throw the Jew Down the Well)," the anti-Semitic song ­performed by Jewish Sacha Baron Cohen, in his Borat guise, for a whooping ­audience at an Arizona honky-tonk.
As for the proper pop stars: You'll find them on The Wack Album. As usual, the Lonely Island have rounded up a staggering roster of musical guests: ­Justin Timberlake, Lady Gaga, Adam Levine, Pharrell Williams, Kendrick Lamar, Billie Joe Armstrong, Robyn, and the dependable T-Pain, who adds his plaintive lonesome-robot croon to a song called "I Fucked My Aunt."
The gleam of that lineup is a sign of the allure that comedy holds for musicians, a generation after Madonna reached out to Weird Al. Modern pop stardom is complicated business: You have to strategically sprinkle your stardust across multiple platforms while projecting both indomitability and approachability, hauteur and a healthy sense of humor. There are few more surefire ways to burnish your brand than to turn up on a Lonely Island album, playing the straight man in a skit that mocks your day job. Timberlake, the biggest male pop singer in the world, quit music altogether for several years, basically to become a stock player in the Lonely Island's vaudeville troupe. A decade ago, who'd have guessed that three dorked-out comedians could command a guest list worthy of a Jay-Z record? Now that's funny.
The Wack Album. The Lonely Island. Universal Republic Records.  
*This article originally appeared in the June 24, 2013 issue of New York Magazine.