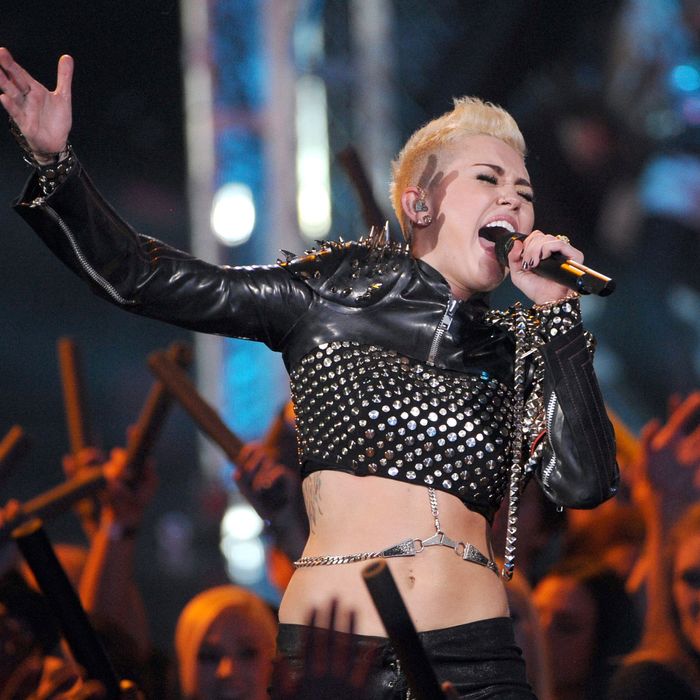 Photo: Kevin Winter/Hetty Images
The Miley Cyrus single "We Can't Stop," the first new music Cyrus has released since 2010, is one of the most crudely effective songs of the year — although to call it a song seems generous. It's more like an anthology of postures and buzzwords and provocations, with musical accompaniment. The lyrics seem designed to get a rise of those dozen or so dead-ender Hannah Montana fans that still expect wholesome entertainment out of Miley Cyrus. There's sex, there are drugs, there are hip-hop slang terms for sex and drugs. Cyrus sings about "homegirls … with big butts/Shaking it like we at a strip club," about "dancing with Molly" (i.e. the drug ecstasy), about clubgoers queuing up to snort cocaine in bathroom stalls. Cyrus uses the word turnt, a very trendy one in 2013, but it doesn't exactly roll trippingly off of Cyrus's tongue.
In short, this is a brand relaunch. "Party in the USA," Cyrus's great 2009 hit, pictured her as a wide-eyed rube, bedazzled by L.A.'s bright lights. The new single repositions her as a debauched club rat: Ke$ha's wingwoman. It's a predictable move. Eventually, all teenybopper stars have to signal that they've left behind childish things. Singing about a slutty coke bender is a pretty surefire way of making the point.
But "We Can't Stop" feels fresh, in part because Cyrus sings it with conviction, even when her voice is slathered in Auto-Tune. What really makes the song, though, is the production. It's the work of Atlanta songwriter-producer Michael Williams, a.k.a. Mike WiLL Made It, who is having something of an annus mirabilis. In "We Can't Stop," he uses familiar raw materials: minor chords, walloping beats, processed vocals, synthesizers that buzz and blare. But the tempo is unusually stately, and there are all kinds of sly musical surprises. I especially love the moment, as the song rounds the corner into its chorus, when Williams yanks the beat away, placing a florid rolling piano beneath Cyrus's croon. An Elton John ballad has been air-dropped into the middle of a teen-pop club-bumper.
The result is a song that gives off a deep, dark gleam. It's the latest example of what I like to call the dancing-at-the-edge-of-doom ballad, a song whose party-hearty YOLO sentiments are tinged with desperation, tugged at by a brooding musical undertow. Think: "I've Gotta Feeling," "Till the World Ends," "We Found Love," "Die Young." The historical precedent for such songs are thirties hits like "Let's Face the Music and Dance" and "Dancing in the Dark," and the pseud in me wants to ascribe the current boom market to our lingering Great Recession malaise. In any case, "We Can't Stop" may be the most potent dancing-at-the-edge-of-doom anthem yet — a soundtrack for Saturday night's bacchanal that comes equipped with Sunday's head-splitting hangover.