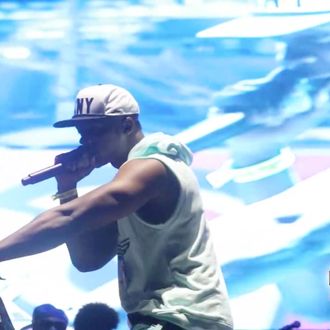 Papoose at Summer Jam
Photo: @nigel_d/realtalkny.net
"What kind of reputation do you idiots want? / Stop pullin' them publicity stunts," scolded the rapper Papoose back in 2006. The song, "Publicity Stunt," appeared on Papoose's mixtape The 1.5 Million Dollar Man, so named for the hefty signing fee Papoose was given that year by Jive Records. At the time, Papoose was one of rap's hottest properties, a sharp-witted Brooklyn MC who appeared to be on a meteoric trajectory, from cult favorite to mainstream star. He felt comfortable taking aim at other rappers' cheap bids for the limelight.
Times change, policy positions evolve. Last night at Summer Jam, Hot 97's annual hip-hop mega-concert at MetLife Stadium, Papoose pulled off a publicity-stunt doozy, taking the stage, unannounced — and by all accounts, uninvited — between sets by the show's headliners, Kendrick Lamar and French Montana. As a performance, it was perfunctory: The rapper rushed through his single "Get at Me" looking shifty-eyed, a like a man who expected a vaudeville hook to shoot out from the stage wings and drag him into an East Rutherford swamp. As an exercise in crude limelight-hijacking, though, it was magic, ingenious. Twitter went into frenzy. In the hip-hop blogosphere, and, of course, on Hot 97, there is talk of little else. Today, for the first time in at least a half decade, Papoose's is the name to drop.
Papoose is one of rap's most poignant sad-sack stories. His official debut album was delayed for years, ensnared in record-company red tape; eventually, Jive dropped him from its roster without releasing a record. When he's made news in recent years, he's complaining about prison guards snooping on conjugal visits with his incarcerated wife, rapper Remy Ma. He's a technically gifted MC, but a wonky and charmless one; you can feel Papoose straining to impress you, feel his sweat seeping through your ear buds. His breakthrough anthem "Alphabetical Slaughter" (2005) runs through the whole alphabet, with each verse — awkwardly, at times nonsensically — employing only words beginning in a given letter. ("Accumulated an alias after arrested / And accompanied armed accessories as an adolescent.") In March, he finally released his commercial debut, The Nacirema Dream — that's "American" spelled backwards, get it? — on his own label. It's solid but labored, with beats that are least five years out of date. And of course, there's the issue of "Papoose," the moniker — a reasonable name, perhaps, for a Brooklyn purveyor of 100 percent hemp baby-wear, but not for a Brooklyn rapper.
So there is something satisfying, a measure of cosmic justice, in Papoose's Summer Jam triumph. Success may be beyond his reach at this point. May he enjoy his succès de scandale.